Note4Students
From UPSC perspective, the following things are important :
Prelims level : BIS Hallmark
Mains level : Ensuring gold purity and standardisation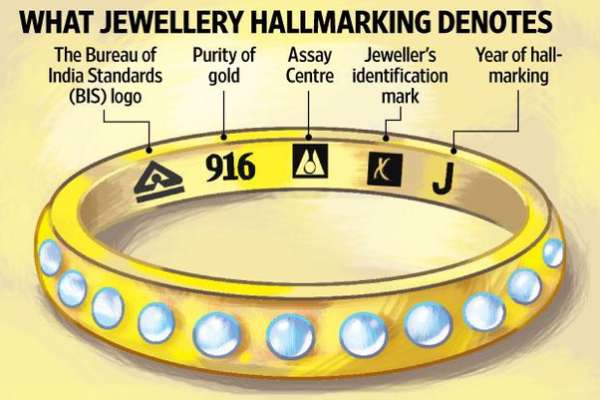 Gold hallmarking is being made mandatory to ensure consumers are not cheated, are better informed about purity and corruption is removed.
Gold Hallmarking
Bureau of Indian Standards (Hallmarking) Regulations, 2018 were notified w.e.f. 14.06.2018. BIS is running a hallmarking scheme for gold jewelry since April 2000.
The BIS Act 2016 has enabling provisions under Section 14 & Section 16 for mandatory hallmarking of Gold jewellery & artefacts by the Central Government.
This made it compulsory for all the jewelers selling  Gold jewellery and artefacts to register with BIS & sell only hallmarked Gold jewellery & artefacts.
The caratage is marked on jewelry in addition to fineness for convenience of consumers, e.g. for 22 carat jewelry, 22K will be marked in addition to 916, for 18 carat jewelry, 18K will be marked in addition to 750 and for 14 carat jewelry, 14K will be marked in addition to 585.
Get an IAS/IPS ranker as your 1: 1 personal mentor for UPSC 2024
Attend Now