[pib] Star Labelling Programme
Note4Students
From UPSC perspective, the following things are important :
Prelims level : Voluntary star labelling program, BEE, UDIT
The Bureau of Energy Efficiency (BEE) has included Deep Freezer and Light Commercial Air Conditioners (LCAC) under its Star Rating Programme on a voluntary basis.
What is the news?
The program will be initially launched in voluntary mode from 2ndMarch, 2020 to 31st December, 2021.
Thereafter, it will be made mandatory after reviewing the degree of market transformation in this particular segment of appliances.
In order to cover split ACs beyond the scope of existing BEE star labeling program upto a cooling capacity of 18kW, BEE has prepared a star labeling program for split ACs having cooling capacities in excess of 10.5kW and upto 18.0 kW.
This category of Air conditioners is termed as LCAC primarily due to their application in commercial air conditioning.
Through this initiative, it is expected to save around 2.8 Billion Units by FY2030, which is equivalent to GHG reduction of 2.4-million-ton Carbon Dioxide.
Why such move?
Energy Efficiency has the maximum GHG abatement potential of around 51% followed by renewables (32%), biofuels (1%), nuclear (8%), carbon capture and storage (8%) as per the World Energy Outlook (WEO 2010).
India can avoid building 300 GW of new power generation up to 2040 with the implementation of ambitious energy efficiency policies (IEA – India 2020).
Successful implementation of Energy Efficiency Measures contributed to electricity savings of 86.60 BUs i.e. 7.14% of total electricity consumption of the country and emission reduction of 108.28 million tonnes of CO2 during 2017-18.
About Star Labeling Programme
The programme has been formulated by Bureau of Energy Efficiency, as part of its mandate, under the Energy Conservation Act, 2001.
Under this Programme, BEE has covered 24 appliances till date wherein 10 appliances are under the mandatory regime.
The existing BEE star labelling program for Air Conditioners is based on Indian Standard IS 1391 part 1, part 2 and covers AC with cooling capacities up to 10.5kW.
Other facts: UDIT
Urja Dakshata Information Tool (UDIT) (udit.beeindia.gov.in), a first-ever initiative taken by BEE with the World Resources Institute (WRI), to facilitate a database on energy e­fficiency was also launched.
UDIT is a user-friendly platform that explains the energy efficiency landscape of India across industry, appliances, building, transport, municipal and agriculture sectors.
UDIT will also showcase the capacity building and new initiatives taken up by the Government across the sectors in the increasing energy efficiency domain.
[pib] BIS Gold Hallmarking
Note4Students
From UPSC perspective, the following things are important :
Prelims level : BIS Hallmark
Mains level : Ensuring gold purity and standardisation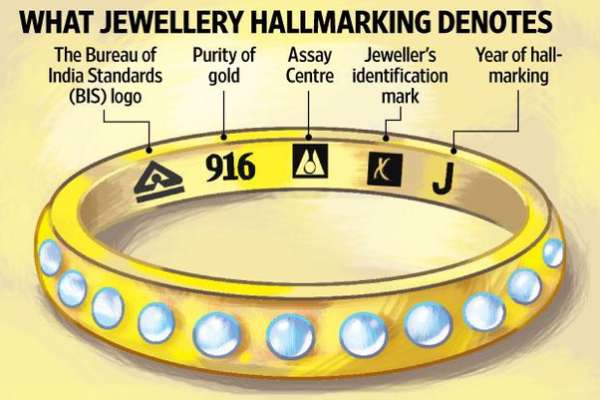 Gold hallmarking is being made mandatory to ensure consumers are not cheated, are better informed about purity and corruption is removed.
Gold Hallmarking
Bureau of Indian Standards (Hallmarking) Regulations, 2018 were notified w.e.f. 14.06.2018. BIS is running a hallmarking scheme for gold jewelry since April 2000.
The BIS Act 2016 has enabling provisions under Section 14 & Section 16 for mandatory hallmarking of Gold jewellery & artefacts by the Central Government.
This made it compulsory for all the jewelers selling  Gold jewellery and artefacts to register with BIS & sell only hallmarked Gold jewellery & artefacts.
The caratage is marked on jewelry in addition to fineness for convenience of consumers, e.g. for 22 carat jewelry, 22K will be marked in addition to 916, for 18 carat jewelry, 18K will be marked in addition to 750 and for 14 carat jewelry, 14K will be marked in addition to 585.
[pib] New Energy Performance Standards for Air Conditioners
Note4Students
From UPSC perspective, the following things are important :
Prelims level : Voluntary star labelling program
Mains level : Quest for energy efficient equipments in India
The Central Government in consultation with the Bureau of Energy Efficiency (BEE) has notified new energy performance standards for Room Air Conditioner (RACs).
240C default setting
The 240C default setting has been made mandatory from Jan 1, 2020 for all room air conditioners covered under the ambit of BEE star-labelling program vide this notification.
Additionally, the Indian Seasonal Energy Efficiency Ratio (ISEER) as per the new standards will range from (3.30 – 5.00) for split and (2.70 – 3.50) for window air conditioners, which will be applicable from 1st January 2021 onwards.
ISEER is the energy performance index used for Room Air Conditioners (RACs) and its assessment is based on the bin hours defined in ISO 16358.
Voluntary star labelling program
BEE launched the voluntary star labelling program for fixed-speed room air conditioners (RACs) in 2006, and this program became mandatory on 12th January 2009.
Thereafter, in 2015, voluntary star labelling program for inverter room air conditioners was launched and which was made mandatory with effect from 1st January 2018.
The BEE star labelling program for Room Air Conditioners now covers both fixed and inverter RAC up to a cooling capacity of 10,465 watts (2.97 TR).
Continual enhancement in performance levels has resulted in substantial energy efficiency improvement of about 43% in the minimum energy performance standards (MEPS) for split units, which are the most popular RACs sold in the market.
About BEE
BEE is a statutory body under the Ministry of Power, Government of India.
It is assisted in developing policies and strategies with the primary objective of reducing the energy intensity of the Indian economy.
BEE coordinates with designated consumers, designated agencies, and other organization to identify and utilize the existing resources and infrastructure, in performing the functions assigned to it under the energy conservation act.