Note4Students
From UPSC perspective, the following things are important :
Prelims level : Jal Jeevan Mission
Mains level : Paper 2- Annual Action Plan submitted by Kerala for Jal Jeevan Mission
Annual Action Plan presented
Annual Action Plan (AAP) on planning and implementation of Jal Jeevan Mission (JJM) in Kerala was presented.
Kerala State officials outlined the roadmap of the financial year 2021-2022 to the national committee via video conferencing.
The State plans to achieve the target of 'Har Ghar Jal' by 2024.
The State also plans to provide potable water in all quality-affected habitations by June 2021 through piped water supply or Community Water Purification Plants (CWPP).
The national committee analysed and advised on the plan presented by the State.
The committee emphasized the preparation of Village Action Plans and the constitution of Village Water &Sanitation Committee/ Pani Samiti as a sub-committee of Gram Panchayat with a minimum 50% of women members.
Also, emphasis is required on Water Quality Monitoring & Surveillance (WQM&S) activities to ensure Field Test Kit testing at Gram Panchayat level, Aanganwadi centres and schools.
About Jal Jeevan Mission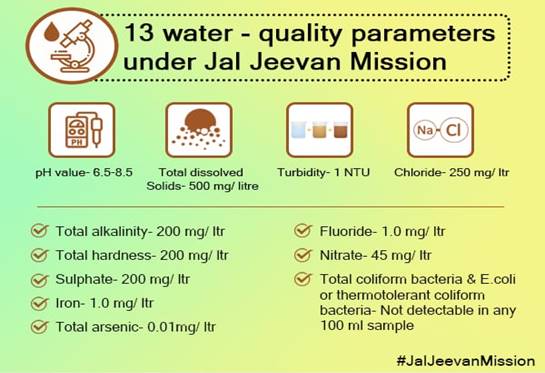 Jal Jeevan Mission is the flagship programme of Government of India, which aims to provide household tap water connection to every rural household by 2024.
Since announcement of the mission in August 2019, 4.17 Core new tap connections have been provided in the rural areas of the country during this period.
As a result, 7.40 Crore (38.56%) rural households have tap water supply vis-à-vis 3.23 Crore (17%) in 2019.
 Efforts are made to dovetail all available resources by convergence of different programmes viz. MGNREGS, SBM, 15th Finance Commission Grants to PRIs, CAMPA funds, Local Area Development Funds, etc.
Allocation for the JJM
 In 2021-22, Rs. 50,000 Crore budgetary allocation has been made for Jal Jeevan Mission.
In addition to this, there is also Rs. 26,940 Crore assured fund available under the 15th Finance Commission tied grants to RLBs/ PRIs for water & sanitation, matching State share and externally aided projects.
Thus, in 2021-22, more than Rs. 1 lakh Crore is planned to be invested in the country on ensuring tap water supply to rural homes.
This huge investment will give a boost to manufacturing activities, create employment opportunities in rural areas as well boost the rural economy.
Get an IAS/IPS ranker as your 1: 1 personal mentor for UPSC 2024
Attend Now