Note4Students
From UPSC perspective, the following things are important :
Prelims level : Project Tiger
Mains level : Tiger conservation
India's tiger population has reached a new high at 2,367.
Before reading this newscard, try these PYQs:

The term 'M-STrIPES' is sometimes seen in the news in the context of: (CSP 2017)

(a) Captive breeding of Wild Fauna

(b) Maintenance of Tiger Reserves

(c) Indigenous Satellite Navigation System

(d) Security of National Highways

Q.Consider the following protected areas: (CSP 2012)

Bandipur
Bhitarkanika
Manas
Sunderbans

Which of the above are declared Tiger Reserves?

(a) 1 and 2 only

(b) 1, 3 and 4 only

(c) 2, 3 and 4 only

(d) 1, 2, 3 and 4
All India Tiger Estimation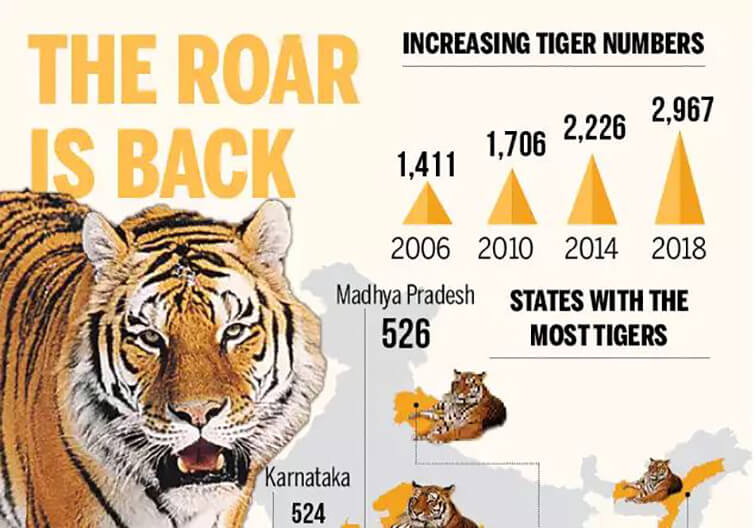 The tiger count is prepared after every four years by the National Tiger Conservation Authority (NTCA) provides details on the number of tigers in the 18 tiger reign states with 50 tiger reserves.
However, this time, the census also included data collected from the rough terrains of north-eastern states which were not possible due to logistic constraints before.
The entire exercise spanned over four years is considered to be the world's largest wildlife survey effort in terms of coverage and intensity of sampling.
Over 15, 000 cameras were installed at various strategic points to capture the movement of tigers. This was supported by extensive data collected by field personnel and satellite mapping.
Details of the report
India has 70% of the world's tigers, says the report.
Madhya Pradesh has the highest number of tigers at 526, closely followed by Karnataka (524) and Uttarakhand (442).
Chhattisgarh and Mizoram saw a decline in tiger population and all other States saw a "positive" increase, according to a press statement.
Implementing CATS frameworks
India had embarked upon assessing management interventions through the globally developed Conservation Assured | Tiger Standards (CA|TS) framework.
This framework will now be extended to all fifty tiger reserves across the country.
---
Back2Basics: Project Tiger
Project Tiger is a tiger conservation programme launched in April 1973 during PM Indira Gandhi's tenure.
In 1970 India had only 1800 tigers and Project Tiger was launched in Jim Corbett National Park.
The project is administrated by the National Tiger Conservation Authority (NTCA).
It aims at ensuring a viable population of Bengal tigers in their natural habitats, protecting them from extinction etc.
Under this project the govt. has set up a Tiger Protection Force to combat poachers and funded relocation of villagers to minimize human-tiger conflicts.
Get an IAS/IPS ranker as your 1: 1 personal mentor for UPSC 2024
Attend Now