Note4Students
From UPSC perspective, the following things are important :
Prelims level : PM 2.5
Mains level : World Air Quality Report, 2019
The 2019 World Air Quality Report was recently released
World Air Quality Report
The World Air Quality Report is released by the pollution tracker IQAir and Greenpeace.
The report focuses on PM2.5 as a representative measure of air pollution.
Highlights of the report
India accounts for two-thirds of the world's most polluted cities — 21 of the most polluted 30 cities; 14 of the highest 20; and 6 of the highest 10 — in the report.
Among countries, when population is taken into account, average PM2.5 pollution is highest in Bangladesh, followed by Pakistan, while India is at number 5.
China is at number 11 in the list of countries affected by population, with population factored in. Chinese cities achieved a 9% average decrease in PM2.5 levels in 2019.
While cities in India, on average, exceed the WHO target for annual PM2.5 exposure by 500%, national air pollution decreased by 20% from 2018 to 2019, with 98% of cities experiencing improvements.
It said 90% of the global population breathing unsafe air.
Top polluted Indian Cities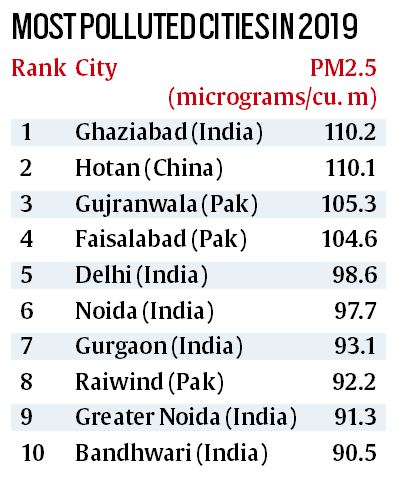 ---
Back2Basics

PM 2.5
PM 2.5 refers to particulate matter (ambient airborne particles) which measure up to 2.5 microns in size and has a range of chemical makeups and sources.
It is widely regarded as the pollutant with the most health impact of all commonly measured air pollutants.
Due to its small size PM2.5 is able to penetrate deep into the human respiratory system and from there to the entire body, causing a wide range of short- and long-term health effects.
Particulate matter is also the pollutant group which affects the most people globally. It can come from a range of natural as well as man-made sources.
Common sources of PM include combustion (from vehicle engines, industry, wood and coal burning), as well as through other pollutants reacting in the atmosphere.