India has invoked the peace clause at the World Trade Organization (WTO), for the second time, for exceeding the 10 per cent ceiling on support it offered its rice farmers.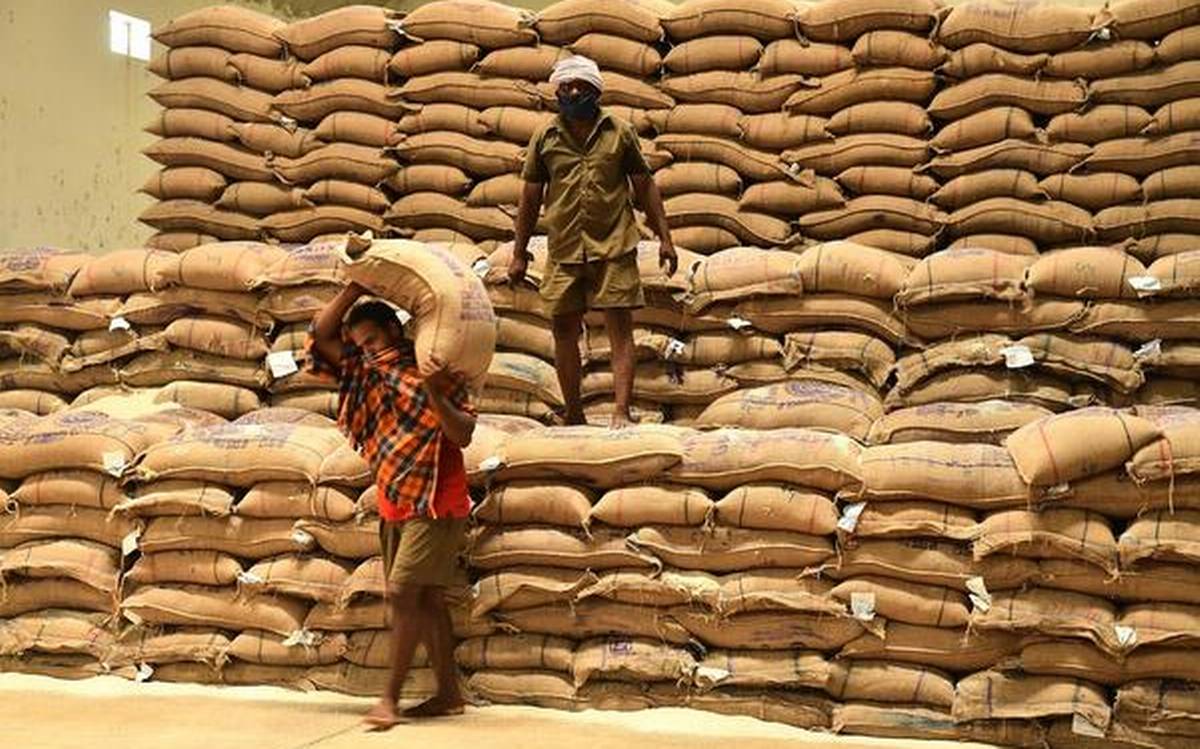 India had earlier invoked the clause for 2018-19, when it became the first country to do so.
India informed the WTO that the value of its rice production in 2019-20 was $46.07 billion while it gave subsidies worth $6.31 billion, or 13.7 per cent as against the permitted 10 per cent.
What is Peace Clause?
The peace clause protects India's food procurement programmes against action from WTO members in case the subsidy ceilings – 10 per cent of the value of food production in the case of India and other developing countries – are breached.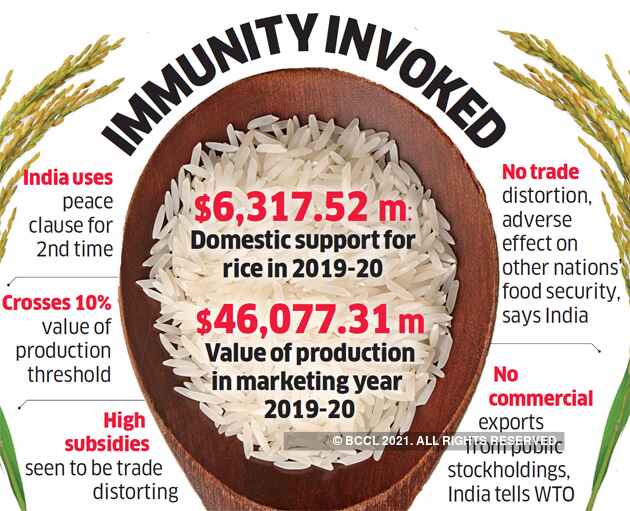 What does India told to WTO?
India's breach of commitment for rice arises from support provided in pursuance of public stockholding programmes for food security purposeswhich were in existence as on the date of the Bali Ministerial Decision on Public Stockholding for Food Security Purposes.
India said that under its public stockholding programmes for food security purposes, rice, wheat, coarse cereals and pulses, among others, are acquired and released in order to meet the domestic food security needs of the country's poor and vulnerable population, and "not to impede commercial trade or food security of others. For these reasons only the breach of the de minimis limits for rice is covered by the peace clause.
Government does not undertake exports on a commercial basis from public stockholdings. Additionally, open market sales of food grains from public stockholding are made provided the buyer gives an undertaking of not exporting from such purchase.
The peace clause can't be challenged and because of this flexibility, distribution of food grains to the poor can be done for free which is crucial during the pandemic.
India ensures food security through the minimum support price (MSP) programme, and Public Distribution System and National Food Security Act, 2013.
Subsidies of WTO: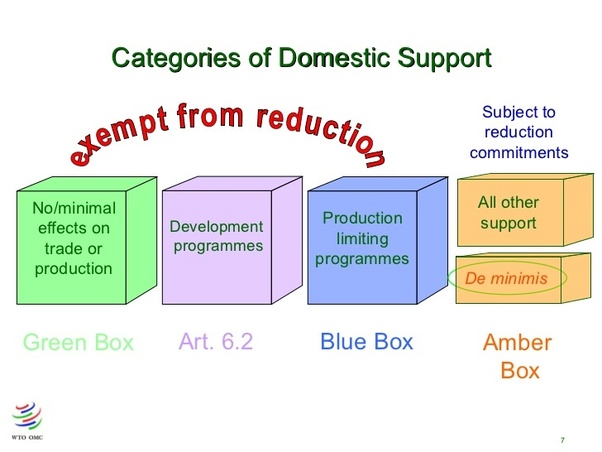 In WTO terminology, subsidies in general are identified by "boxes" which are given the colours of traffic lights: green (permitted), amber (slow down — i.e. need to be reduced), red (forbidden).
In agriculture, things are, as usual, more complicated.

The Agriculture Agreement has no red box.
Domestic support exceeding the reduction commitment levels in the amber box is prohibited
There is a blue box for subsidies that are tied to programmes that limit production.

There are also exemptions for developing countries (sometimes called an "S&D box" or "development box", including provisions in Article 6.2 of the Agreement).
Amber Box:
Nearly all domestic support measures considered to distort production and trade (with some exceptions) fall into the amber box, which is defined in Article 6 of the Agriculture Agreement as all domestic supports except those in the blue and green boxes.
These include measures to support prices, or subsidies directly related to production quantities.
These supports are subject to limits: "de minimis" minimal supports are allowed (generally 5% of agricultural production for developed countries, 10% for developing countries); 32 WTO members that had larger subsidies than the de minimis levels at the beginning of the post-Uruguay Round reform period are committed to reduce these subsidies.
The reduction commitments are expressed in terms of a "Total Aggregate Measurement of Support".
Blue Box:
This is the "amber box with conditions" — conditions designed to reduce distortion.
Any support that would normally be in the amber box, is placed in the blue box if the support also requires farmers to limit production (details set out in Paragraph 5 of Article 6 of the Agriculture Agreement).
At present there are no limits on spending on blue box subsidies.
Green box:
The green box is defined in Annex 2 of the Agriculture Agreement.
In order to qualify, green box subsidies must not distort trade, or at most cause minimal distortion.
They have to be government-funded (not by charging consumers higher prices) and must not involve price support.
They tend to be programmes that are not targeted at particular products, and include direct income supports for farmers that are not related to current production levels or prices. They also include environmental protection and regional development programmes.
Green box" subsidies are therefore allowed without limits, provided they comply with the policy-specific criteria set out in Annex 2.
Get an IAS/IPS ranker as your 1: 1 personal mentor for UPSC 2024
Attend Now