[op-ed snap] From plate to plough: No feel for the pulse

Note4students
Mains Paper 3: Agriculture | Issues related to direct and indirect farm subsidies and minimum support prices
Once you are done reading this op-ed, you will be able to attempt the below.
"Pulses are an interesting and unique commodity group in the Indian agri-food space." What are the issues faced by pulse production in India and suggest remedies?
From UPSC perspective, the following things are important:
Prelims level: MSP
Mains level: Pulses and related issues
---
News
Context
India ranks first not only in Pulse production and consumption, but also their import.
Domestic absorption in recent years (2012-13 to 2015-16) has hovered between 21 million metric tonnes (MMT) and 23 MMT, while domestic production has ranged from 16.4 MMT to 19.3 MMT.
 In 2016-17, India witnessed its highest ever domestic production of pulses — a staggering 22.95 MMT.
Reasons behind record production?
It can be attributed to a normal monsoon in 2016 after two consecutive drought years
High market prices of pulses prevailing at the time of the kharif sowing
Steep hikes in the Minimum Support Prices (MSP) — up to 9.2 per cent for kharif and 16.2 per cent for rabi pulses.
These favourable conditions significantly drove up kharif acreage to almost 36 per cent above normal. 
The production of kharif pulses increased by nearly 70 per cent in 2016-2017 over that of the previous year and the total production of pulses increased by about 40 per cent.
What are the problems involved ?
Despite such such bumper production India imported a record 6.6 MMT of pulses, valued at nearly $4.3 billion at zero import duty
As a result, domestic supply of pulses in 2016-17 shot up to 29.6 MMT, way above the typical supply of 22-23 MMT.
This glut in domestic supplies caused wholesale prices to crash, despite a bold and first-of-its-kind effort by the government to procure around 1.6 MMT of pulses.
 If there is no change in the government's methods, we may either witness a decline in production of kharif pulses or another price crash this year. That may spur another round of farm loan waivers.
Solution to this problem??
 The landed price of imported pulses should not be below the MSP of domestic pulses, else the MSP is irrelevant
 Exports of all pulses must be opened up without any quantity or minimum export price (MEP) restrictions. Export restrictions betray anti-farmer policies.
Pulses should be de-listed from the Agricultural Produce Market Committee (APMC) Act so that farmers can sell freely to whosoever they like,
Essential Commodities Act (ECA), especially the provision that imposes stocking limits, must be critically evaluated and the act should be amended drastically
Unless private players are reassured that no ad-hoc stocking limits will be imposed, there will be no investments in building storage and efficient value-chains.
Give the farmer right incentives — at least some reasonable margin above the cost of production.
Futures trading should also be allowed for all types of pulses so that planting and selling decisions of farmers are based on a futuristic rather than a backward-looking price information.
Pulses are important source of protein, high in fibre content and provide ample quantity of vitamins and minerals. India having the largest shares about 25% production, about 33% acreage and about 27% consuming of total pulses of the world.
Although India is the highest producer of pulses in the world, its domestic demand outstrips domestic production. The shortfall is met from imports. In last 1 year prices of pulses have increased sharply which has made pulses unaffordable for the common man.
In this article We will explain why despite India being the largest producer of pulses, the price of pulses have increased so rapidly and we will also discuss steps taken by government in this regard and why those steps have not achieved intended results.
What Factors caused increase in prices of pulses in recent years?
Government steps in recent years to curb pulse prices
Why government steps have failed to reduce prices?
Will creating buffer stock for pulses would be able to curb pulses price?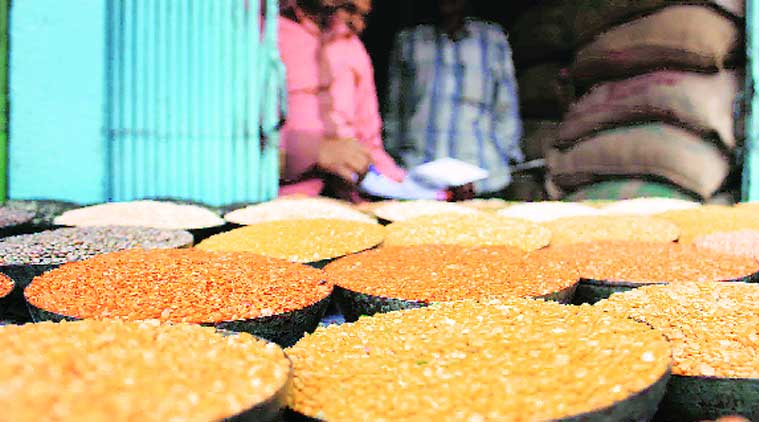 ---
What factors caused increase in prices of pulses in recent years?
Draught: Successive back to back drought i.e failure of crops in 3 successive seasons biggest reason for current price increase in pulses
Low MSP: Low production of pulses due to Lower MSP prices for pulses in comparison to wheat and rice and even this low target for pulses procurement is not realized by the government, all these factors disincentives farmers towards pulse production.
Grown in only Marginal Land: Since pulses could be grown in marginal land, a trend has developed in India where pulses are only grown in marginal and arid lands and mostly by small farmers, all this has led to low productivity for pulse crop. Only 15% of the 25 million hectares area sown annually for pulses in India is irrigated, compared to 60% for paddy and 90-95% for wheat and sugarcane
Limited option of import: Option of import are limited in case of pulses since its production is restricted to few countries in Africa and Asia and even there due to lack of local demand, the production of pulses are low.
Rise in demand: Rise in rural income due to MNREGA and better functioning of PDS has increased demand for protein rich food including pulses in last few years.
Steps taken by Government in recent years to curb pulse prices
Banned exports and future trade in pulses.
Created buffer stock for pulses
Government has signed agreement with Mozambique under which India will encourage greater production of pulses in Mozambique with an assurance that it will be purchased by India at a mutually-agreed price.
Allowed import of pulses at zero duty.
Government has imported 50000 tonnes of pulses and also subsidized the domestic cost of transport, handling and milling through a price stabilization fund.
Imposing essential commodities act and cracking down on hoarders and black marketer through imposition of stock holding limit.
Government has increased MSP price of 2 pulse crops i.e. Arhar and masur by Rs 250 per quintal.
Inclusion of cluster demonstrations in rice fallows for pulses cultivation in rabi season from 2015-16 under BGREI (Bringing Green Revolution in Eastern India) scheme in order to increase production of pulses in Eastern India in states of Assam, Bihar, Chhattisgarh, Jharkhand, Odisha, Eastern U.P. and West Bengal
A special programme for demonstration of new varieties of pulses through Krishi Vigyan Kendra (KVKs) has been taken up from Rabi 2015-16 in order to increase availability of seeds of new varieties of pulses and promote adoption of new varieties
Why government steps failed to reduce prices?
Firstly steps taken against stockers are discouraging them to further invest in warehouses and cold storage. In the absence of stockiest, market prices of pulses collapse, discouraging farmers from growing them in current season.
Secondly by suspending future and forward market in pulses, the government has simply shot the messenger. Forward and future market give signal about likely future prices and if harnessed they could actually help the government take preventive measures.
Thirdly government imported just 7000 tonnes to tame prices, whereas overall consumption is 3.3 to 4 million tones.
Fourthly the government announced MSP norms in November 2015 , which had a limited impact on Pulse production in 2016, since by that time farmers had already made decision regarding which crop they will sow in rabi season.
Will creating buffer stock for pulses help curb the rising pulses price?
Creation of buffer stock of 150000 tonnes from both domestic production and imports could reduce fluctuations in prices as the accumulated reserve could be released in market whenever price of pulses spikes
It could also increase production of pulses, since The Food Corporation of India, National Agricultural Cooperative Marketing Federation of India, Small Farmers' Agribusiness Consortium and other agencies would be engaged in purchasing the crop from farmers.
The payment for these purchases would be made from the price stabilisation fund created by the government. This will encourage farmers to take up pulses production on a larger scale and will enable India to help achieve self-sufficiency in pulses in a few years
However buffer stock alone would not be able to curtail price in the long run, alongside this step the government has to take number of other steps which include
---
The Way forward?
Create a crop-neutral incentive structure for farmers, which at present are skewed in favour of rice, wheat & sugarcane. This could be done by rapidly increasing MSP for pulses in next few years.
Greater public investment in providing irrigation facilities in areas under pulse production could increase productivity of pulses
Augment seed availability of pulses
More allocation should be done on scientific research related to pulses varieties so that better varieties of pulses could be developed
---
References: