Foreign Policy Watch: India-France
May, 02, 2019
[pib] Exercise Varuna 19.1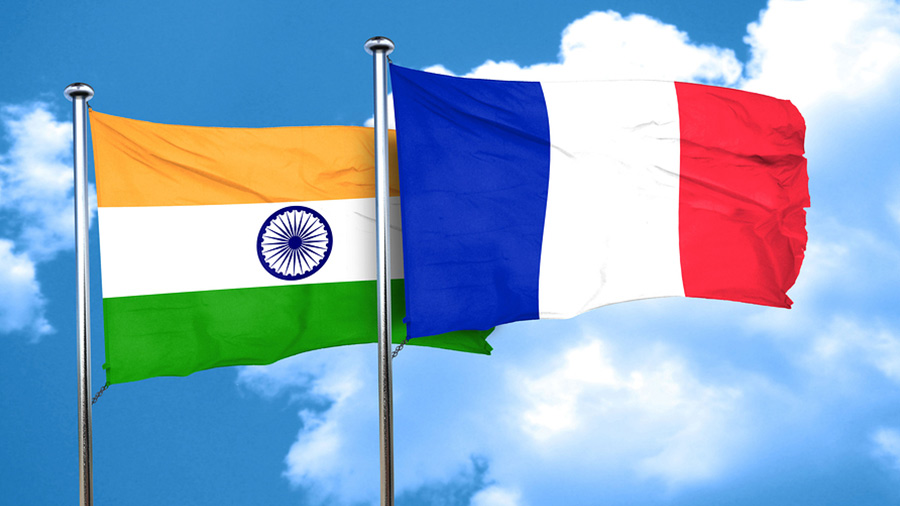 News
The first part of the Indo-French joint naval exercise, Varuna 19.1 is being held off the Goa coast.
Exercise Varuna 19.1
The bilateral naval exercise initiated in 1983 and christened as 'Varuna' in 2001, form a vital part of the Indo-French strategic partnership.
Having grown in scope and complexity over the years, this exercise exemplifies the strong relations between the two nations, in line with the Joint Strategic Vision of India-French Cooperation in the Indian Ocean Region.
The Varuna exercise aims at developing interoperability between the two navies and fostering mutual cooperation by learning from each other's best practices to conduct joint operations.
The exercise underscores the shared interests and commitment of both nations in promoting maritime security.
The second part, Varuna 19.2, is scheduled to be held at the end of May in Djibouti.
Mar, 12, 2018
[op-ed snap] Reshaping Indo-Pacific
Note4students
Mains Paper 2: IR | Bilateral, regional & global groupings & agreements involving India &/or affecting India's interests
From UPSC perspective, the following things are important:
Prelims level: International Solar Alliance, NATO, blue economy
Mains level: India France strategic partnership
---
Context
 India's strategic partnership with France
The expansive prospect for India's strategic partnership with France underlines the growing importance of middle power coalitions
These coalitions transcend the traditional alliance frameworks and new geopolitical fault lines
Breaking down the old stereotypes
Amidst America's uncertain external orientation and China's effort to reshape the global order, second-tier powers like India and France seek a greater say in world affairs through more intensive collaboration
In that process, they are breaking down the old stereotypes of East versus West and North versus South
In taking the lead on mitigating climate change, through the International Solar Alliance, India and France are demonstrating their potential for shared global leadership
France, a long-standing military ally of the United States, is also looking beyond NATO to forge security partnerships with Asian democracies like India
Delhi's quest for a larger role in the world
It can't be founded in exclusive security partnerships with either Russia or America
Nor does India want to cede Asia and the world to the rigidity of a new bipolar framework between the US and China
Indo-Pacific as the new arena for cooperation
Although India's strategic partnership with France is the oldest and dates back to the late 1990s, it lacked a regional anchor
With their long-standing national advantages in the Indo-Pacific threatened by the global power shift, they have chosen to band together
Delhi and Paris have agreed on greater political coordination in the region, mutual logistical support and seamless interoperability between their security forces
Shared maritime vision
It seeks to uphold the law of the sea in the Indian Ocean
Prevent the kind of military unilateralism that has come to grip the Western Pacific
Secure the sea lines of communication
Respond to humanitarian disasters and
Promote sustainable blue economy
Way forward
French president's unbridled enthusiasm for India connects with his effort to rejuvenate France and revitalize Europe
It is upto Delhi to make the best of this moment
Mar, 12, 2018
India, France join hands for Indian Ocean security
Note4students
Mains Paper 2: IR | Bilateral, regional & global groupings & agreements involving India &/or affecting India's interests
From UPSC perspective, the following things are important:
Prelims level: Quadrilateral discussion
Mains level: Security concerns in IOR
---
News
New logistical agreement
India and France have joined hands in ensuring freedom of navigation in the Indo-Pacific region
Both sides also announced a new phase of cooperation in space security focussed on the maritime domain
They also signed a fresh logistics agreement that will allow their defense forces to closely cooperate on mutually agreed operations
'The Joint Strategic Vision of India-France Cooperation in the Indian Ocean Region'
India and France share common concerns on freedom of navigation in the region and will tackle challenges to over-flight and threat of weapons of mass destruction
The agreement has a vast scope stretching from "countering maritime terrorism and piracy" to "building maritime domain awareness"
This is the second major maritime arrangement that India has taken up in the last six months following the Quadrilateral discussion with Australia, Japan, and the US in October 2017
Feb, 25, 2016
Indo-French Joint Committee on Science & Technology Cooperation
News: India and France have signed the arrangement for establishment of apex level Joint Committee in New Delhi
Context: Joint Committee would identify, synergise and define priorities for Indo-French cooperation in science, technology and innovation
Aim: To achieve economic and social development through research, development and innovation
Co-chaired by: Minister of S&T of India and for French side by the Minister of Foreign Affairs and International Development
Why? Enhanced scientific and technological cooperation between the 2 countries, and the role played by multiple national S&T agencies of both countries in promoting partnership
Jan, 27, 2016
Indo-French: Can they clear the test of Trade?
Strategic partnership has gone from strength to strength. Now, it's time to clear test of bilateral trade as well.
Strategic ties have been given further boost by the agreement on intelligence-sharing and cooperation on investigations and judicial processes.
India-France trade hovers around $8 billion, which amounts to half of India's trade with the U.K. or Germany.
A big reason for is the impasse in India's economic relations with the European Union.
Modi's expected visit to Brussels for the EU summit in the next few weeks could clear the path here.
Joint ventures and partnerships on infrastructure such as railways, smart cities and renewable energy projects were announced during the visit.
But much more needs to come from Indian businesses engaging with France.
Jan, 27, 2016
Indo-French Ties: Soaring New Heights
Partnership has now been comprehensively extended to counter-terrorism and a separate joint statement was issued on it.
For decades, France has been India's most consistent backer and partner .
It supported  India's nuclear programme, helped mitigate the effects of post-Pokhran 2 sanctions as well as negotiated the civil nuclear deal with the US.
The focus of Hollande's visit was on strategic partnership, defence and counter terrorism.
They renewed bilateral Agreement on Defence Cooperation for another 10 years and France commited to help India's accession to multilateral export control regimes.
For the first time, the two countries named Pakistan-based India-specific terror groups.
Inaugurated  International Solar Alliance's headquarters in Gurgaon.
It is also hoped that the implementation of the Jaitapur nuclear power project will begin in 2017.
Laid emphasis on people-to-people contacts, with France granting an extended stay of two years to Indian students at the masters level and above.
Jan, 26, 2016
France commits €300 million for solar energy
French President Francois Hollande committed €300 million over the next 5 years for the global development of solar energy.
He said that the real challenge was to attract investments worth a trillion dollars to promote the renewable source.
Mr. Hollande said that the Alliance would focus on three broad areas.

Pooling together the requests of countries with a huge potential in order to reduce their cost of capital.
Opening the markets in order to reduce the cost of investment.
Transferring the necessary technology and know-how from developed to developing countries.
Jan, 26, 2016
India, France set to expand space partnership
At least three of the 14 agreements signed by India and France were on expanding space collaboration.
The ISRO and its French counterpart CNES (National Centre for Space Studies) agreed to work together in the next Mars mission, as well as a satellite launch and a thermal infrared observation mission.
Both sides also signed an agreement on upgrading the Delhi-Chandigarh line to 200 kmph.
The other agreements on nuclear issue, counterterror, defence show a positive continuum of the past work.
France also committed itself to supporting India's bid for a permanent seat on the UNSC and accession to the multilateral (nuclear) export control regimes.
Jan, 26, 2016
'French cos may invest $10 bn in India over next 5 years'
France taking active part to boost Make in India and Skill India initiatives.
French companies are likely to invest almost $10 billion in India in the next 5 years and a major portion of this will be in the industrial sector making.
French firms had invested more than one billion dollars annually in the last 5 years.
The country's companies account for 10 per cent of solar capacity installed in India and they could increase their capacities by 2020-22.
There were over 400 French firms in India with a consolidated turnover of about $20 billion and France was the third largest foreign investor in India.
Jan, 26, 2016
French President to be Chief Guest at R-Day parade
As India celebrates its 67th Republic Day, tight security and vigil is being maintained across the country as a precaution.
French President Francois Hollande will be the Chief Guest at the Republic Day parade.
Representatives of the Indian States will take part in the parade to showcase the strengths of the state.
The visit of Mr. Hollande to New Delhi for the mega pageant.
He is expected to send a message of a worldwide solidarity among the democratic countries against terrorism of the IS which staged the November 13 attacks in Paris.
Jan, 26, 2016
Raja-Mandala: France, A most exceptional friend
France has emerged, steadily since the 1990s, as India's most trusted international partner.
The participation of French troops in the Republic Day parade is significant as it marks the end of India's prolonged military isolationism.
Modi recognises the potential of military partnerships in modernising India's defence-industrial base.
And enhancing India's strategic weight in the international system.
Resuscitating India's defence diplomacy and global security engagement has been at the centre of his foreign policy.
Modi sees a special role for Paris in Delhi's global calculus for three important reasons.
One, France in contrast to US, Britain, Russia has made a clear choice in favour of India over dalliance with pak military.
Two, France can be a privileged partner for India in strengthening peace and security in the maritime domain.
Third, while India's quest for multi-polarity remains, exchanging American global primacy for Chinese domination makes little sense for Delhi.
As a leading Western power with shared political values, France is a more credible partner for India in constructing a more equitable world order through a new concert of global powers.
Jan, 25, 2016
Modi, Hollande set the stage for counter-terror cooperation
They resolve to enhance strategic ties between India and France.

Both leaders will hold bilateral talks, during which they are likely to discuss upgrading the "special and strategic partnership" signed in 1998.
Hollande, Modi to take up defence, space and nuclear cooperation.
These include the completion of the agreement for the purchase of Rafale aircraft and nuclear issues over current Jaitapur plant.
Both sides are likely to announce a new phase of space cooperation between the space agencies ISRO and CNES, with a special satellite dedicated to climate change research.