Nutrition status and TB risk
Note4Students
From UPSC perspective, the following things are important :
Prelims level : MDR TB
Mains level : Paper 2- TB challenge
Context
Historical importance of good nutrition was ignored by the modern therapist who tried to control TB initially with streptomycin injection, isoniazid and para-aminosalisylic acid. In the ecstasy of finding antibiotics killing the germs, the social determinants of disease were ignored.
Lack of patient-centric TB treatment
With more drug arsenals such as rifampicin, ethambutol, pyrazinamide, the fight against TB bacteria continued, which became multidrug resistant.
The regimes and the mode of delivery of drugs were changed to plug the loopholes of non-compliance of patients.
Blister packs of a multi-drug regime were provided at the doorstep, and the directly observed treatment/therapy (DOT) mechanism set up.
Many of the poor discontinued blister-packaged free drugs thinking that these were "hot and strong" drugs not suited for the hunger pains they experienced every night.
Role of nutrition in dealing with TB
India has around 2.8 million active cases. It is a disease of the poor.
And the poor are three times less likely to go for treatment and four times less likely to complete their treatment for TB, according to WHO, in 2002.
The fact is that 90% of Indians exposed to TB remain dormant if their nutritional status and thereby the immune system, is good. 
When the infected person is immunocompromised, TB as a disease manifests itself in 10% of the infected.
The 2019 Global TB report identified malnutrition as the single-most associated risk factor for the development of TB, accounting for more cases than four other risks, i.e., smoking, the harmful use of alcohol, diabetes and HIV.
The work and the findings of a team at the Jan Swasthya Sahayog hospital at Ganiyari, Bilaspur in Chhattisgarh established the association of poor nutritional status with a higher risk of TB.
Way forward
Chhattisgarh initiated the supply of groundnut, moong dhal and soya oil, and from April 2018, under the Nikshay Poshan Yojana of the National Health Mission.
All States began extending cash support of ₹500 per month to TB patients to buy food. This amount needs to be raised.
Nutrition education and counselling support: Without simultaneous nutrition education and counselling support, this cash transfer will not have the desired outcome.
Conclusion
Food is a guaranteed right for life under the Constitution for all citizens, more so for TB patients. Thus, the goals of reducing the incidence of TB in India and of reducing TB mortality cannot be reached without addressing undernutrition.
UPSC 2022 countdown has begun! Get your personal guidance plan now! (Click here)
Fighting TB with lessons learnt during Covid pandemic
Note4Students
From UPSC perspective, the following things are important :
Prelims level : Not much
Mains level : Paper 2- Covid lessons for TB
Context
On World TB day, we need to ask how best we can leverage the lessons learnt from Covid-19 to help gain a new momentum in TB control.
Comparing the impact of Covid-19 and TB
In the first year of the Covid-19 pandemic, 1.8 million people were reported to have succumbed to the virus.
In the decade between 2010-20, 1.5-2 million individuals died every year because of tuberculosis.
The difference in responses to the two pandemics can only be explained by the differences in the profiles of those who get infected.
TB disproportionately affects people in low-income nations, the poor and the vulnerable.
The increased burden on healthcare to manage Covid has led to a serious setback in TB control.
Using lessons from Covid-19 for TB control
To leverage the lessons learnt from Covid-19 to control TB, we need to focus on the epidemiological triad: Agent, host and the environment.
Test, treat and track has been a strategy successfully employed for Covid.
Scaling up testing: We need to aggressively scale up testing with innovative strategies such as active surveillance, bidirectional screening for respiratory tract infections using the most sensitive molecular diagnostics, and contact tracing.
Vaccine: The biggest victory against Covid has been the speed with which vaccines were developed, scaled up and deployed.
We need to replicate the same for tuberculosis, lobbying for funding from governments and industry to develop a successful vaccine for TB.
Social security programs for the prevention of risk: Malnutrition, poverty and immuno-compromising conditions such as diabetes are some of the factors strongly associated with TB.
Social security programmes that work towards prevention of modifiable risk factors would possibly pay richer dividends than an exclusive focus on "medicalising" the disease.
Environmental factors: Environmental factors which have been neglected include ventilation of indoor spaces, educating individuals to avoid crowds when possible, and to encourage voluntary masking, especially in ill-ventilated and closed spaces.
Investment and actions: Covid has been a stellar example of how investments and actions can be swift, and public education can transform behaviour.
Similar aspirations for TB can help turn this crisis into an opportunity to re-imagine our overburdened and underfunded systems.
Involvement of private sector: We need to actively engage the private sector, build bridges and partnerships as we did in the case of Covid.
Way forward
The country needs to invest in state-of-the-art technologies, build capacity, expand its health workforce and strengthen its primary care facilities.
It also needs to consider telemedicine and remote support as important aspects of health services.
We need to build an open and collaborative forum where all stakeholders, especially affected communities and independent experts, take a lead role.
Conclusion
We have ignored TB for too long. It's time we acknowledge the magnitude of the disease, and work harder at offering individuals equitable healthcare access and resources that the disease warrants.
UPSC 2022 countdown has begun! Get your personal guidance plan now! (Click here)
TB's steep socio-economic cost to women
Note4Students
From UPSC perspective, the following things are important :
Prelims level : Nikshay Poshan Yojana
Mains level : Paper 2- TB's impact on women
Context
As India steadily steers its way through the pandemic to safer shores, we must foreground a disease which has been impacting our country for years, and disproportionately affecting women –  tuberculosis.
Toll of TB
In India, the TB case fatality ratio increased from 17 per cent in 2019 to 20 per cent in 2020.
According to a joint report (2010-13) of the Registrar General of India and the Centre for Global Health Research, TB was the fifth-leading cause of death among women in the country, accounting for nearly 5 per cent of fatalities in women aged 30–69.
How TB affects women more than men
Much steeper socio-economic price: While both men and women suffer the consequences of this debilitating disease, women patients pay a much steeper socio-economic price.
Beyond clinical metrics: From social ostracisation and lack of family support to the negative impact on marital prospects, women absorb the repercussions of TB beyond the clinical metrics.
Stigma also acts as a strong deterrent when it comes to health-seeking behaviour.
Fewer women, therefore, get included in the available cascade of care for TB.
Measures by government
In 2019, the Health Ministry-Central TB Division developed a national framework for a gender-responsive approach to TB in India.
The document takes cognisance of the challenges faced by women in accessing treatment and offers actionable solutions.
Gender-responsive policy interventions: In December 2021, a parliamentary conference on 'Women Winning Against TB' was organised by the Ministry of Women and Child Development where gender-responsive policy interventions were discussed.
The Vice-President of India urged states to take proactive steps such as ensuring nutritional support to women and children and the doorstep delivery of TB services, especially for women from socio-economically weaker backgrounds.
Suggestions
1] Highlight the issue at the relevant forum
One, as elected representatives, we need to come together more to highlight the issue at all relevant forums and spaces.
These meetings see increased participation of women leaders from all walks of life in the community going forward.
2] Strengthen counselling network
We need to strengthen counselling networks for women patients and their families.
Irrespective of where the patient seeks care – public or private sector – build the capacity of healthcare workers to educate the patient's family about the importance of providing her a supportive environment during the course of her treatment.
3] Nutritional needs
We need to ensure that the nutritional needs of women are being met.
Undernutrition is a serious risk factor for TB and research indicates such risks are higher for women.
It is commendable that the government, through Nikshay Poshan Yojana, has effectively provided a monthly benefit of Rs 500 to enable a nutritious diet for TB patients in the last few years.
For the 2020 cohort, the total amount paid under NPY via DBT has been over  Rs 200 crore.
Additionally, we can look to further strengthen inter-departmental coordination, wherein the Public Distribution System can explore appropriate linkages with relevant departments of the MoHFW and even include a protein-rich diet for TB patients.
4] Amplify accurate TB messaging
At a community level, we must amplify accurate TB messaging and showcase how gender plays a role in determining the course of action on the ground.
Conclusion
These are universal problems that must transcend gender binaries. Only when equitable solutions are offered to vulnerable sections of society will we be able to realise the dream of TB-Mukt Bharat.
BCG vaccine: 100 years and counting
Note4Students
From UPSC perspective, the following things are important :
Prelims level : BCG, TB and other respiratory diseases
Mains level : Not Much
The first use of BCG (Bacillus Calmette-Guerin), the vaccine against tuberculosis (TB) in humans have been completed for 100 years.
What is TB?
TB is a very ancient disease and has been documented to have existed in Egypt as early as 3000 BC.
It is caused by a bacterium called Mycobacterium tuberculosis, belonging to the Mycobacteriaceae family consisting of about 200 members.
Some of these cause diseases like TB and leprosy in humans and others infect a wide range of animals. Mycobacteria are also widely dispersed in the environment.
In humans, TB most commonly affects the lungs (pulmonary TB), but it can also affect other organs (extra-pulmonary TB).
Yet not eliminated
Other historically dreaded diseases like smallpox, leprosy, plague, and cholera have been either eradicated or controlled to a large extent due to advances in science and technology.
However, TB continues to be a major public health problem in the world.
According to the WHO's Global TB Report, 10 million people developed TB in 2019 with 1.4 million deaths. India accounts for 27% of these cases.
BCG Vaccine for TB
BCG was developed by two Frenchmen, Albert Calmette and Camille Guerin, by modifying a strain of Mycobacterium Bovis (that causes TB in cattle) till it lost its capacity to cause disease while retaining its property to stimulate the immune system.
It was first used in humans in 1921.
Currently, BCG is the only licensed vaccine available for the prevention of TB.
It is the world's most widely used vaccine with about 120 million doses every year and has an excellent safety record.
BCG in India
In India, BCG was first introduced on a limited scale in 1948 and became a part of the National TB Control Programme in 1962.
India is committed to eliminating TB as a public health problem by 2025.
Effectiveness of BCG
One intriguing fact about BCG is that it works well in some geographic locations and not so well in others.
Generally, the farther a country is from the equator, the higher is the efficacy.
In children, BCG provides strong protection against severe forms of TB.
This protective effect appears to wane with age and is far more variable in adolescents and adults, ranging from 0–80%.
In addition to its primary use as a vaccine against TB, BCG also protects against respiratory and bacterial infections of newborns and other mycobacterial diseases like leprosy and Buruli's ulcer.
It is also used as an immunotherapy agent in cancer of the urinary bladder and malignant melanoma.
Try answering this PYQ:

What is the importance of using pneumococcal conjugate vaccines in India? (CSP 2020)

These vaccines are effective against pneumonia as well as meningitis and sepsis.
Dependence on antibiotics that are not effective against drug-resistant bacteria can be reduced.
These vaccines have no side effects and cause no allergic reactions

Select the correct answer using the given code below:

(a) 1 only

(b) 1 and 2 only

(c) 3 only

(d) 1, 2 and 3

Post your answers here.
UPSC 2022 countdown has begun! Get your personal guidance plan now! (Click here)
Note4Students
From UPSC perspective, the following things are important :
Mains level : Paper2- India has shown that it has political will, technical capacity and financial resource to control the infectious diseases it need to marshal these resou.rce to eradicate TB
Context
India needs to take TB at the same level of seriousness at which it is dealing with the Covid-19.
Contrast and between the response
Tuberculosis in India: Indians will still have to contend with other deadly respiratory tract infections which spread via airborne transmission. We will still have to contend with one particular bug which kills millions of us and which has been around for millennia. Tuberculosis.

But all comparisons between COVID-19 and TB end with the superficial observation that they are both deadly respiratory tract infections.

Speedy tackling of COVID-19: COVID-19 began its march through humankind barely half a year ago and, in record time, scientists have identified the virus and hundreds of millions of dollars have been allocated to controlling its spread, developing vaccines (at last count, more than a dozen candidates) and testing medication regimens for those infected.
Waning of the epidemic: While the virus has spread to over 100 countries, the epidemic already shows signs of waning in the Asian countries where it hit first and hardest.
Response to the TB
How long has the TB infected us? On the other hand, TB is as old as humanity itself, infecting us for at least 5,000 years.

The infecting agent, a bacterium, was identified way back in 1882, by Robert Koch, signalling one of the landmark discoveries which laid the foundation of modern medicine.

How was the response to TB? The subsequent response to this disease, which was infamously called the White Plague and was a leading cause of death globally at the start of the 20th century, is similar to what we see today for COVID-19, but played out over decades rather than months.

Measures taken: TB was made a notifiable disease, campaigns were launched to prohibit spitting and containment policies, including sequestering infected persons, were implemented.

The first vaccine was produced over a hundred years ago, and the first curative treatments available by the 1950s.
Divide between rich and poor in TB infections: TB was largely beaten in the rich world, not only because of these medical miracles but also thanks to the dramatic reduction in poverty and improvement in living standards.

There is compelling evidence that addressing these social determinants was even more impactful than medical interventions in the war against TB.

The disease of squalor: TB has always been, and this is even more true now than ever before, a disease of poverty and squalor. And no country is more affected than India.
Every TB statistic is grim:

We are home to 1 in 4 of the world's TB patients.
Over 2.5 million Indians are infected.
In 2018, over 4,00,000 Indians died of the disease.
To put this in stark perspective, more people died of TB in India last week than the entire global death toll of COVID-19 to date.
Contrast with the response to COVID-19: Given our urgent, energetic and multifaceted response to the latter Covid-19, one is left wondering why we have failed so miserably for another bug, particularly one which has been around for so long, which has been exquisitely studied and characterised, which is preventable and treatable, and which most of the world has conquered.
Why TB has not been given such attention?
It is because those who suffer from TB are not likely to be boarding international flights or passing through swanky airports to attend conferences.
It is because TB infects people in slower tides, slow enough for industries to replace the sick with healthier recruits without endangering the bottom line.
It is because TB does not threaten the turbines that keep the global economy throbbing.
It is because TB no longer poses a threat to rich and powerful countries.
It is because those who have TB live on the margins and have little political influence.
It is because TB control requires society to address the squalid environments, which shroud the daily lives of hundreds of millions of Indians.
It is because TB is a medieval scourge that reminds us of our shameful failure to realise a just, humane and dignified life for all our people.
Conclusion
If there is one lesson from COVID-19, it is that India, and the global community, has the political will, technical capacity and financial resources to act in a committed and concerted way to control infectious diseases. It needs to marshal these assets to eradicate TB, the most pernicious and pervasive infection of all, both through addressing its social determinants and scaling up effective biomedical interventions. But, for this to happen, we will have to be as concerned about the health needs of those who travel by foot and bicycle as we do for those who board cruise ships and international flights.
Note4Students
From UPSC perspective, the following things are important :
Prelims level : TrueNat
Mains level : Menace of TB and its elimination measures
The WHO has endorsed TrueNat, an Indian indigenous molecular diagnostic tool for tuberculosis (TB) diagnosis.
TrueNat
The TrueNat TB test is a new molecular test that can diagnosis TB in one hour as well as testing for resistance to the drug rifampicin.
The TrueNat MTB and MTB Plus assays also show comparable accuracy to the TB-LAMP assay as replacement tests for sputum smear microscopy.
The data for TrueNat MTB-Rif shows similar accuracy to WHO-approved commercial line probe assays.
It is developed by the Goa-based Molbio Diagnostics.
The company was provided with technical assistance and resources by the Foundation for Innovative New Diagnostics (FIND) to help commercialise Truenat.
ICMR had assessed and validated the diagnostic tool. It has high diagnostic accuracy as initial test to diagnose TB.
It will be used as an initial test thus replacing sputum smear microscopy.
[op-ed snap]Eradication of TB by 2025
Note4Students
From UPSC perspective, the following things are important :
Prelims level : Not much.
Mains level : Paper 2-Issues relating to development and management of social sector/ services relating to health, education, human resources.
At the End TB summit, 2018 the prime minister of India made a bold commitment to end tuberculosis by 2025-five years ahead of the global target. Which is possible to achieve if the efforts are put at the level it was done in case of polio.
The toll taken by TB
Despite the disease being fully curable, people still die from it.
TB usually affects people in their most productive years and drives families into debt.
It has a direct link to human suffering, discrimination and also poverty.
Due to its infectious spread, it directly affects our economic growth as well.
With resilience, sufficient investment, innovative approaches and strategies and the participation of all stakeholders, TB can be defeated.
First Step- Awareness
The first step is the creation of awareness and empowering of communities.
TB affects millions, yet very few know enough about it.
Multilingual, multi-stakeholder awareness effort to ensure that all Indians knows about the challenges of TB and where to seek treatment is required.
With the expansion of the media and evolving technology, it is possible to reach everyone with the right information.
Second Step- Access to diagnosis and treatment
Ensuring that every Indian get access to correct diagnosis and treatment for TB, regardless of their ability to pay for it is the second step.
To do so, working with the private sector is necessary as was done in the case of polio.
There are numerous innovative private-sector programmes and partnership schemes for TB.
Role of  Private sector
Recently launched programmes for doctors and labs offer the private sector various incentives.
Even today, about half a million TB cases go unnotified, especially those seeking care in the private sector.
Those cases need to be tracked and ensured that everyone in the need of treatment and care gets it.
Organisations like Indian Medical Association and Indian Academy of Paediatrics are working with the private sector to ensure patient-centric care as per "Standards of TB Care in India" (STCI).
Drug-resistant TB
A key challenge is building a forward-looking plan to address and control drug resistance.
Drug-resistant TB is a man-made menace that is a major roadblock in a fight against TB.
Every TB patient must be tested for drug resistance at the first point of care, whether in the public or private sector, to rule out any drug resistance.
Efforts by the government
Nikshay Poshan Yojana -in which TB patients receive Rs 500 every month while on treatment was launched.
Nikshay Poshan Yojana ensure that the patients have economic support and nutrition during the required period.
'TB Harega Desh Jeetega Campaign' was launched to accelerate the efforts to end TB by 2025.
The campaign aims to initiate preventive and promotive health approaches.
By applying "multi-sectoral and community-led" approach, the government is building a national movement to end TB by 2025.
Resource allocation towards the TB Elimination Programme has been increased by four-fold.
Sincere efforts need to be made to make our health systems more accessible and reliable.
It also required to ensure that those seeking care trust the healthcare system and get the appropriate care for completing treatment.
There is a need to create more labs, point of care tests, an assured drug pipeline, access to new drugs.
The government should also ensure counselling and support for those affected.
Every patient who is diagnosed late and does not receive timely treatment continues to infect others.
To break this cycle, government machinery at the field level should work with communities and provide free diagnosis and treatment to every affected individual.
Conclusion
With all the efforts, planning and resource put in place to eradicate the menace of TB from India, it is possible to achieve the goal by 2025.
[op-ed snap] India's TB report must be seen in light of the country's slide in Hunger Index
Note4Students
From UPSC perspective, the following things are important :
Prelims level : Nothing much
Mains level : TB elimination in India - links to Nutrition, Sanitation
Context
The Annual India Tuberculosis (TB) report released by the government says that India is now home to about a quarter of the total global TB patients. The current government is committed to ending TB in India by 2025.
TB in the context of Malnutrition and Sanitation
Prime Minister declared that rural India was open defecation free (ODF). 

The Global Hunger Index 2019 put India at 102 in a list of 117 countries. India's ranking was below Nepal, Bangladesh and Pakistan. 

It has been established beyond doubt that TB is more of a social disease owing to its roots to poverty, malnutrition and poor sanitary conditions.
State of TB in India
The TB report reveals the progress on the government's action plan on combating TB. 

The highest number of TB cases –

As per the report, 21.5 lakh TB cases were reported in the country in 2018. This is the highest number of TB cases registered in any country. 

Nikshay –

The report says that with the introduction of Nikshay – the computer-based surveillance programme for TB patients, the

reporting

of TB cases has improved dramatically.
Barriers to TB notifications
The working of such a surveillance programme in an unequal country like India should be taken with a pinch of salt. 

In a paper published in the BMJ Open concluded that despite a national notification system — of Nikshay — other factors decide notification of patients.

Issues like patient confidentiality, poor knowledge of notification system, etc, prevented notification of TB patients in a hospital setting. 

These factors are social and without intervening at that level, it is hard to believe that notification of TB cases can reach a significant number by 2025.

Of the total notifications, 5.4 lakh cases were from the private sector, an increase of 40% from last year. More than 80% of healthcare is now being delivered by private health enterprises.
Issues in TB control for public health system
Public health –

An increase in the notification of TB patients could be heartening for the government. But is not a good indicator for the public health system.

Hunger

The GHI report reminds that a hungry India cannot be free of TB.

Dietary deprivation is a direct indicator of inequality. Unequal societies cannot be made free of disease and infirmity.

BMC Pulmonary Medicine journal from Ethiopia shows that the proportion of malnutrition in TB patients was nearly 60%. 

Even a very distal reason for malnutrition in the community became a proximal cause for TB.

Open Defecation

TB and sanitation have a direct causal relationship. 

The Integrated Disease Surveillance Programme run by the National Centre for Disease Control maintains a web portal that details the outbreak of epidemics.

The validity of the claims of the Swachh Bharat Abhiyan (SAB) through this data shows that there was no statistically significant reduction in the occurrence of vector-borne epidemics in the country, two years after the launch of SAB.
Conclusion
An end to TB is not possible till we end malnutrition, poverty and poor sanitation. We need a paradigm shift in the response to TB. This should include a more sensitive approach on gender and towards the underprivileged.
[pib] 'TB Harega Desh Jeetega' Campaign
Note4Students
From UPSC perspective, the following things are important :
Prelims level : 'TB Harega Desh Jeetega' Campaign
Mains level : Elimination of TB from India
---
Union Ministry for Health and Family Welfare has recently launched a new 'TB Harega Desh Jeetega Campaign'.
About the campaign
The campaign aims to improve and expand the reach of TB care services across the country, by 2022.
It has three pillars – clinical approach, public health component and active community participation.
There are some other supporting aspects of the campaign including – patient support, private sector engagement, political and administrative commitment at all levels.
The government will ensure that all patients, at private or public hospitals, receive free-of-cost and high-quality TB care.
United Nations has marked 2030 as a global target to eliminate TB worldwide but the GoI has made 2025 as its target to eliminate tuberculosis from the country.
National TB Report 2019
According to the report, 21.5 lakh TB cases were reported in 2018 to the government.
In 2017 the number of TB cases was 18 lakhs and in 2019 it has been increased to 17% in one year.
Notifications from private-sector health care providers reached 5.4 lakhs, an increase of 40%, contributing to 25% of all TB notifications.
Under the scheme, Nikshay Poshan Yojana, a total amount of Rs. 427crore has been paid to over 26 lakhs beneficiaries through direct transfers to their bank accounts.
[op-ed snap] Taking on TB: On new anti-tuberculosis drug
Note4Students
From UPSC perspective, the following things are important :
Prelims level : MDR and XDR TB
Mains level : TB Elimination strategy
CONTEXT
The anti-tuberculosis drug pretomanid was recently approved by the US FDA. It will be a game-changer for treating people with extensively drug-resistant TB (XDR-TB) and those not tolerating multidrug-resistant TB (MDR-TB) drugs available at present.
TB scenario
According to WHO, in 2017, there were an estimated 4.5 lakh people across the world with MDR-TB, of which India accounted for 24%, and about 37,500 with XDR-TB. 
Background of the new drug
Pretomanid is only the third drug in the last 40 years to get FDA approval.

Simpler regime –

It is an all-oral, three-drug regimen of bedaquiline, pretomanid, and linezolid (BPaL).

High success rate –

It had a 90% cure rate in a phase III trial in South Africa; against the current treatment success rate for XDR-TB and MDR-TB at 34% and 55%, respectively.

HIV –

It was found to be safe and effective in curing TB in people living with HIV. 

Shorter duration –

Unlike 18-24 months needed to treat highly-resistant TB using nearly 20 drugs, the BPaL regimen took just six months.

Effective and better tolerated –

It was better tolerated and more potent in clearing the bacteria. The shorter duration is more likely to increase adherence to therapy and improve treatment outcomes. 
The need of the hour –

The number of those who would need a pretomanid-based regimen is increasing due to rising drug resistance.
Challenges
There are only a low percentage of MDR-TB cases being treated and the actual number of people who do not tolerate or respond to available MDR-TB drugs is unknown.
Affordability –

It remains to be seen if it would be made affordable, in the developing countries where the burden of XDR-TB and MDR-TB is the highest. Bdaquiline's prohibitive cost has severely restricted access in developing countries.
Pricing the new drug
TB Alliance, a New York-based international NGO, which developed and tested the drug, has signed an exclusive licensing agreement with a generic-drug manufacturer for high-income markets.

The drug will be licensed to multiple manufacturers in about 140 low- and middle-income countries, including India.
India's biggest ever trial of tuberculosis vaccines
Note4Students
From UPSC perspective, the following things are important :
Prelims level : BCB and other vaccines mentioned
Mains level : Elimination of TB in India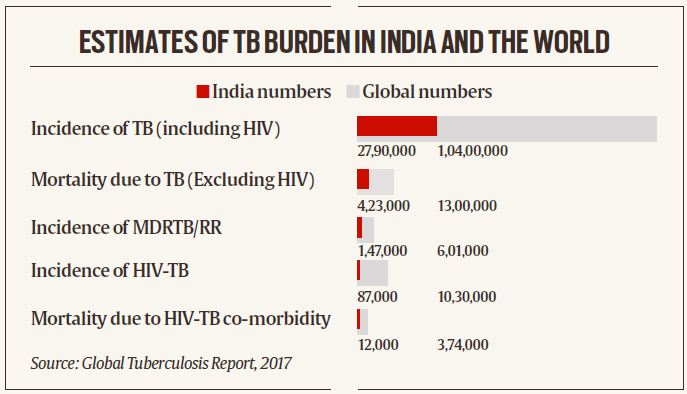 ---
The Indian Council of Medical Research (ICMR) has launched India's first large-scale trial for two new tuberculosis (TB) vaccines.
New Vaccines
There are two vaccines being tested in the latest trial:
Immuvac (also known as mycobacterium indicus pranii or MIP), which is manufactured by Cadila Pharmaceuticals in Ahmedabad, and
VPM1002 manufactured by Serum Institute of India in Pune.
Why need new vaccines?
Scientists at the ICMR have felt a critical need for new TB vaccines that are more effective than the Bacille Calmette-Guerin (BCG) vaccine.
The BCG vaccine is used in the routine Expanded Programme of Immunisation (EPI) in countries across the world. It is generally given at birth or in the first year.
The vaccine is over 100 years old and, while it has been partially effective in protecting infants and young children, particularly from the most severe forms of TB.
It provides poor protection against pulmonary disease in adolescents and adults.
It is for these reasons a need was felt to develop more effective preventive TB vaccines.
Rise of MDR TB
The new vaccines that are being put through the trials offer a chance to contain the accelerating spread of multi-drug resistant TB.
Treating TB requires a multi-drug course of treatment lasting six months; longer still for treating drug-resistant TB.
Treatment failure and recurrence can have devastating consequences.
Incidence of TB in India
India contributes to 27 per cent of the global TB burden; the highest share globally. That is why, in 2017, the central government had committed itself to eliminating TB by 2025.
As per the 2018 annual report of the Central TB division of Ministry of Health, the incidence of TB was nearly 2.8 million annually, and the incidence of multidrug-resistant TB was 1,47,000 per year.
The total number of deaths because of TB (excluding HIV) was 4,23,000, and the incidence of HIV-TB was 87,000 per year.
[op-ed snap]Paradigm shift for TB control
Note4students
Mains Paper 2: Governance | Issues relating to development & management of Social Sector/Services relating to Health, Education, Human Resources
From UPSC perspective, the following things are important:
Prelims level: Not Much
Mains level:Tamilnadu pilot model to curb TB infection as a guide to other initiatives.

---
NEWS
CONTEXT
Tuberculosis (TB) remains the biggest killer disease in India, outnumbering all other infectious diseases put together — this despite our battle against it from 1962, when the National TB Programme (NTP) was launched.
Background
In 1978, the Expanded Programme on Immunisation (EPI) began, giving BCG to all babies soon after birth and achieving more than 90% coverage.
In 1993, the Revised National TB Control Programme (RNTCP) was launched, offering free diagnosis and treatment for patients, rescuing them from otherwise sure death.
However, treatment is not prevention. Prevention is essential for control.
The effectiveness of these programmes
Yet, when evaluated in 1990, the NTP and the EPI had not reduced India's TB burden.
Why did the NTP and the EPI fail?

Visionary leaders had initiated a BCG vaccine clinical trial in 1964 in Chingelpet district, Tamil Nadu.
Its final report published in the Indian Journal of Medical Research in 1999.
It held that BCG did not protect against TB infection or adult pulmonary TB, the 'infectious' form.
BCG immunisation does prevent severe multi-organ TB disease in young children, and must be continued but will not control TB.

By 2014-15, the RNTCP was found to be very successful in reducing mortality, but failing to control TB. Why?

From when a person becomes infectious to when he/she turns non-infectious by treatment, there is a gap of several weeks during which the infection saturates contacts in the vicinity.
Delays in care seeking and diagnosis are the result of lack of universal primary health care.
Tamil Nadu Pilot Model to control TB infection
Tamil Nadu is planning to implement new strategy in one revenue district, Tiruvannamalai.
To ensure public participation — a missing element in the RNTCP — the new model will be in public-private participation mode.
The Rotary movement, having demonstrated its social mobilisation strengths in polio eradication, will partner with the State government in the TB control demonstration project.
Tiruvannamalai, a pioneer district in health management, was the first in India (1988-90) to eliminate polio using the inactivated polio vaccine (IPV).
The Directorate of Public Health and Preventive Medicine and the National Health Mission will lead all national, State and district health agencies, district and local administration, departments of education, social welfare and public relations and government medical college.
The Rotary will ensure the participation of all players (health and non-health) in the private sector.
Other steps to control TB infection
The Rotary will spearhead public education for behaviour modification, starting in all schools and continuing through to adults.
Progression to TB disease from infection can be prevented by giving World Health Organisation-recommended short-term 'preventive treatment'.
Infection is silent, but diagnosable with the tuberculin skin test (TST).
Cohorts of schoolchildren (5, 10 and 15 years) can be tested and those TST positive given preventive treatment.
On March 13, 2018, the Prime Minister, who was inaugurating the End TB Summit, declared that India would end TB by 2025.
Way Forward
A strategy of simultaneously using all biomedical and socio-behavioural interventions can help in controlling infection.
Ending TB by 2025 is impossible but pulling the TB curve down by 2025 and sustaining the decline ever after is a possibility.
Tamil Nadu, an erstwhile global leader in TB research during the 1960s through the 1990s, will now become the global leader in TB control.