India-Bangladesh Relations: The Golden Chapter
Note4Students
From UPSC perspective, the following things are important :
Prelims level : NA
Mains level : India-Bangladesh Relations, Significance for India and New avenues of cooperation.

Central Idea
In recent years, Bangladesh-India relations have entered the Golden Chapter in their relations. Setting the seal on this bilateral bonhomie, The Prime Minister of Bangladesh has been invited by the Indian Prime Minister to attend the G20 Summit as a special guest. Bangladesh is the only South Asian country to be on India's guest list. India's invitation to Bangladesh as its guest speaks volumes of the high priority the country accords its immediate eastern neighbor and 'best friend' in the neighborhood'.
Crack Prelims 2023! Talk to our Rankers
India's links with Bangladesh are civilization, cultural, social and economic.
There is much that unites the two countries – a shared history and common heritage, linguistic and cultural ties, and passion for music, literature and the arts.
It is also worth recalling that India shares its longest border of 4,096.7 kilometres with Bangladesh, which is also the fifth-longest border in the contemporary world.
With the onset of economic liberalization in South Asia, they forged greater bilateral engagement and trade.

In Depth: Why Bangladesh is cardinally important to India?
India's largest trading partner in South Asia
Bangladesh emerged as India's largest trading partner: In 2021-22, Bangladesh emerged as India's largest trading partner in South Asia and India is Bangladesh's second-largest trading partner and its largest export market in Asia. Despite the pandemic, bilateral trade has grown at an unprecedented rate of 14 per cent
Comprehensive Economic Partnership Agreement: The two countries are also preparing to sign the Comprehensive Economic Partnership Agreement, for substantial enhancement of trade and commercial partnerships between the two countries.
Gateway for India's Northeast
Strategic location: Efforts have been made in recent years by both Bangladesh and India to improve connectivity between Bangladesh and India's Northeast, which is geographically located between West Bengal and landlocked Northeastern states.
Initiatives to Improve Connectivity: Initiatives such as inviting India to use Chattogram and Mongla ports, adding new ports and protocol routes to the shared inland waterway network, constructing the Maitri and Padma Setu bridges, and the upcoming Akhaura-Agartala rail line, aim to provide better trade and transport connectivity. The Mitali Express has also been operationalized for bi-weekly journeys between New Jalpaiguri and Dhaka.
Important for stability and security issues: Bangladesh has been an outstanding partner of India on security issues, especially with its zero-tolerance attitude towards terrorism. On several occasions, Bangladesh has arrested and handed over insurgents from the separatist militant groups in the Northeast (United Liberation Front of Asom) to India.
A central pillar in India's Neighbourhood First and Act East Policies
Bay of Bengal's Increasing Strategic Significance: The increasing strategic significance of the Bay of Bengal, heightened by China's rising and assertive presence in this maritime space has led India to bolster relations with the Bay littorals to ensure its pre-eminence in the Bay, which it considers to be a primary area of interest.
Important  for India's Eastern Neighborhood Policy: Furthermore, as its western front remains troubled, India is increasingly trying to build stronger relations with its eastern neighbourhood to realise its Indo-Pacific aspirations.
As china trying to make inroads, India Reviving and Cultivating Cooperation: As China also tries to make inroads into Bangladesh to gain a stronger foothold in the Bay region, India has felt an added impetus to nurture its relationship with the country, reviving age-old bonds and cultivating new avenues for cooperation.
India's Vaccine Maitri Initiative For example: In the pandemic, India prioritised Bangladesh and supplied 10.3 crore vaccine doses to the country, making it the largest recipient of its Vaccine Maitri initiative. The gesture was generously reciprocated, by providing of

Key Areas of Cooperation on India's G20 Agenda
Climate change and disaster management
Green Development, Climate Finance and LiFE': As the name suggests, the segment is devoted to developing environmental consciousness and understanding the impact of climate change with a particular focus towards not only climate finance and technology, but also ensuring just energy transitions for developing nations across the world.
For instance: Both countries agreed to cooperate on climate change with particular attention to the Sundarban area which is facing challenges due to climate-induced sea level rise.
Disaster risk reduction: Both India and Bangladesh experience frequent disasters such as cyclones originating from the turbulent Bay of Bengal. Consequently, the two countries signed an MoU on Disaster Management in 2021, to mitigate this transnational threat.
Transition to renewable energy
Energy transition and cooperation: As energy transitions are an important issue in India's G20 mandate, recently, Bangladesh announced its target of generating 40 percent of power from clean energy by 2041. India-Bangladesh have increased cooperation in the energy sector.
Projects for instance: With projects such as the Friendship Pipeline and Maitree Super Thermal Power Project, and agreed to enhance cooperation in energy efficiency and clean energy, including biofuels.
Cyber security
Cyber security cooperation: Cyber security is an intrinsic aspect of Digital Public Infrastructures (DPI's) and also happens to be one of the areas in which India-Bangladesh have agreed to cooperate.
Joining hands to enhance AI and cyber security: In June 2022, both countries decided to expand their strategic partnership to enhance Artificial Intelligence (AI) and cyber security.
Way ahead: Forging better multilateralism
Within G20, a priority for India is to promote reformed multilateralism which cultivates accountable, inclusive, just, equitable and representative multipolar international systems, fit for addressing contemporary challenges.
As one of the fastest-growing economies in the world, Bangladesh will become even more important for India in future.
In many of the multilateral platforms in India's neighbourhood (an area India seeks to influence), Bangladesh is also a member, for e.g., SAARC, BIMSTEC, and IORA.
The country's support is, therefore, necessary, if India's G20 aspiration is to find a reflection in regional multilateral platforms.

Conclusion
As India tries to shape the global agenda through G20 it needs Bangladesh's support to translate many of these ideas into action in its neighbourhood. This will lend further credibility to its presidency and in the long run, some of these nascent areas of cooperation may add pages to the "Golden Chapter" in India-Bangladesh relations.
Get an IAS/IPS ranker as your 1: 1 personal mentor for UPSC 2024
Attend Now
India's links with Bangladesh are civilisational, cultural, social and economic. There is much that unites the two countries – a shared history and common heritage, linguistic and cultural ties, passion for music, literature and the arts. The two nations were strong allies during the Bangladesh Liberation War in 1971. However, they developed different Cold War alliances in the late 1970s and 80s. With the onset of economic liberalization in South Asia, they forged greater bilateral engagement and trade. The historic Ganges Water Sharing Treaty was concluded in 1996. India and Bangladesh are close strategic partners in counter-terrorism. They are also the largest trading partners in South Asia.Two-way trade is estimated to be over US $7 billion.
Backgrounder
A chronology of key events:
1947 – British colonial rule over India ends. A largely Muslim state comprising East and West Pakistan is established, either side of India. The two provinces are separated from each other by more than 1,500 km of Indian territory.
1949 – The Awami League is established to campaign for East Pakistan's autonomy from West Pakistan.
1970 – The Awami League, under Sheikh Mujibur Rahman, wins an overwhelming election victory in East Pakistan. The government in West Pakistan refuses to recognise the results, leading to rioting. Cyclone hits East Pakistan – up to 500,000 people are killed.
Independence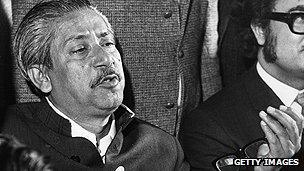 1971 – Sheikh Mujib arrested and taken to West Pakistan. In exile, Awami League leaders proclaim the independence of the province of East Pakistan on 26th March. The new country is called Bangladesh. Just under 10 million Bangladeshis flee to India as troops from West Pakistan are defeated with Indian assistance.
1972 – Sheikh Mujib returns, becomes prime minister. He begins a programme of nationalising key industries in an attempt to improve living standards, but with little success.
1974 – Severe floods devastate much of the grain crop, leading to an estimated 28,000 deaths. A national state of emergency is declared as political unrest grows.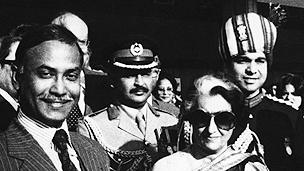 1975 – Sheikh Mujib becomes president of Bangladesh. The political situation worsens. He is assassinated in a military coup in August. Martial law is imposed.
1976 – The military ban trade unions.
1977 – General Ziaur Rahman assumes the presidency. Islam is adopted in the constitution.
1979 – Martial law is lifted following elections, which Zia's Bangladesh National Party (BNP) wins.
1981 – Zia is assassinated during abortive military coup. He is succeeded by Abdus Sattar.
Ershad era
1982 – General Ershad assumes power in army coup. He suspends the constitution and political parties.
1983 – Limited political activity is permitted. Ershad becomes president.
1986 – Parliamentary and presidential elections. Ershad elected to a five-year term. He lifts martial law and reinstates the constitution.
1987 – State of emergency declared after opposition demonstrations and strikes.
1988 – Islam becomes state religion. Floods cover up to three-quarters of the country. Tens of millions are made homeless.
1990 – Ershad steps down following mass protests.
1991 – Ershad convicted and jailed for corruption and illegal possession of weapons. Begum Khaleda Zia, widow of President Zia Rahman, becomes prime minister. Constitution is changed to render the position of president ceremonial. The prime minister now has primary executive power. Cyclonic tidal wave kills up to 138,000.
Awami League returns
1996 – Two sets of elections eventually see the Awami League win power, with Sheikh Hasina Wajed, the daughter of Sheikh Mujibur Rahman, becoming prime minister.
1997 – Ershad is released from prison. The opposition BNP begins campaign of strikes against the government.
1998 – Two-thirds of the country devastated by the worst floods ever. Fifteen former army officers sentenced to death for involvement in assassination of President Mujib in 1975.
2000 September – Sheikh Hasina criticises military regimes in a UN speech, prompting Pakistani leader General Musharraf to cancel talks with her. Relations strained further by row over leaked Pakistani report on 1971 war of independence.
2000 December – Bangladesh expels Pakistani diplomat for comments on the 1971 war. The diplomat had put the number of dead at 26,000, whereas Bangladesh says nearly three million were killed.
2001 April – Seven killed in bomb blast at a Bengali New Year concert in Dhaka. Sixteen Indian and three Bangladeshi soldiers killed in their worst border clashes.
2001 April – High Court confirms death sentences on 12 ex-army officers for killing Mujib. Only four are in custody.
2001 July – Hasina steps down, hands power to caretaker authority, becoming the first prime minister in the country's history to complete a five-year term.
Coalition government
2001 September – At least eight people are killed and hundreds injured as two bombs explode at an election rally in south-western Bangladesh.
2001 October – Hasina loses at polls to Khaleda Zia's Nationalist Party and its three coalition partners.
2002 July – Pakistani President Musharraf visits; expresses regret over excesses carried out by Pakistan during 1971 war of independence.
2004 Opposition calls 21 general strikes over the course of the year as part of a campaign to oust the government.
2004 May – Parliament amends constitution to reserve 45 seats for female MPs.
2004 August – Grenade attack on opposition Awami League rally in Dhaka kills 22 people. Awami League leader Sheikh Hasina survives the attack.
2006 February – Opposition Awami League ends year-long parliamentary boycott.
Political crisis
2006 October – Violent protests over government's choice of a caretaker administration to take over when Premier Zia completes her term at the end of the month. President Ahmed steps in and assumes caretaker role for period leading to elections due in January 2007.
2006 November – A 14-party opposition alliance led by the Awami League campaigns for controversial election officials to be removed. Chief election commissioner MA Aziz steps aside.
2006 December – Election date set at 22 January. Awami alliance says it will boycott the polls. Awami leader Sheikh Hasina accuses President Ahmed of favouring her rival. Blockade aimed at derailing parliamentary elections paralyses much of the country.
2007 January – A state of emergency is declared amid violence in the election run-up. President Ahmed postpones the poll. Fakhruddin Ahmed heads a caretaker administration.
2007 March – Six Islamist militants convicted of countrywide bomb attacks in 2005 are hanged. They include the leaders of Jagrata Muslim Janata Bangladesh and Jamaat-ul-Mujahideen.
2007 April – Sheikh Hasina is charged with murder. Begum Khaleda Zia is under virtual house arrest. Several other politicians are held in an anti-corruption drive.
2007 August – Government imposes a curfew on Dhaka and five other cities amid violent clashes between police and students demanding an end to emergency rule.
2008 June – Sheikh Hasina is temporarily freed to get medical treatment in the US.
2008 August – Local elections take place, seen as a big step towards restoring democracy. Candidates backed by the Awami League perform strongly.
2008 November – The authorities say general elections will be held on 18 December. Sheikh Hasina returns to lead her party in the poll.
Awami League win
2008 December – General elections: Awami League captures more than 250 of 300 seats in parliament. Sheikh Hasina is sworn in as prime minister in January.
2009 February – Around 74 people, mainly army officers, are killed in a mutiny in Dhaka by border guards unhappy with pay and conditions. Police arrest some 700 guards. A further 1,000 guards are detained in May.
2009 October – The government bans the local branch of the global Islamist organisation Hizb-ut Tahrir, saying it poses a threat to peace.
2010 January – Five former army officers are executed for the 1975 murder of founding PM Sheikh Mujibur Rahman.
2012 May-June – Key figures from the main Islamist party Jamaat-e-Islami, including leader Motiur Rahman Nizami, are charged with war crimes by a government tribunal investigating alleged collaboration with Pakistan during the 1971 independence struggle.
2012 October – Muslim rioters attack Buddhist villages and shrines in south-east Bangladesh after an image said to show a burnt Koran was posted on Facebook. The government denounces the attacks as "premeditated and deliberate acts of communal violence against a minority".
2013 January – War crimes tribunal sentences prominent Muslim cleric Abul Kalam Azad to death for crimes against humanity during the 1971 independence war. He was tried in absentia, as he had fled abroad.
2013 April – Prime Minister Sheikh Hasina vetoes Islamist bill to outlaw criticism of Islam.
2013 May – European retailers promise to sign an accord to improve safety conditions in factories after a garment factory building collapsed in April, killing more than 1,100 people. Worker protests close hundreds of factories and extract a government pledge to raise the minimum wage and make it easier to form unions.
Jamaat-e-Islami trials
2013 July – At least two people are killed as police clash with thousands of protesters after the conviction of Ghulam Azam, leader of the Jamaat-e-Islami party, for war crimes committed during the 1971 war of independence. Ghulam Azam dies in October 2014.
2013 December – Supreme Court upholds death sentence on Islamist leader Abdul Kader Mullah of the Jamaat-e-Islami party, who was convicted in February of crimes against humanity during the 1971 war of independence.
2014 January – Opposition BNP boycotts parliamentary elections, Prime Minister Sheikh Hasina returns for third term in office.
2014 October – Jamaat-e-Islami Leader Motiur Rahman Nizami and another leading figure, Mir Quasem Ali, found guilty of war crimes during independence war in 1971.
2015 February – Court sentences another senior Jamaat-e-Islami figure, Abdus Subhan, to death for war crimes committed during independence war in 1971.
2015 May – Bangladesh bans Islamist militant group Ansarullah Bangla Team, which claims responsibility for killing and assaulting several pro-secular public figures.
2015 November – Threats to Christians and Shia Muslims challenge government view that two years of attacks on pro-secular public figures are the work of a violent faction of the opposition Jaamat-e-Islami party, after the Islamic State armed group claims responsibility for attack on Shia mosque. Jamaat-e-Islami senior figures Ali Ahsan Mohammad Mujahid and Salahuddin Quader Chowdhury executed on war crimes charges dating back to 1971.
2016 July – The Islamic State group claims an attack on a cafe in Dhaka's diplomatic quarter in which 20 hostages, including 18 foreigners, are killed but the government rejects the claim saying the militant group Jamaat-ul-Mujahideen was responsible.
2016 September – Business tycoon and senior leader of Bangladesh's largest Islamist party Jamaat-e-Islami, Mir Quasem Ali, is executed for war crimes committed during the 1971 war of independence.
Why Bangladesh is important to India's north east?
Bangala
Ports – The nearest port for the Northeast is Kolkata. Kolkata is 1500 km from Aizawl and Agartala. Not just the distance, the route passes through multiple states and through a lot of mountains. Imagine dragging a heavy machinery through this long, narrow road. This makes trade and manufacturing very hard in the Northeast. Every product that is either produced in Northeast or needed in northeast has to be carried through that one road through Siliguri. On the other hand, Chittagong port is only 200km from Tripura and passes through the mostly flat land. A major Bangladeshi railway junction Akhaura is just 10 km from Agartala.
Migration – Major cities in India's northeast are quite close to the rural hinterland of Bangladesh. For many rural Banglas, it is easy to find jobs in these cities than in Dhaka or Chittagong. Thus, there is a massive migration that is rapidly impacting the demographics of the Northeast. Many tribes feel marginalized in their own territory. India needs Bangladeshi government's help to arrest the endless flow of migrants.
Separatism – Tripura alone shares 850km of border with Bangladesh. Other states like Mizoram share long borders too [a total of 4000+ km of shared borders between Northeast India and Bangladesh]. Given the long and unpatrolled borders, the separatists and troublemakers in this region easily escape to Bangladesh. It is hard to fight the separatism as long as the separatists have such an easy escape hatch. India needs Bangladesh's help in patrolling the borders and also bring the fugitives to justice.
Food movement – Eastern side of Bangladesh is quite fertile and produces a lot of rice. This can be easily be moved to Tripura, Mizoram and Manipur rather than dragging the food from West Bengal through the Siliguri corridor or air lifting them.
Risk of Chicken neck – Currently the Siliguri corridor remains the only link between the Northeast and the rest of India. Any problem there – terrorist attacks, natural disasters, etc. – would completely cut off India from the 7 states of North east. Bangaldesh help would reduce that risk substantially
Major irritants with Bangladesh
Boundary Dispute
India's land border with Bangladesh as per the Ministry of Defence is 4351 km. running through five states, viz., West Bengal (2217kms), Assam (262 kms), Meghalaya (443kms), Tripura (856 kms) and Mizoram (318 kms), including nearly 781 kms of riverine border. The border traverses through 25 districts.
The border is used as a route for smuggling livestock, food items, medicines and drugs from India to Bangladesh. Moreover, illegal immigrants from Bangladesh cross the border to India in search of improving their lives. Because of a large number of illegal immigrants crossing from Bangladesh into India, a controversial shoot-on-sight policy has been enforced by the Indian border patrols.
This policy was initiated with reports of violence between the illegal migrants and Indian soldiers. The border has also witnessed occasional skirmishes between the Indian Border Security Force and the Border Guards Bangladesh, most notably in 2001.
The killing of Bangladeshi nationals by Border Security Force (BSF) has become a major irritant between the two countries in the recent past. It has evoked strong public sentiments in Bangladesh. According to a report of Bangladesh Human Rights Watch organization Odhikar, BSF has, from January 1, 2001 to March 31, 2012, killed 907 Bangladeshis. Bangladesh wants no time lost in stopping these killings.
Further the Agreement on the demarcation of Land Boundary between Bangladesh and India and related matters had been signed in May 1974 between the two great statesmen, Bangabandhu Sheikh Mujibur Rahman, and Smt. Indira Gandhi. This comprehensive agreement was intended to resolve all lingering and vexing problems that history had bequeathed on the two nations.  But it has not full filled by both Governments.
During the State visit of the Prime Minister to Bangladesh in September 2011, a "Protocol to the Agreement between the Government of India and the Government of Bangladesh Concerning the Demarcation of the Land Boundary Between India and Bangladesh and Related Matters (LBA)" was signed. It settles the long outstanding land boundary issues related to un-demarcated segment of 6.1 Kms; territories in adverse possession; and exchange of enclaves. The Cabinet has, on 13 February 2013, approved the draft of a Constitution (Amendment) Bill for implementing the India-Bangladesh Land Boundary Agreement (LBA) 1974 and the Protocol to LBA signed in 2011.
The Protocol envisages that 111 Indian Enclaves in Bangladesh and 51 Bangladesh Enclaves in India, as per the jointly verified cadastral enclave maps, shall be exchanged. As per Article 3 of the LBA 1974, when the Enclaves are transferred, people living in these areas shall be given the right of staying on where they are as nationals of the State to which the areas are transferred.
Maritime border 
While  Bangladesh,  having  concave coastlines,  delimits  its  sea  border southward  from  the  edge  of  its  land boundary,  India  stretches  its  claim southeast  wards,  covering  around thousands  of  miles  in  the  Bay  of  Bengal.
Due  to  competing  claims  of  the  two countries,  delimitation  of  the  sea boundary  and  determining  Bangladesh's exclusive  economic  zones  have  remained unresolved.  Moreover, in terms  of determining the continental shelf, the presence of the Andamans and Nicobar Islands puts India, in a  favourable position.
Territorial Waters
The issue of demarcating territorial waters led to serious differences between the two countries. Questions  of ownership over a new born island known as South Talpatty in Bangladesh and New Moore/ Purbasha in  India  spotted  by  a satellite picture in 1975 in  the estuary of Haribhanga  River  on  the  border  of  the two  countries  has  been  a  source  of contention since its discovery.
In order to settle the above dispute  Bangladesh proposed sending a joint Indo‐Bangladesh team to determine the flow of channels of the  river  on  the  basis  of  existing International  Law  of  the  Sea.  But  the Indian  counterpart  sent  forces  to establish  claims  by  stationing  naval troops on  the island in 1981. After initial resentment  by  Bangladesh,  India  agreed to resolve the issue through negotiations.
Illegal Migration
Illegal migration is one of the bones of the contention of these two countries, Since the 1971 war of independence that created the state of Bangladesh, millions of Bangladeshi immigrants (the vast majority of them illegal) have poured into neighboring India.
While the Indian government has tried to deport some of these immigrants, the sheer number of them, as well as the porous border between the two countries, has made such an enterprise impossible. It is difficult to assess how many illegal immigrants are currently residing in India. Consider that in 1971, during the civil war in neighboring East Pakistan (the former name of Bangladesh), at least 10-million Bangladeshis poured into West Bengal in India
Illegal migration appears in the eastern and north-eastern parts of the country from neighbouring Bangladesh, threat to India's internal security, from Bangladesh is impacted on communal, political, social and economic tensions and conflicts in several areas of the northeast of India.
The most affected states are West Bengal, Assam, Megalaya, Nagaland, Bihar, and Tripura, although migrants "have spread too far off states like Tamil Nadu, Maharashtra, Gujarat, Rajasthan and Delhi."  Although the exact figure is not known, it is estimated that there are about 15-20 million Bangladeshis staying illegally in India.
The National Investigation Agency has found links with Pakistan in rackets engaged in printing and smuggling fake currency into India. NIA sources said fake currency was now being smuggled into the border with Bangladesh has gaps at some points and immigrants cross into India on foot through the breaks in the fence.
Some also swim across rivers on the border to reach India. The National Investigation Agency has found links with Pakistan in rackets India through its porous border with Bangladesh. Malda district in West Bengal is a key transit point for counterfeiters.
Once they reach India, immigrants obtain fake documents through local agents.  Political leaders in parts of West Bengal were also involved in endorsing fake documents such as ration cards for illegal immigrants.
This unfettered illegal migration impacts on national security and socio-economic stability. Intelligence inputs indicate that the Inter Service Intelligence Agency (ISI) of Pakistan is utilizing these migrants as conduits to ferry in terrorists and arms into India. Counterfeit Indian currency with its origins in Bangladesh has flooded border areas, crippling in these parts.
Vote bank politics in Assam is the one of obstacle to control illegal migration from Bangladesh, led to communal violence between indigenous Bodos and Muslims (migrants from Bangladesh) in 2012.
The illegal Bangladeshi immigrants have not only changed the demography and disturbed the ecology of the north-east but have also encouraged them to exercise their political rights in India as citizens. It has been one of the key reasons for the rise of insurgent groups in the north-east as some of the insurgent groups like Assam Gana Sangram Parishad started, and got support of the masses, because of the issue of illegal immigration from Bangladesh. At the same time the immigration laws (Illegal Migrants [Determined by Tribunal] (IMDT) Act 1983) followed in Assam has aided illegal immigrants' settling in the north-east easy.

 Security concerns
Insurgency has been playing the role in straining relations of India with Bangladesh. Northeast India has been facing insurgency since 1956 due to feelings of ethnic separatism among its inhabitants.
ISI is operating from Bangladesh, supporting the insurgents in the North east India. National Liberation of Tripura (NLFT), Liberation Front of Assam(ULFA) and National Democratic Front of  Bodoland (NDFM) are major insurgent groups in Northeast India. There are some rumours that ULFA has several lucrative income generating Projects in Bangladesh to sustain its insurgency activities in India.
Drug Trafficking
Bangladesh is increasingly being used as a transit point by drug dealers and the drug mafia,  which  dispatches  heroin  and opium  from  Burma,  and  other  countries of  the  golden  triangle,  to  different destinations.
As  a  result,  Bangladesh's Department  of  Narcotics  Control  has  come  under  the  scanner  several  times  and  invited  criticism. Bangladesh  has  become the  prime  transit  route  for  trafficking heroin  to  Europe  from  Southeast Asia, according  to  a  report  from  the International  Narcotics  Control  Board  (INCB)  2007  annual  report.
INCB  notes  that  the  most  common methods and routes for smuggling heroin into  Bangladesh  are  by  courier  from Pakistan,  commercial  vehicles  and  trains from India, and via sea through the Bay of Bengal  or  overland  by  truck  or  public transport from Burma.
Trade and Investment
Bangladesh is an important trading partner for India. The two-way trade in FY 2011-2012 was US$5.242 billion with India's exports to Bangladesh accounting for US$4.743 billion and imports US$0.498 million.
The trade deficit with India is frequently highlighted by Bangladesh as a major contentious issue. Trade deficit for Bangladesh is more than $4 billion.  For long, Bangladesh has been urging India to reduce this gap by lifting the tariff barriers as they were a major impediment to the growth of Bangladesh's exports to India. Responding to Bangladesh's concern, in November 2011, India granted duty free access to all products, except 10 tobacco and liquor items from Bangladesh which amounts 30% of Bangladesh export.
As much as 98 per cent of Bangladesh products now enjoy zero duty benefits in the Indian market. Bangladesh's exports to India are expected to cross $1 billion in 2012.
However, Bangladesh is now urging India to remove all non-tariff barriers (NBTs) as it views NTBs as the major obstacles to its export growth. Some of these barriers are: laboratory test for every consignment of food products, cosmetics, and leather and textile products; delay in getting test results; imposition of state tax; packaging requirement, anti-dumping and countervailing duties; inadequate infrastructure facilities such as warehousing, trans-shipment yard, parking yard and; connecting roads at land customs stations of India.
To encourage exports from Bangladesh, India must move proactively to provide facilities of customs and testing at the border check posts.
Besides, removal of non-tariff barriers should be accompanied by tariff reforms since the opportunity cost of non-tariff barriers is very high.
A Consumer Unity & Trust Society (CUTS) International report says: "In 2010, value of unexplored market was more than 48 per cent of total value of India- Bangladesh trade and potential saving, which is a proxy for cost of non-tariff barriers, is more than seven per cent of total value of Indo-Bangla trade".
India is also encouraging investments in Bangladesh. In this regard, a Bilateral Investment Promotion and Protection Agreement have been signed between the two countries. The agreement is expected to increase Indian investment in Bangladesh.
Transit
India has been urging Bangladesh to provide rail and road transit to connect with its north-eastern states. Technically speaking, the issue of transit was resolved in 1972 when both sides agreed on a mutually beneficial arrangement for the use of their waterways, railways and roadways for commerce between two countries and for passage of goods to places in one country through the territory of the other. Inland water transit has been functional, but the rail and road transit is still waiting to be operational.
Bangladesh's initial reluctance to granting India rail and road transit was on the grounds that transit facility once given was difficult to take back and such a facility may encourage terrorism and insurgency.
Other concerns included damage to the roads and bridges in Bangladesh by the increased traffic flow from the Indian side.
The reason for delay was that Bangladesh's infrastructure was not yet prepared to take the load of the increased traffic that will follow with the granting of transit to India. Addressing Bangladesh's concern, India provided a credit line of $1billion to Bangladesh for development of infrastructure projects. But the credit line could not be used to its potential because of the strict conditions India imposed, to the effect that 85 per cent of the raw materials for the road projects has to be procured from India, on the ground that it produces all the materials necessary.
Bangladesh has countered by claiming it too has the necessary raw materials. It could earn $44 million per annum for first five years if it grants transit to India. From the sixth year, earnings would be around $500 million, which could rise to $1 billion.  Transit would not only boost connectivity between the two countries, but also offer opportunities for regional connectivity and help Bangladesh develop Chittagong port into a regional hub.
The  Chittagong  port  can  become  a modern  busy  port  like  Singapore  and  China  serving  the  SAARC  countries.  Huge  foreign  investment  may  be attracted by Bangladesh and  finally, a throbbing  service  sector like banks, insurance, hotels, rest houses, petrol pumps etc. may develop around the Transcontinental roads and railways.
There  is  an  estimate  of  direct economic  gain  from  transit  fees.  It ranges from  500  crore  taka  to  4,666 crore taka.  The  mutual  transit will  also give Bangladesh  a  much  shorter  route  to China and an initiative to link Chinese province  of  Yunan with  Seven Sisters of  India,  Myanmar,  Thailand  and Bangladesh.
Water –sharing:
We share 54 trans-boundary rivers, big and small.
Some of the major water sharing disputes
Ganga river dispute
In 1996, the sharing of the Ganga waters was successfully agreed upon between the two nations. However, the major area of dispute has been India's construction and operation of the Farakka Barrage to increase water supply to the river Hooghly.
Bangladesh complains that it does not get a fair share of the water in the dry season and some of its areas get flooded when India releases excess waters during the monsoons.
Teesta River dispute
Teesta originates in Sikkim, flows through West Bengal in India before entering Bangladesh. It merges with the Brahmaputra River (or Jamuna when it enters Bangladesh). The river is important for both Bangladesh and India for its agricultural use.
Teesta river agreement timeline
In 1983, India and Bangladesh had agreed into an ad hoc sharing of the water during the dry season (October to April) with an allocation of 36 per cent for Bangladesh and 39 per cent for India, leaving 25 per cent to be decided later. But this deal has remained pending for more than 2 decades.
As per an agreement of 2011 the two sides had agreed to share the river's water 50:50, the same as the 1996 Ganges water-sharing pact between the neighbors. This agreement was not signed due to opposition from chief minister of West Bengal.
Tipaimukh Hydro-Electric power Project
Bangladesh has been demanding to stop the construction of the Tipaimukh Hydro-Electric Power Project on the Barak River on the eastern edge of Bangladesh.
Bangladesh says that the massive dam will disrupt the seasonal rhythm of the river and have an Adverse effect on downstream agriculture, fisheries and ecology of the region. Indian government has assured Bangladesh that it will not take any unilateral decision on the Tipaimukh Hydro-Electric Power Project which may adversely affect Bangladesh.
Chinese Engagement with Bangladesh
Bangladesh and China has decade-long diplomatic ties. 2015 marked the 40th year of their relationship. China is the largest trading partner of Bangladesh in current times with the two-way trade accounting for about US$12 billion in 2014. China is contributing largely to ongoing infrastructural development in Bangladesh.
The growing security and military relations between the two countries in recent days is taking place much to the chagrin of New Delhi. Beijing's current initiative for setting up financial institutions including the Asian Infrastructure Investment Bank (AIIB) is likely to create new opportunities for Bangladesh in accessing funds for infrastructure development.
Bangladesh's renewed interest in ocean economy in the Bay of Bengal in the context of UN approved delineation of maritime boundary over the Bay, it needs to engage with technologically and financially sound partners like China, Japan, the United States and South Korea, among others.
Engagement with China may prove to be most important economic relation for Bangladesh considering China's growing and developed economy and international clout. However, Dhaka needs to balance its relations between New Delhi and Beijing for its own interest.
In fine, India in its current focus on neighbourhood prosperity is going to foster an enduring bilateral relationship with Bangladesh, as perceived from the ongoing engagements between New Delhi and Dhaka. Both countries are on the right track for building rapport in spheres of bilateral importance; however, the deep-seated disputes like that of water-sharing needs to be addressed for good for a better tomorrow.
Recent Developments
Land Boundary Agreement
Brief history:
After the partition of India in 1947, Rangpur was joined to East Pakistan, and Cooch Behar district was merged in 1949 with India. The desire to "de-enclave" most of the enclaves was manifested in a 1958 agreement between Jawaharlal Nehru and Feroz Khan Noon, the respective Prime Ministers, for an exchange between India and Pakistan without considering loss or gain of territory.
But the matter then worked into a Supreme Court case in India, and the Supreme Court ruled that a constitutional amendment was required to transfer the land. So the ninth amendment was introduced to facilitate the implementation of the agreement.
The amendment could not be passed because of an objection to transfer of southern Berubari enclave. Because of India's deteriorated relations with Pakistan, the issue remained unsolved. With that agreement not ratified, negotiations restarted after East Pakistan became independent as Bangladesh in 1971 following the Bangladesh Liberation War
Attempts have been made to arrive at a comprehensive settlement of the land boundary between India and Bangladesh (the erstwhile East Pakistan) since 1947. The Nehru-Noon Agreement of 1958 and the Agreement Concerning the Demarcation of the Land Boundary between India and Bangladesh and Related Matters of 1974 (referred to as 1974 LBA) sought to find a solution to the complex nature of the border demarcation involved.
However, three outstanding issues pertaining to an un-demarcated land boundary of approximately 6.1 km, exchange of enclaves and adverse possessions remained unsettled.
The list of enclaves was prepared in 1997 by both nations. Two Joint Boundary Working Groups was formed to work out the details of enclaves in 2001. The joint census was carried out it May 2007.
The Protocol (referred to as the 2011 Protocol) to the 1974 LBA, signed on 6th September 2011 during the visit of the Prime Minister to Bangladesh, paves the way for a settlement of the outstanding land boundary issues between the two countries. The both nations announced an intention to swap 162 enclaves, giving residents a choice of nationality.
Indian Parliament in May 2015 passed the constitutional amendment bill regarding the land boundary agreement with Bangladesh. The Lower House, showing rare unanimity, passed the Constitution (119th Amendment) Bill to allow the operationalisation of the 1974 India-Bangladesh Land Boundary agreement.
Major features of agreement: 
A settled boundary is an essential prerequisite for effective cross-border cooperation. It reduces friction, helps neighbours consolidate mutually beneficial exchanges and promotes confidence in building better relations.
The 2011 Protocol ensures that the India-Bangladesh boundary is permanently settled with no more differences in interpretation, regardless of the government in power.
The 2011 Protocol results in a fixed demarcated boundary in all the un-demarcated segments, exchange of 111 Indian enclaves in Bangladesh with 51 Bangladesh enclaves in India and a resolution of all adversely possessed areas.
In the exchange of enclaves, India transfers 111 enclaves with a total area of 17,160.63 acres to Bangladesh, while Bangladesh would transfer 51 enclaves with an area of 7,110.02 acres to India.
While on paper, the exchange of enclaves between India and Bangladesh may seem like a loss of Indian land to Bangladesh, the actual scenario is quite different as the enclaves are located deep inside the territory of both countries and there has been no physical access to them from either country.
Each country will now begin to administer enclaves on its territory and enclave citizens will be able to choose where they want to live and which nationality they would prefer.
In reality, the exchange of enclaves denotes only a notional exchange of land as the Protocol converts a de facto reality into a de jure situation.
The inhabitants in the enclaves could not enjoy full legal rights as citizens of either India or Bangladesh and infrastructure facilities such as electricity, schools and health services were deficient.
Further, due to lack of access to these areas by the law and order enforcing agencies and weak property rights, certain enclaves became hot beds of criminal activities.
Major advantages of land boundary agreement: 
 

These are as follows:
The exchange of enclaves will mitigate major humanitarian problems as the residents in the enclaves and others on their behalf had often complained of the absence of basic amenities and facilities the settlement of Adverse Possessions will lead to tranquility and peace along the border it represents a permanent solution to a decades old issue the newly demarcated boundaries are a fixed boundary, thereby adding to certainty regarding the future
a settled boundary reduces friction, helps neighbours consolidate mutually beneficial exchanges and promotes confidence in building better relations.
It paves the way for closer engagement and mutually beneficial relations between India and Bangladesh and the region; this also helps on issues of strategic concern, including security cooperation and denial of sanctuary to elements inimical to India. While land will be exchanged, the Protocol does not envisage the displacement of populations; the Protocol ensures that the India-Bangladesh boundary is permanently settled and there should be no more differences in interpretation, regardless of the government in power.
This deal would also revive the moribund South Asia Growth Quadrangle (SAGQ), comprising India's north east, Bangladesh, Nepal and Bhutan.
Indo-Bangladesh Maritime Boundary Dispute
In a landmark judgment, the Hague-based Permanent Court of Attribution (PCA) has awarded Bangladesh an area of 19,467 sq km, four-fifth of the total area of 25,602 sq km disputed maritime boundary in the Bay of Bengal with India on July 7.
The UN Tribunal's award has clearly delineated the course of maritime boundary line between India and Bangladesh in the territorial sea, Exclusive Economic Zone (EEZ) and continental shelf within and beyond 200 nautical miles (nm). Now, Bangladesh's maritime boundary has been extended by 118,813 sq comprising 12 nm of territorial sea and an EEZ extending up to 200 nm into the high seas.
In addition, the ruling acknowledged Bangladesh's sovereign rights of undersea resources in the continental shelf extending as far as 345 nm in the high seas, taking Chittagong coast as the base line. The verdict has been broadly accepted by both the countries as a positive development for further consolidation of friendly relations especially given the geo-strategic/political significance of greater Indian Ocean region and South Asian sub-region.
Security and Economic implications for India
Some are of the scholars' opinion that the ruling could provide force for the new Indian government to ratify the Land Boundary Agreement and reach an understanding on sharing the waters of the Teesta river with Bangladesh.
The verdict would contribute towards establishing strategic partnerships among the nations sharing borders in the Bay.
The award is expected to have positive impact on emerging multilateral forum like BIMSTEC. It may be noted that India has already settled its maritime borders with Sri Lanka, Myanmar and Thailand. Similarly, Bangladesh's maritime issues with Myanmar are resolved.
The PCA award assumes strategic significance against the backdrop of China's close ties with Bangladesh and its growing interests and activities in the Bay region for which India is worried. Now the settlement of maritime disputes between India and Bangladesh may have a restraining influence on the expansionist designs of China.
Both the countries have accepted the award as it will open the door for exploration of oil and gas in the Bay—the site of huge energy reserves.
The verdict has recognised India's sovereignty over New Moore island and received nearly 6000 sq km of the contested zone where the island had once existed.
India's discovery of natural gas in 2006 took place in a creek which is situated about 50 km south of the mouth of the Hariabhanga river within the contested zone. The lingering maritime dispute stood in the way of exploration of hydrocarbons in the Bay region. Such as in December, 2013, Australian firm Santos withdrew from two sea-blocks citing security and maritime dispute with Bangladesh.
Now India's policy makers could chalk out a long-term strategy for the economic development of the Bay region. To realise its goals, New Delhi may forge bilateral or multilateral partnerships under the framework of sub-regional grouping like BIMSTEC
Implication for Bangladesh
The award has huge economic significance for a small state like Bangladesh. It has cleared the obstacles for Dhaka to open up its waters for foreign firms to explore and exploit hydrocarbons in the Bay. So long, Bangladesh's maritime dispute with India is believed to have deterred many international petroleum companies to invest in the sea-blocks previously offered by it.
The United Nations Convention of Law of the Sea (UNCLOS) gives a nation 12 nm of territorial control and ensures sovereign rights to explore, exploit and manage natural resources with 200 nm of EEZ.
The economic prospects of the Bay region have increased enormously after Myanmar and India discovered huge natural gas deposits beneath the sea. It is reported that Myanmar discovered 7 trillion cubic feet of hydrocarbon deposits in the region. This was followed by India's discovery of another 100 trillion cubic feet of natural gas. This prompted Bangladesh—a nation with limited resource base and high demand of energy,to search for offshore energy resources.
In 2008, Bangladesh government divided its claimed territorial sea and EEZ into 28 sea-blocks and leased them to multinational companies to meet its growing energy needs.But Bangladesh was eventually compelled to suspend exploration as both India and Myanmar objected to it.Successive discoveries of massive natural gas have made the delimitation of maritime boundary all the more significant.
Economically, Bangladesh is a major gainer. Now, Dhaka is in a position to invite foreign companies to explore oil and gas resources in its maritime zones.
It would definitely help Bangladesh to compensate gas shortages in its gas turbine-run industries and plants and contribute to the country's economic development.
India's ONGC stands a good chance to win lucrative contracts in Bangladeshi offshore gas and oil fields.
The verdict is also good news for millions of fishermen in both the countries. The amicable settlement has opened up vast sea areas which were not available to them in the last four decades.
Moreover, both the countries could enhance cooperation in the conservation of the rich bio-diversity of the Sunder bans.
By clearly delineating the maritime boundary between the two nations, the verdict could help boosting coastal and maritime security in the region. Before the award, both India and Bangladesh could not undertake cooperative measures due to the vexed problem. The verdict has now cleared the hurdles of strengthening security in the maritime front.
Furthermore, precise demarcation of maritime boundary would assist in preventing the cases of transgression by fishermen of both countries. The PCA award is really a "win-win" situation for both the countries, as described by the Bangladesh foreign minister, if they follow it up with concrete action.
3. Growing radicalism in Bangladesh
Background
In last 2 years many secularist have been heckled to death in Bangladesh.In 2010, the government of Bangladesh, headed by the secularist Awami League established a war crime tribunal to investigate war crimes perpetrated during Bangladesh's bloody 1971 Liberation war from Pakistan. In February 2013, Abdul Qadeer Molla, a leader of the Bangladeshi Jamaat-e-Islami party (a small Islamist party within the opposition coalition) was sentenced to life imprisonment by the tribunal.
The sentence was condemned by Bangladesh's secularist bloggers and writers, who helped organize the Shahbagh Protest in response, calling for the death penalty for Molla. The protestors quickly expanded their demands to include outlawing the Jamaat-e-Islami party itself for its role in the 1971 war.
Shortly after the first Shahbag protests, counter-demonstrations, which quickly degenerated into violence, were organized by Islamist groups. Islamist leaders denounced the war crimes tribunal as political and called for an end to the prosecution of Jamaat-e-Islami leaders, instead they demanded the death penalty for secularist bloggers, denouncing them as "atheists" and accusing them of Blasphemy.
According to many Experts the hostility directed toward Bloggers by Islamists is due primarily to the bloggers' growing political influence in Bangladesh, which represents a major obstacle to the Islamist goal of a religious state.
Though there were occasional attacks on secularists prior to the 2013 Shahbag protests, the frequency of attacks has increased since.
In 2014, a group calling itself "Defenders of Islam" published a "hit list" of 84 Bangladeshis, mostly secularists, of whom nine have already reportedly been killed and others attacked Responsibility for many of the attacks has been claimed by Ansarullah Bangla Team a group which according to police has links with both the youth wing of Jamaat-e-Islami and with Al Qaida. The group has since been banned by the government. Other attacks appear to have been perpetrated by more obscure groups.
How much is politics responsible for this situation?
The killing campaign in Bangladesh is fuelled by the bitter war between Prime Minister Sheikh Hasina's Awami League, and her opponents on the Right — former Prime Minister Khaleda Zia's BNP, and its sometime ally, the Jamaat.
Headed into the 2014 elections, the BNP had paralysed the country with weeks of protests, demanding that power be handed over to a neutral caretaker government. The Awami League government, though, held fast, leading the opposition to boycott the elections.
In 2013, meanwhile, the now-iconic Shahbag protests broke out, with young people demanding the death penalty for Jamaat-e-Islami leaders held guilty of 1971 war crimes. In essence, these twin crises pushed the organised right wing out of the political arena, creating a political vacuum. Though the Bangladeshi police and security services have proved effective at containing terrorism, crushing the once-feared Harkat-ul-Jihad-e-Islami, the fear now is that the political vacuum could be capitalised on by jihadists.
The best way of preventing that would be to revive competitive political life in Bangladesh, but the political system remains log jammed, with no end in sight to the Awami League-BNP stand-off.
Significance of these Killing for Bangladesh
Bangladesh has always prided itself for its religious tolerance and secularism. In fact, the country is a shining example of Islam and democracy coexisting. However, all that is changing quickly with the rise of religious fundamentalism in the country.
The Islamist fundamentalists, apart from targeting minorities, have targeted all those who have commented on religion and who are fighting for their right to the freedom of expression. These Killings are threat to democracy as freedom of expression is one of the very basic tenet of Democracy.
The killings Prove that the Islamlist are not just against the minority community but anyone even a Muslim who do not subscribe to their salafist ideology thus most of their victims are liberal Muslims.
These killings are leading to  growing sense of fear and insecurity; people in Bangladesh are living under the threat of Terrorism  Moreover, the lukewarm response of the government has only emboldened the radical elements belonging to the Hardline Islamist groups such as ABT and JMB.
The persistent failure of the Bangladesh Government and the international community to better protect threatened thinkers has created a climate of fear and direct threat to free thought in the country.
The spate of ideological murders is an assault on Bangladesh's secular principles and ideas.
Way Forward
Bangladesh is facing an existential crisis today and unless the government takes steps to launch an all-out attack on the members of AMT and JMB, the situation may spiral out of control. It is also surprising that, except for opprobrium in international newspapers on the growing intolerance in the country, many countries like the United States, the United Kingdom, and even neighboring India have remained silent over the issue.
It is time that they exert pressure on the Bangladeshi government to act against the perpetrators of these crimes. The government should also realize by not acting against these perpetrators, the groups will be further emboldened to carry out more such attacks against the secular forces. T
he day is not far when these groups are likely to be exploited by terrorist organizations like al Qaeda and the Islamic State, for not only gaining a toehold in the region, but also an opportunity to radicalize the youth of the country. Before it's too late, the government must launch an all out attack on these fundamental groups, lest the country fall into an abyss of violence, which would completely destroy the secular character of Bangladesh.
4. BBIN Motor Vehicle Agreement
Introduction
India, Nepal, Bhutan and Bangladesh signed a landmark Motor Vehicles Agreement (MVA) for the Regulation of Passenger, Personnel and Cargo Vehicular Traffic among the four South Asian neighbours in Thimpu, Bhutan. BBIN (Bangladesh, Bhutan, India, Nepal) agreement is a complementary instrument to the existing transport agreements or arrangements at the bilateral levels that the contracting parties will continue to honor.
What will be the benefits of BBIN?
It Will promote safe, economical efficient and environmentally sound road transport in the sub-region
Will further help each country in creating an institutional mechanism for regional integration.
BBIN countries will be benefited by mutual cross border movement of passenger and goods for overall economic development of the region.
Will further promote our cooperation in trade and commerce apart from further cementing our age old cultural ties
Enhance regional connectivity.
Expand people-to-people contact, trade, and economic exchanges between our countries.
Transforming transport corridors into economic corridors could potentially increase intraregional trade within South Asia by almost 60% and with the rest of the world by over 30%
A new sub-group in world – BBIN! Regional strength.
What are the challenges ahead?
Building and upgrading roads, railways and waterways infrastructure energy Grids, communications and air links to ensure smooth cross border flow of goods, services, capital, technology and people.
Internal Security concerns
Illegal migration
Smuggling, etc.
Timely implementation of further steps to be taken.
Trade facilitation at Land border
Multi-modal transport facility
Customs system can be shared – this will save time by avoiding duplication
Bhutan has some reservations related to tourism as they want to strictly maintain culture and everything else of the Himalayas as per their own norms including Gross Happiness Index
What more can BBIN do?
Bhutan and Nepal can generate more power and sell to India and Bangladesh
It is not anymore a socialist hangup of exploitation by one country of other. It is mutual growth through co-operation.
Is India planning something similar with other countries?
A major breakthrough has been achieved between India-Myanmar and Thailand. Three nations have agreed to develop a similar framework motor vehicle agreement on the lines of draft SAARC Motor vehicle agreement.
Secretary level discussions were successfully concluded in Bengaluru this month andconsensus has been reached on the text of Agreement. 
On conclusion of this Agreement, our sub-region will get access to the larger ASEAN marketthrough seamless passenger and cargo movement.
Areas of cooperation between India and Bangladesh under Sheika Hasina Government
India's relations with Bangladesh have certainly witnessed a significant upswing over the past decade, some persistent challenges notwithstanding. Bilateral trade has risen to $7 million. Bangladeshi Prime Minister Sheikh Hasina has been cracking down on hardline elements, and has provided India with logistical assistance, for instance in setting up the Paltana plant in Tripura. Sheikh Hasina, after being elected in December 2009 as Prime Minister, used her huge majority in Parliament to launch two initiatives.
One was eradication of terrorism from the country, and the other was the trial of the 1971 war criminals for crime against humanity. One Jamaat senior leader has been executed, their mentor Golam Azam has been sentenced to life and cases against others are proceeding. This trial, which was long demanded by the freedom fighters, has set back both the Jamaat and BNP.
On the terrorism front Sheikh Hasina has scored unprecedented success. Indian insurgents like the ULFA, NSCN (I/M) and others have been rooted out of this country, and Islamic terrorists and extremists have been hit hard. Apart from Bangladesh India has been the greatest beneficiary of the Sheikh Hasina government's action against terrorism.
From October 2013, India started exporting 500 megawatts of electricity a day to Bangladesh over a period of 35 years
 Last year the Indian Parliament, unanimously passed the Land Boundary Agreement (LBA) as its 100th Constitutional amendment, thereby resolving all 68-year old border disputes since the end of the British Raj. The bill was pending ratification since the 1974 Mujib-Indira accords.
Resolution of maritime dispute through UNCLOS PCA in favour of Bangladesh and India not re-appealing it.
Easing of Visa regime to provide 5 year multiple entry visas to minors below 13 and elderly above 65.
Bangladesh allowed India to ferry food and grains to the landlocked North east using its territory and infrastructure.
 During the PM modi visit India extended a US$2 billion line of credit to Bangladesh & pledged US$5 billion worth of investments. As per the agreements, India's Reliance Power agreed to invest US$3 billion to set up a 3,000 MW LNG-based power plant (which is the single largest foreign investment ever made in Bangladesh) & Adani Power will be setting up a 1600 MW coal-fired power plant at a cost of US$1.5 billion.
Power agreement and internet service: Prime Ministers of India and Bangladesh commissioned international gateway of internet service in Agartala and supply of 100MW power to Bangladesh from Tripura.
Under it India will supply 100 megawatt (MW) of electricity in return for 10 Gigabits per second Internet bandwidth.
100MW power will be supplied from Suryamaninagar grid to the grid in Commilla of southeast Bangladesh.
India is already supplying 500 MW of power to Bangladesh through the Bahrampur-Bheramara interconnection.
North eastern region will get benefit of 10GBPS internet bandwidth from Bangladesh's submarine cable station at Cox Bazar
15-km railway connectivity link between Agartala and Akhaura in Brahmanbaria district of Bangladesh is to be completed in 2017. Akhaura has a rail link to Chittagong too. Once the Agartala-Akhaura railway link is ready, goods brought to Chittagong port can be carried by rail directly to Agartala.
Both countries are also implementing BBIN motor vehical agreement which allows vehicles to enter each other's territory and does away with trans-shipment of goods from one country's truck to another at the border, a time consuming and costly process.
"Agreement on Coastal Shipping": India and Bangladesh signed the Standard Operating Procedure (SOP), to operationalize the "Agreement on Coastal Shipping" signed between the two countries in June, 2015.
Salient points about the SOP are
 The Standard Operating Procedure will pave the way to promote coastal shipping between India and Bangladesh and would enhance bilateral trade between the two countries by bringing down the cost of transportation of EXIM cargo.
The SOP contains provisions which stipulate that India and Bangladesh shall render same treatment to the other country's vessels as it would have done to its national vessels used in international sea transportation.
The two sides have also agreed upon the use of vessels of River Sea Vessel (RSV) category for Indo-Bangladesh coastal shipping.
Joint patrolling in Sudarbans and combined military exercise Operation SAMPRITI.
The two ways trade is $7 billion. The trade is set to go at $10 billion by 2018 through ports.
India is second in import destination for Bangladesh. Bilateral trade between India and Bangladesh stood at USD 6.6 billion in 2013-14 with India's exports at USD 6.1 billion and imports from Bangladesh at USD 462 million, representing more than double the value of USD 2.7 billion five years ago
The following steps should be taken to improve relation between India and Bangladesh.

a) Agreement on water sharing should be given priority. Early resolution of the Teesta issue is necessary.
b) Security cooperation between the two countries has been good. But there is need for institutionalizing this cooperation so that it does not remain restricted to the tenure of a particular government in either country. In this regard, a beginning could be made by signing the bilateral extradition treaty.
c) Connectivity should be given top most priority. Both the countries should work together to operationalise it.
d) There is need for addressing the issue of illegal migration. In this regard innovative measures should be taken to resolve the problem, being extra careful to ensure that illegal migrants do not acquire voting rights and Indian nationality.
e) People-to-people contact needs to be encouraged; hence liberal visa system should be put in place.
f) Trade relationship has improved significantly between the two countries. India has provided zero duty access of Bangladeshi products thereby addressing the tariff related issue to a great extent. The two countries should now consider an agreement on non-tariff barriers.
g) Indian investment should be encouraged in Bangladesh through visits of trade delegations, trade fairs, and bilateral assurances on protection of the interests of potential investors.
h) Progress can be made by cooperating on common challenges like disaster management, food and energy security.
i) Greater involvement of people and wider public debate on foreign policy issues will discourage conspiracy theories and distrust.
j) A greater level of people-to-people contact should be encouraged.
k) Implement the no-firing policy fully. Ensure accountability to ensure that the image of India as an enemy ceases to exist.
l) Fencing needs to be completed speedily and monitored effectively.This would create misgivings but also ensure that Bangladesh knows that India means business. The state governments and the Indian border forces seem receptive to such an idea
m) India and Bangladesh need to strengthen their military ties. They are being revived after a long gap but much more can be done in terms of increasing visits, contacts at various level as well as by selling military hardware. Apart from initiating joint exercises, India should consider the China model of gifting hardware in the initial instance, and offer technical expertise that Bangladeshi military is in need of. They have to be weaned away from Pakistan and China. There can be no overnight successes but sustained efforts are essential.