Honey Adulteration in India
Note4Students
From UPSC perspective, the following things are important :
Prelims level : Not Much
Mains level : Apiculture and its benefits for farmers
10 out of 13 popular honey brands failed a key test of purity, the Centre for Science and Environment (CSE) has claimed in an investigation.
Try this PYQ:

Q.Consider the following kinds of organisms:

Bat
Bee
Bird

Which of the above is/are pollinating agent/agents?

(a) 1 and 2 only

(b) 2 only

(c) 1 and 3 only

(d) 1, 2 and 3
Adulteration in honey
The CSE has resorted to the Nuclear Magnetic Resonance (NMR) testing to ascertain the composition of a product at the molecular level.
The NMR test is not required by Indian law for honey that is being marketed locally but is needed for export.
Current regulations specify around 18 parameters that honey must comply with for producers to label it 'pure honey.
Among the tests employed as per Indian regulations is one to check whether the honey is adulterated with C4 sugar (cane sugar) or C3 sugar (rice sugar).
Most samples cleared these tests but failed another test called the Trace Marker for Rice test, to test for rice syrup adulteration.
Significance of the CSE study
Adulteration of honey is a global problem with several countries, including India, devising regulations and new tests to check it.
It also destroys the livelihoods of bee-keepers who found it unprofitable to make pure honey because sugar-syrup honey was often available at half the price.
Some Indian companies in the honey business were importing synthetic sugar syrups from China to adulterate honey.
This shows how the business of adulteration has evolved so that it can pass the stipulated tests in India.
---
Back2Basics: Nuclear Magnetic Resonance (NMR)
NMR spectroscopy is a crucial analytical tool for organic chemists.
It is a physical phenomenon in which nuclei in a strong constant magnetic field are perturbed by a weak oscillating magnetic field and respond by producing an electromagnetic signal with a frequency characteristic of the magnetic field at the nucleus.
It is widely used to determine the structure of organic molecules in solution and study molecular physics and crystals as well as non-crystalline materials.
It is also routinely used in advanced medical imaging techniques, such as in magnetic resonance imaging (MRI).
Cultivation of 'Wild' Arunachal Kiwi
Note4Students
From UPSC perspective, the following things are important :
Prelims level : Arunachal Kiwi
Mains level : Organic farming in India
Recently, the 'Wild' Arunachal Kiwi has received organic certification by the Mission Organic Value Chain Development for the North East Region.
Try this PYQ:

Q.Among the agricultural commodities imported by India, which one of the following accounts for the highest imports in terms of value in the last five years?

(a) Spices

(b) Fresh fruits

(c) Pulses

(d) Vegetable oils
Arunachal Kiwi
The kiwifruit (Actinidia deliciosa Chev.) is a deciduous fruiting vine native to Yangtze River valley of south and central China.
In Arunachal Pradesh, a domesticated variety of kiwi was introduced as a commercial fruit only in 2000.
The Ziro Valley specifically located at 1,500-2,000 metres above sea level is the most ideal for kiwi.
It is also called "China's miracle fruit" and "Horticulture wonder of New Zealand".
Benefits of certification
Certification helps producers and handlers; they receive premium prices for the products and have access to fast-growing, local, regional and international markets.
Organic certification in India
An agricultural practise/product is considered organic when there are no chemical fertilizers or pesticides involved in its cultivation process.
Such certifications in India can be obtained after a strict scientific assessment done by the regulatory body, Agricultural and Processed Food Products Export Development Authority (APEDA).
In news: International Tea Day
The 'International Tea Day' gets thumbs up from the UN. Tea is the most consumed drink in the world, second only to water.
It would be no surprise to expect a question based on worldwide tea production:

Q. Among the following, which one is the largest exporter of rice in the world in the last five years? (CSP 2019)

(a) China

(b) India

(c) Myanmar

(d) Vietnam
International Tea Day
While the UN has been aware of the popularity of the drink, May 21, 2020, became the first time when it recognized and gave an official nod to International Tea Day.
The UN General Assembly proclaimed May 21 as International Tea Day.
The day is aimed at promoting sustainable production, consumption and trade of tea.
As part of the celebrations, key players in tea production come together and make systematic plans for expansion of demand for tea, particularly in tea producing countries where per capita consumption is relatively low.
This day also reminds all actors at global, regional and national levels to ensure that the tea sector continues to play a role in reducing extreme poverty, fighting hunger and safeguarding natural resources.
Tea
Tea is an aromatic beverage commonly prepared by pouring hot or boiling water over cured leaves of the Camellia sinensis, an evergreen shrub native to East Asia.
After water, it is the most widely consumed drink in the world.
There are many different types of tea; some, like Darjeeling and Chinese greens, have a cooling, slightly bitter, and astringent flavour.
Tea has a stimulating effect in humans primarily due to its caffeine content.
China is the leading producer of tea in the world. (Ref.)
Its significance
In 2018, over 50 lakh tonnes of tea was consumed globally, according to Food and Agriculture Organization (FAO) of the UN.
The origin of tea plantations dates back to 5,000 years. Like many cultures, tea enjoys a special space in Indian culture.
With more than 100 varieties being consumed in the country, India is among the top four producers of tea.
Currently, tea is grown in more than 35 countries and supports 1.3 crore people including smallholder farmers around the globe.
---
Back2Basics: Tea cultivation in India
India is the second producer of tea in the world and second in terms of land devoted to tea growing as well.
Much of India's tea production is concentrated in the areas of Darjeeling, Nilgiri, Dooars, and Assam, which is the single largest tea growing region in the world. The top 5 growing states in India, ranked by production, are:
1) Assam
2) West Bengal
3) Tamil Nadu
4) Kerala
5) Karnataka
[pib] Species in news:  Anthurium
Note4Students
From UPSC perspective, the following things are important :
Prelims level : Anthurium
Mains level : NA
A women innovator from Thiruvananthapuram, Kerala, has developed ten varieties of Anthurium, a flower with high market value, by cross-pollination.
Anthurium
An anthurium is a vast group of beautiful blooming plants available in a wide range of colours.
Anthurium is one of the best domestic flowering plants in the world.
They are decorative as well as purify the surrounding air and remove harmful airborne chemicals like formaldehyde, ammonia, toluene, xylene, and allergens.
Its importance of removing toxic substances from the air, NASA has placed it in the list of air purifier plants.
Anthurium has larger economic importance because of its eye-catching and beautiful inflorescence and fetches a good market price.
Salient features of the Anthurium varieties are
Large beautiful flowers
Different colors of spathe and spadix
Long stalks
Better shelf life
Good market value
Note4Students
From UPSC perspective, the following things are important :
Prelims level : Nagpur Orange
Mains level : Export promotion of Nagpur Oranges
The first consignment of Nagpur oranges was flagged off to Dubai from Vashi, Navi Mumbai.
Nagpur Orange
Nagpur orange is rustic and pockmarked exterior which is sweet and has juicy pulp.
It gives the city of Nagpur its pseudonym Orange City.
It oranges blossom during the Monsoon season and are ready to be harvested from the month of December.
The Geographical Indication was accorded to the Nagpur Orange by the registrar of GIs in India and is effective as of April 2014.
The best breed
Nagpur mandarin in one of the best mandarins in the world. Production of this fruit crop in the central and western part of India is increasing every year.
Mrig crop (monsoon blossom), which matures in February – March, has great potential for export since arrivals of mandarin fruit in international market are less during this period.
In the whole region only one variety of Nagpur Mandarin is grown.
India's first 'fruit train'
Note4Students
From UPSC perspective, the following things are important :
Prelims level : Fruit Train
Mains level : Logistics support for horticulture products
A 'fruit train', said to be the first of its kind in India, was flagged off from Tadipatri Railway Station in Anantapur district of Andhra.
About the fruit train
This is the first time in India that an entire train is being sent to the gateway port (JNPT) for export.
This helps save both time and fuel as 150 trucks would have been required to send a consignment of this size by road to JNPT, which is over 900 km away, before the temperature-controlled containers are loaded on ships.
The bananas are being exported under the brand name 'Happy Bananas'.
Farmers from Putlur region in Anantapur and Pulivendula in Kadapa district are exporting 'Green Cavendish' bananas to many international markets.
People cutting down Neelakurinji plants to be fined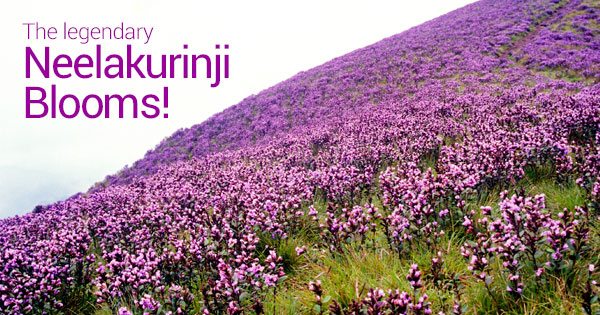 Note4students
From UPSC perspective, the following things are important:
Prelims level: Neelakurinji Flowers
Mains level: Not Much
---
News
Fine for plucking
Tamil Nadu government has announced a novel scheme for the protection of the exotic Neela kurinji (Strobilanthus kunthianus) plants that flower only once in 12 years.
These rare and ecologically unique flowers are being packaged and sold on the commercial basis.
The district administration put up a prominent notice board near the forest patch where the flower was blooming, that people caught plucking flowers would be fined Rs. 5,000.
---
Back2Basics
Neelakurinji
Kurinji or Neelakurinji (Strobilanthes kunthianus) is a shrub that is found in the shola forests of the Western Ghats in South India.
Nilgiri Hills, which literally means the blue mountains, got their name from the purplish blue flowers of Neelakurinji that blossoms only once in 12 years.
It is the most rigorously demonstrated, with documented bloomings in 1838, 1850, 1862, 1874, 1886, 1898, 1910, 1922, 1934, 1946, 1958, 1970, 1982, 1994, 2006 and 2018
Some Kurinji flowers bloom once every seven years, and then die. Their seeds subsequently sprout and continue the cycle of life and death.
The Paliyan tribal people living in Tamil Nadu used it as a reference to calculate their age.
[pib] Setting up of Vegetable Clusters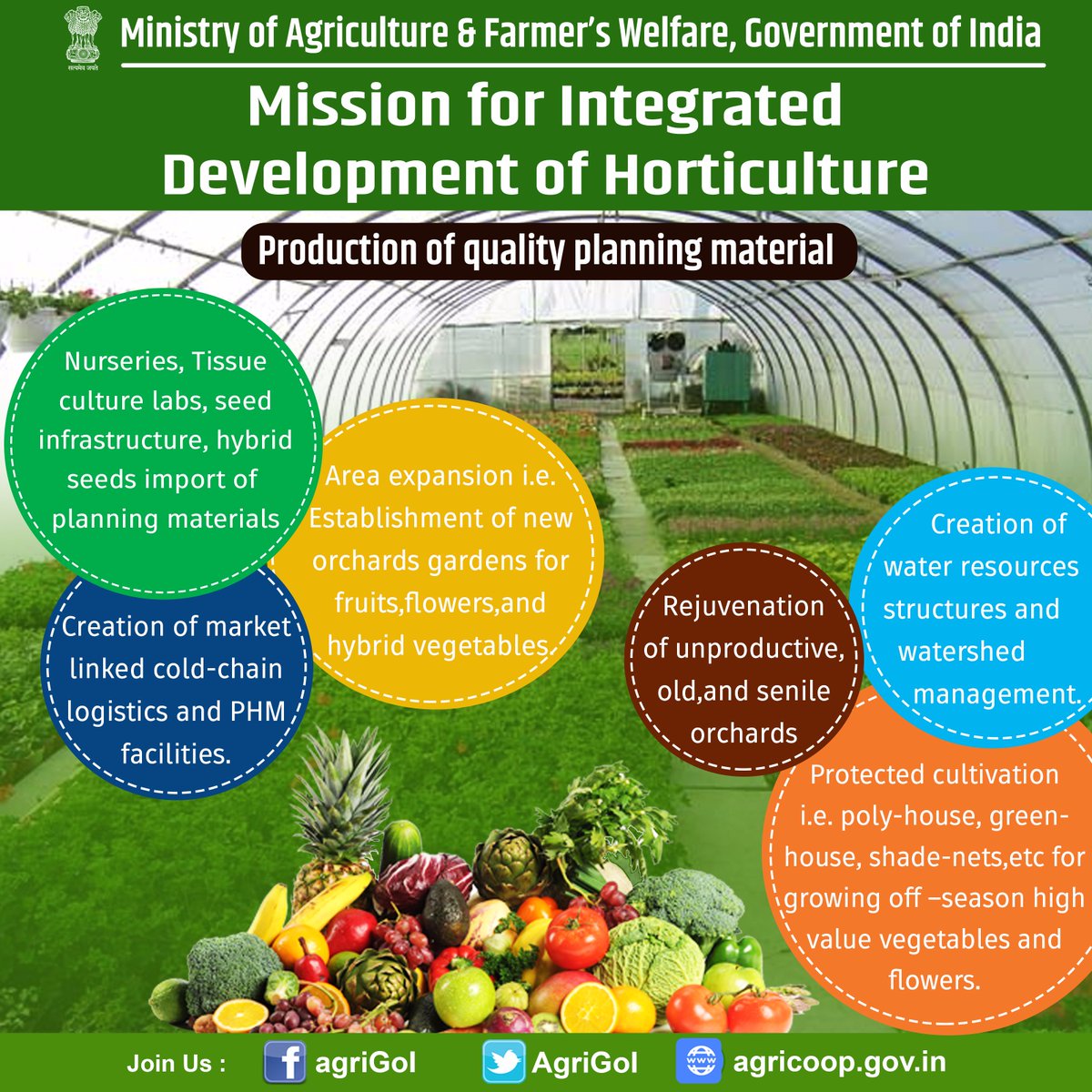 Note4Students
From UPSC perspective, the following things are important:
Prelims level: MIDH
Mains level: Schemes for promoting Horticulture
---
News
Mission for Integrated Development Horticulture (MIDH)
MIDH a centrally sponsored scheme is implemented for the holistic development of horticulture sector in the country.
Aim: Promote holistic growth of horticulture sector, including bamboo and coconut through area based regionally differentiated strategies, which includes research, technology promotion, extension, post harvest management, processing and marketing, in consonance with comparative advantage of each State/region and its diverse agro-climatic features.
It covers fruits, vegetables, roots and tuber crops, mushrooms, spices, flowers, aromatic plants, coconut, cashew, cocoa and bamboo through various interventions.
While Government of India (GOI) contributes 85% of total outlay for developmental programmes in all the states except the states in North East and Himalayas, 15% share is contributed by State Governments.
In the case of North Eastern States and Himalayan States, GOI contribution is 100%.
New cluster based approach under MIDH
Under MIDH, cluster-based approach is adopted for production and linking it with available infrastructure, or to be created, for post harvest management, processing, marketing and export.
The cluster preference is given to those areas where natural resource base and water resources have been developed.
Special emphasis is also given for adoption of area based cluster approach towards developing regionally differentiated crops, which are agro-climatically most suitable for the State/region.
However, the details of clusters including vegetables are not maintained at the Central level.
Invasive beetle threatens Japan's famed cherry blossoms

Note4students
Mains Paper 3: Environment | Conservation, environmental pollution and degradation, environmental impact assessment
From UPSC perspective, the following things are important:
Prelims level: Aromia bungii, red-necked longhorn beetle, hanami
Mains level: Invasive species entering countries via imports and their ill effects
---
Invasive foreign beetle affecting cherry blossoms
In Japan's capital, delicate pink and white cherry blossoms are emerging, but the famed blooms are facing a potentially mortal enemy
The alien invader is Aromia bungii
In serious cases, an infestation can kill a tree
The species may have entered in Japan with imported wood materials
About the species
The beetles live inside cherry and plum trees, stripping them of their bark
They are otherwise known as the red-necked longhorn beetle
It is native to China, Taiwan, the Korean peninsula and northern Vietnam
Japan's cherry blossom
The appearance of cherry blossoms is hotly anticipated each year
The blooms attract tourists but also locals who organize hanami or viewing parties in cherry-blossom hotspots
Horticulture crop output seen at record 305.4 mt in 2017-18

Note4students
Mains Paper 3: Agriculture | Major crops cropping patterns in various parts of the country,
From UPSC perspective, the following things are important:
Prelims level: What is horticulture?
Mains level: Specially mentioned in the syllabus
---
News
Data on Horticultural produce
Production of horticulture crops like vegetables and fruits is likely to touch a record 305.4 million tonnes (mt) in 2017-18, about 1.6% higher than the previous year and 8% higher than the previous five years' average
(source: Agriculture ministry)
What it shows?
The data suggests a structural change in Indian agriculture where farmers are increasingly growing perishable commercial crops due to a growing market and a quicker cash flow as these crops require less time from sowing to marketing
Risk for farmers
Price volatility continues to be a major risk in horticulture, with prices of onions, tomatoes and potatoes plunging below growing costs several times last year
Retail and wholesale prices of perishables are also at a large variance from each other, implying fragmented markets and poor cold chain facilities
---
Back2basics
What is Horticulture?
Horticulture is the science and art of growing (plants) – fruits, vegetables, flowers, and any other cultivar
It also includes plant conservation, landscape restoration, soil management, landscape and garden design, construction, and maintenance, and arboriculture
In contrast to agriculture, horticulture does not include large-scale crop production or animal husbandry
Horticulturists apply their knowledge, skills, and technologies used to grow intensively produced plants for human food and non-food uses and for personal or social needs
Their work involves plant propagation and cultivation with the aim of improving plant growth, yields, quality, nutritional value, and resistance to insects, diseases, and environmental stresses
They work as gardeners, growers, therapists, designers, and technical advisors in the food and non-food sectors of horticulture. Horticulture even refers to the growing of plants in a field or garden
Rise in cotton output likely in northern States
Though farmers have sown less cotton this kharif season, the production in key northern States is likely to be higher in 2016-17 against 2015-16
Reason: This is because of expectation of better yield due to conducive weather conditions
In north India, Haryana, Punjab and Rajasthan are the major cotton producing States
After the GM cotton crop suffered huge damage last year in Punjab and Haryana due to the whitefly pest attack, distressed farmers had sown less cotton this year
The whitefly pest attack had caused extensive damage to Bt cotton varieties last year in Punjab and Haryana
It resulted in a drop of nearly 40 per cent in production
Cotton production estimates revised downwards
News: The Cotton Advisory Board brought down its estimates for domestic cotton production for the current season by 4% and revised upwards its estimates of imports
Reason: Pink Bollworm and Whitefly problems in major cotton producing States such as Gujarat, Punjab, Haryana, and part of Maharashtra
Cotton prices: Went up because of China declaring lower stocks and due to speculation
Indian cotton prices this year are 10% more than international prices