Economics Nobel for Natural Experiments
Note4Students
From UPSC perspective, the following things are important :
Prelims level : Natural Experiments, Nobel Prize
Mains level : Not Much
The 2021 Nobel Prize in Economic Sciences was awarded to three US-based economists.
Do you know?

The Nobel Prize is officially called as Sveriges Riksbank Prize!
Who are the awardees?
Nobel Committee awarded half the Prize to David Card for his "empirical contributions to labour economics"
Other half to Guido Imbens and Joshua Angrist "for their methodological contributions to the analysis of causal relationships"
What makes this year's award special?
This is the first time the economic prize has been divided in this fashion with one half going to one awardee and other half divided across two awardees.
In the past, prize money was divided equally between the awardees even if the prize was for different topics as is the case this time around.
It may appear that the Nobel Prize has been given for two different contributions, but there is a common theme: "natural experiments."
What are Natural Experiments?
Economists are often interested in causal questions such as the impact of education on incomes, impact of COVID-19 on poverty and so on.
They are also interested is understanding the direction of causality.
Economists have used two kinds of experiments to study these causality and direction of causality questions: random experiments and natural experiments.
(I) Random experiments
Under randomized experiments, the researchers allocate say medicines to a treatment group and compare the effect of the medicine with the control group which is not given the medicine.
In 2019, the Nobel Committee gave awards to three scholars for their contribution to the field of randomized experiments.
However, one cannot randomize experiments to study issues such as why certain people and regions are more unequal or have fewer educational opportunities and so on.
(II) Natural experiments
In natural experiments, economists study a policy change or a historical event and try to determine the cause and effect relationship to explain these developments.
The trio used such natural experiments to make some landmark contributions to economic development.
Natural experiments are more difficult for two reasons. The first is to identify what will serve as a natural experiment.
Second, in a random experiment, the researcher knows and controls the treatment and control groups which allows them to study the cause and effect of medicine.
But in natural experiments, such clear differentiation is not possible because people choose their groups on their own and even move between the two groups.
Despite the limitations, the researchers could use the natural setting to answer some big policy questions.
Natural experiments conducted by David Card
One question of interest for policymakers is to understand the impact of higher minimum wages on employment.
Earlier studies showed that increasing minimum wages leads to lower unemployment.
Economists were also not sure of the direction of causation between minimum wages and employment.
Say a slowdown in the economy leads to higher unemployment amid lower income groups.
This could lead to lower income groups demanding higher minimum wages. In such a case, it is higher unemployment which leads higher minimum wages.
Contribution of Angrist and Imbens
Angrist and Imbens showed how natural experiments can be used to identify cause and effect precisely.
We have discussed above how natural experiments make it difficult to separate control and treatment groups. This makes it difficult to establish causal relations.
In the 1990s, the duo developed a methodology – Local Average Treatment Effect (or LATE) – which uses a two-step process to help grapple with these problems of natural experiments.
Say, one is interested in finding the impact of an additional year of schooling on the incomes of people.
By using the LATE approach, they showed that effect on income of an additional year of education is around 9%.
While it may not be possible to determine individuals in the group, one can estimate the size of the impact.
What is the importance of the award today?
Earlier it was difficult to identify natural experiments and even if one identified them, it was difficult to generate data from these experiments.
With increased digitalization and dissemination of archival records, it has not just become easier to identify natural experiments but also get data.
Economists have been using natural experiments to help us understand the impact of past policies.
As the 2020 pandemic struck, economists used the natural experiments approach extensively to analyse how previous pandemics impacted different regions and tried to draw policy lessons.
India context
The methodology date back to the early and mid-90s and they have already had a tremendous influence on the research undertaken in several developing countries such as India.
For instance, in India, too, it is commonly held that higher minimum wages will be counterproductive for workers.
It is noteworthy that last year, in the wake of the Covid-induced lockdowns, several states, including UP, had summarily suspended several labour laws.
This included the ones regulating minimum wages, arguing that such a move will boost employment.
The main learning is that minimum wages can be increased in India without worrying about reducing employment.
UPSC 2022 countdown has begun! Get your personal guidance plan now! (Click here)
Cells' Toolbox for DNA repair honoured with Nobel Prize in Chemistry
---
The Nobel Prize in Chemistry 2015 is awarded to Tomas Lindahl (UK), Paul Modrich (USA) and Aziz Sancar (USA) for having mapped, at a molecular level, how cells repair damaged DNA and safeguard the genetic information.
Their work has provided fundamental knowledge of how a living cell functions and is, for instance, used for the development of new cancer treatments.
What's the DNA repair toolbox ?
Each day our DNA is damaged by UV radiation, free radicals and other carcinogenic substances, but even without such external attacks, a DNA molecule is inherently unstable.
Thousands of spontaneous changes to a cell's genome occur on a daily basis. Furthermore, defects can also arise when DNA is copied during cell division, a process that occurs several million times every day in the human body.
The reason our genetic material does not disintegrate into complete chemical chaos is that a host of molecular systems continuously monitor and repair DNA.
The Nobel laureate scientists, who have mapped how several of repair systems function at a detailed molecular level.
---
---
Tomas Lindahl – Puts together the pieces of base excision repair
In the early 1970s, scientists believed that DNA was an extremely stable molecule, but Tomas Lindahl demonstrated that DNA decays at a rate that ought to have made the development of life on Earth impossible. This insight led him to discover a molecular machinery, base excision repair, which constantly counteracts the collapse of our DNA.
This was the start of 35 years of successful work, during which Tomas Lindahl has found and examined many of the proteins in the cell's toolbox for DNA repair.
Bit by bit, Lindahl pieced together a molecular image of how base excision repair functions, a process in which glycosylases, enzymes similar to the one he had found in 1974, are the first step in the DNA repair process.
Base excision repair also occurs in human beings and, in 1996, Tomas Lindahl managed to recreate the human repair process in vitro.
The decisive factor for Tomas Lindahl was the realisation that DNA inevitably undergoes change, even when the molecule is located in the cell's protective environment. However, it had long been known that DNA can be damaged by environmental assaults such as UV radiation.
The mechanism used by the majority of cells to repair UV damage, nucleotide excision repair, was mapped by Aziz Sancar, born in Savur, Turkey, and professionally active in the USA.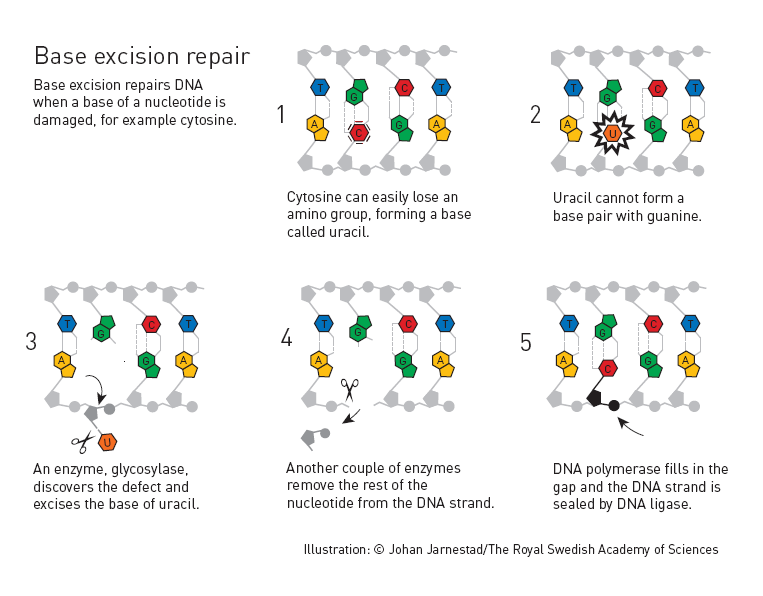 Aziz Sancar's Nucleotide excision repair
Aziz Sancar has mapped nucleotide excision repair, the mechanism that cells use to repair UV damage to DNA. People born with defects in this repair system will develop skin cancer if they are exposed to sunlight. The cell also utilises nucleotide excision repair to correct defects caused by mutagenic substances, among other things.
Aziz Sancar's ability to generate knowledge about the molecular details of the process changed the entire research field. He published his findings in 1983.
He mapped the next stages of nucleotide excision repair. In parallel with other researchers, including Tomas Lindahl, Sancar investigated nucleotide excision repair in humans.
The molecular machinery that excises UV damage from human DNA is more complex than its bacterial counterpart but, in chemical terms, nucleotide excision repair functions similarly in all organisms.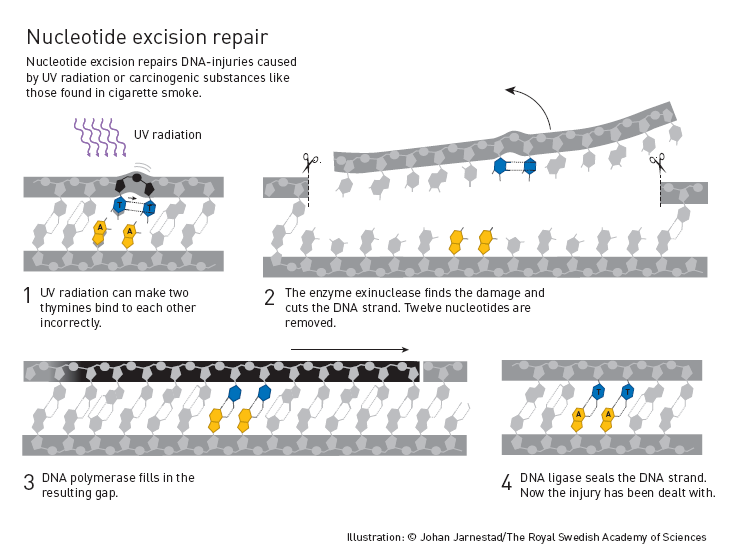 Paul Modrich – illustrating DNA mismatch repair
Once his father, a biology teacher, said: "You should learn about this DNA stuff." This was in 1963, the year after James Watson and Francis Crick had been awarded the Nobel Prize for discovering the structure of DNA.
A few years later, that "DNA stuff" really became central to Paul Modrich's life.
Paul Modrich has demonstrated how the cell corrects errors that occur when DNA is replicated during cell division. This mechanism, mismatch repair, reduces the error frequency during DNA replication by about a thousandfold. Congenital defects in mismatch repair are known, for example, to cause a hereditary variant of colon cancer.
In conclusion, the basic research carried out by the 2015 Nobel Laureates in Chemistry has not only deepened our knowledge of how we function, but could also lead to the development of lifesaving treatments.
In the words of Paul Modrich: "That is why curiosity-based research is so important. You never know where it is going to lead… A little luck helps, too."
---
---
Irish-born William Campbell and Japan's Satoshi Omura won half of the prize for discovering avermectin, a derivative of which has been used to treat hundreds of millions of people with river blindness and lymphatic filariasis, or elephantiasis.
China's Tu Youyou was awarded the other half of the prize for discovering artemisinin, a drug that has slashed malaria deaths and has become the mainstay of fighting the mosquito-borne disease. She is China's first Nobel laureate in medicine.
Lets's talk about Satoshi Omura's invention
So, how did the journey start for Satoshi Omura?
Satoshi Omura, a Japanese microbiologist and expert in isolating natural products, focused on a group of bacteria, Streptomyces, which lives in the soil and was known to produce a plethora of agents with antibacterial activities (including Streptomycin discovered by Selman Waksman, Nobel Prize 1952).
Equipped with extraordinary skills in developing unique methods for large-scale culturing and characterization of these bacteria, Omura isolated new strains of Streptomyces from soil samples and successfully cultured them in the laboratory.
From many thousand different cultures, he selected about 50 of the most promising, one of these cultures later turned out to be Streptomyces avermitilis, the source of Avermectin, a medicine that has nearly eradicated river blindness and radically reduced the incidence of filariasis, which can cause the disfiguring swelling of the lymph system in the legs and lower body known as elephantiasis.
---
Puzzle about River Blindness?
Also known as onchocerciasis or Robles' Disease, is caused by transmission of the parasitic worm Onchocerca volvulus by black flies of the genus Simulium. Vector lives near rivers, thus the name.Inside the host, the worms create larvae that travel to the skin, and infect other flies that bite the victim.
Symptoms include severe itching, eruptions under the skin, and blindness. About 17-25 million are infected; some 0.8 million have some degree of vision loss. Most infections in sub-Saharan Africa.
Then, what about Lymphatic Filariasis or Commonly known as elephantiasis ?
It is tropical disease caused by transmission of parasites classified as nematodes (roundworms) of the family Filariodideato, to humans by mosquitoes.
Adult worms lodge in lymphatic system and disrupt immune system. Causes abnormal enlargement of body parts, pain, severe disability and social stigma.
Over 120 million people are infected, about 40 million disfigured or incapacitated. About 1.23 billion in 58 countries are threatened, 80% of whom live in 10 countries, including India, Bangladesh and Nepal.
---
Our next Pioneer William C. Campbell
An expert in parasite biology working in the USA, acquired Omura's Streptomyces cultures and explored their efficacy.
Campbell showed that a component from one of the cultures was remarkably efficient against parasites in domestic and farm animals.
The bioactive agent was purified and named Avermectin, which was subsequently chemically modified to a more effective compound called Ivermectin. 
Ivermectin was later tested in humans with parasitic infections and effectively killed parasite larvae (microfilaria) .
Collectively, Omura and Campbell's contributions led to the discovery of a new class of drugs with extraordinary efficacy against parasitic diseases.
---
What a breakthrough, China's first Nobel laureate in medicine, Let's talk about it?
Ms. Youyou Tu, won Nobel in Medicine for a therapy against malaria.
Malaria was traditionally treated by chloroquine or quinine, but with declining success. By the late 1960s, efforts to eradicate Malaria had failed and the disease was on the rise.
At that time, Youyou Tu in China turned to traditional herbal medicine to tackle the challenge of developing novel Malaria therapies.
Tu revisited the ancient literature and discovered clues that guided her in her quest to successfully extract the active component from Artemisia annua. 
Tu was the first to show that this component, later called Artemisinin, was highly effective against the Malaria parasite, both in infected animals and in humans.
Artemisinin represents a new class of antimalarial agents that rapidly kill the Malaria parasites at an early stage of their development, which explains its unprecedented potency in the treatment of severe Malaria.
---
How do you think these inventions will change the world?
The discoveries of Avermectin and Artemisinin have fundamentally changed the treatment of parasitic diseases.
Ivermectin is highly effective against a range of parasites, has limited side effects and is freely available across the globe.
The importance of Ivermectin for improving the health and wellbeing of millions of individuals with River Blindness and Lymphatic Filariasis, primarily in the poorest regions of the world, is immeasurable.
Treatment is so successful that these diseases are on the verge of eradication, which would be a major feat in the medical history of humankind. Malaria infects close to 200 million individuals yearly.
Artemisinin is used in all Malaria-ridden parts of the world. When used in combination therapy, it is estimated to reduce mortality from Malaria by more than 20% overall and by more than 30% in children. For Africa alone, this means that more than 100 000 lives are saved each year.
The discoveries of Avermectin and Artemisinin have revolutionized therapy for patients suffering from devastating parasitic diseases.
Campbell, Ōmura and Tu have transformed the treatment of parasitic diseases. The global impact of their discoveries and the resulting benefit to mankind are immeasurable.
Published with inputs from Arun