Three capitals for Andhra Pradesh — its logic and the questions it raises
Note4Students
From UPSC perspective, the following things are important :
Prelims level : Various committees mentioned in the newscard
Mains level : Three capitals concept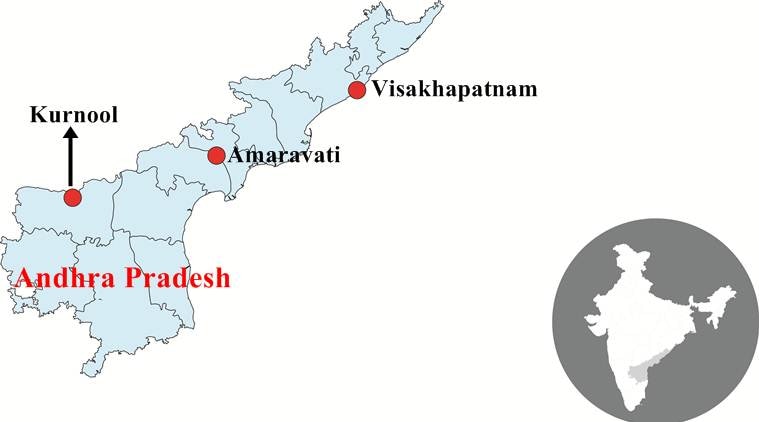 The Andhra Pradesh Assembly passed The Andhra Pradesh Decentralisation and Equal Development of All Regions Bill, 2020, paving the way for three capitals for the state.
Three capitals concept in Andhra Pradesh
Three cities serve as capitals of the country– Pretoria (executive), Cape Town (legislative), and Bloemfontein (judicial).
This arrangement was a result of the Second Boer War (1899-1902) in which Britain annexed the two Afrikaner speaking states -– the Orange Free State and the South African Republic (also called Transvaal Republic).
Cape of Good Hope then remained in the British Empire, becoming self-governing in 1872, and uniting with three other colonies to form the Union of South Africa in 1910.
What are the other examples of multiple capital cities?
Several countries in the world have implemented the concept.
In Sri Lanka, Sri Jayawardenepura Kotte is the official capital and seat of national legislature, while Colombo is the de facto seat of national executive and judicial bodies.
Malaysia has its official and royal capital and seat of national legislature at Kuala Lumpur, and Putrajaya is the administrative centre and seat of national judiciary.
Among Indian states, Maharashtra has two capitals– Mumbai and Nagpur (which holds the winter session of the state assembly).
Himachal Pradesh has capitals at Shimla and Dharamshala (winter).
The former state of Jammu & Kashmir had Srinagar and Jammu (winter) as capitals.
Reasons behind such considerations
According to the government, decentralisation was the central theme in recommendations of all major committees that were set up to suggest a suitable location for the capital of Andhra Pradesh.
It had been agreed in the November 16, 1937 Sri Bagh Pact (between leaders of coastal Andhra and Rayalaseema) that two university centres should be established in Waltair (Visakhapatnam) and Anantapur in Rayalaseema, and that the High Court and Metropolis should be in the coastal districts and Rayalaseema respectively.
In December 2010, the Justice B N Srikrishna Committee, set up to look into the demand for a Telangana state, said Rayalaseema and North Coastal Andhra were economically the most backward, and the "concentration of development efforts in Hyderabad is the key reason for demand of separate states".
In August 2014, the K Sivaramakrishnan Committee appointed to identify locations for the new capital of AP said the state should see decentralised development, and that one mega capital city was not desirable.
Major practical problems
The government argues that the Assembly meets only after gaps of several months, and government Ministers, officers, and staff can simply go to Amaravati when required.
However, coordinating between seats of legislature and executive in separate cities will be easier said than done, and with the government offering no specifics of a plan, officers and common people alike fear a logistics nightmare.
The distances in Andhra Pradesh are not inconsiderable. Executive capital Visakhapatnam is 700 km from judicial capital Kurnool, and 400 km from legislative capital Amaravati.
The Amaravati-Kurnool distance is 370 km. The time and costs of travel will be significant.
The AP Police are headquartered in Mangalagiri, 14 km from Vijayawada, and senior IPS officers who may be required to visit the Secretariat will have to travel 400 km to Visakhapatnam.
Likewise, government officers who may have to appear in the High Court will have to travel 700 km to Kurnool, which does not have an airport.
All officers and Ministerial staff who may have to be at hand to brief Ministers when the Assembly is in session, will probably have to stay put in Amaravati, leaving behind their other responsibilities in Visakhapatnam.
What is 'Special Category' status?
What benefits do states having 'Special Category' status enjoy?
Who accords the category status to state and how?
Which states held Special category status?
Lacunas in the working of Special Category status
Why the status has been removed?
Way ahead now
---
What is 'Special Category' status?
'Special category' status is a classification given by Centre to assist in development of those states that face geographical & socio-economic disadvantages like hilly terrains, strategic international borders, economic & infrastructural backwardness and non-viable state finances.
The classification came into existence in 1969 as per the suggestion given by the Fifth Finance Commission, set up to devise a formula for sharing the funds of Central govt. among all states.
What benefits do states having 'Special Category' status enjoy?
Significant concession in excise & customs duties, income tax and corporate tax
30 percent of planned expenditure (central budget) goes to 'special category' states
Special Category states are benefited because of Normal Central Assistance which was skewed in favour of these states. These states get more funds in terms of NCA and most part of these funds was in the form of grants rather than loans.
Special Central Assistance given to SCS is also an additional amount which can be used by the concerned state for economic development.
Centre bears 90% of the state expenditure (given as grant) on all centrally-sponsored schemes and external aid while rest 10% is given as loan to state. For general category, the respective grant to loan ratio is 30:70 where as external aid is passed on in the same ratio as received at the centre.
Unspent money does not lapse and gets carry forward.
Hence, special-category status catalyses the inflow of private investments and generates employment and additional revenue to state. Since centre bears 90% of state expenditure on all centrally-sponsored schemes, state can take more welfare-based schemes from the new savings.
Further, more grants from centre helps in building state infrastructure and social sector projects. As a result, special-category state gets to bridge its development deficit.
Who accords the category status to state and how?
Special Category' status had been granted in the past by the Union government to States having certain characteristics based on the recommendations of the National Development Council.
These include
i) hilly terrain;
ii) low population density and/or sizeable share of tribal population;
iii) strategic location along borders with neighbouring countries;
iv) economic and infrastructure backwardness; and
v) non-viable nature of State finances.
Which states held Special category status?
11 states used to have 'special category' status, namely, Arunachal Pradesh, Assam, Manipur, Meghalaya, Mizoram, Nagaland, Sikkim, Tripura, Jammu & Kashmir, Himachal Pradesh, and Uttarakhand.
Lacunas in the working of Special Category status
Firstly, the way Special Category Status were assigned to a state has been a matter of debate. Various committees used different parameters to classify a state in Special Category status.
Some states lobby central government to classify them in special category. This was to be corrected and the consent of majority of state must be taken before granting a special category status to any state.
Moreover there should have been a general consensus among states related to principle used for granting the SCS.
Secondly, data reveals that even after awarding Special category status not much economic progress has been noticed among states. This may mean that for economic development it's important to follow sound economic policy. Benefit of SCS may act as a stimulus but rest depends on the individual state policy.
Third, the amount of proceeds that states receive has increased after 14th finance commission. So the structure does not seem to have any specific relevance in present context.
Why has the status been removed now?
The Finance Ministry's reasoning for withdrawing the status is that the higher 42% devolution takes into account all needs of states.
Way ahead?
Following the demand for Special Status by Bihar, a committee was appointed under Dr. Raghuram Rajan in 2013. This committee suggested that States classified as 'Special Category States' and those seeking inclusion in that category, would find that their need for funds and special attention more than adequately met by a basic allocation to each State and the categorisation of some as 'least developed'.
Considering special status to any new State will result in demands from other States and dilute the benefits further. It is also not economically beneficial for States to seek special status as the benefits under the current dispensation are minimal. States facing special problems will be better off seeking a special package.
---
References: