Explained:  Participatory Guarantee Scheme
Note4Students
From UPSC perspective, the following things are important :
Prelims level : PGS
Mains level : Read the attached story
---
The head of India's food safety regulator has said that she expects the Union Agriculture Ministry's Participatory Guarantee Scheme (PGS) to incentivise more farmers to grow organic food.
Participatory Guarantee Scheme
PGS is a process of certifying organic products, which ensures that their production takes place in accordance with laid-down quality standards.
The certification is in the form of a documented logo or a statement.
PGS is is an internationally applicable organic quality assurance initiative that  emphasize the participation of stakeholders, including producers and consumers, and operate outside the framework of third-party certification.
PGSs are "locally focused quality assurance systems" that "certify producers based on active participation of stakeholders and are built on a foundation of trust, social networks and knowledge exchange".
PGS, according to the definition, is "a process in which people in similar situations (in this case small holder producers) assess, inspect and verify the production practices of each other and take decisions on organic certification".
Four pillars of PGS
The government's 2015 PGS manual underlines that the system in India is based on "participatory approach, a shared vision, transparency and trust".
PARTICIPATION
Stakeholders such as producers, consumers, retailers, traders, NGOs, Gram Panchayats, and government organisations and agencies are collectively responsible for designing, operating, and decision-making.
Direct communication among the stakeholders helps create an integrity- and trust-based approach with transparency in decision-making, easy access to databases and, where possible, visits to farms b consumers.
SHARED VISION
Collective responsibility for implementation and decision making is driven by a common shared vision.
Each stakeholder organisation or PGS group can adopt its own vision conforming to the overall vision and standards of the PGS-India programme.
TRANSPARENCY
At the grassroots level, transparency is maintained through the active participation of producers in the organic guarantee process.
It can include information-sharing at meetings and workshops, peer reviews, and involvement in decision making.
TRUST
A fundamental premise of PGS is the idea that producers can be trusted, and that the organic guarantee system can be an expression and verification of this trust.
The mechanisms for trustworthiness include a producer pledge made through a witnessed signing of a declaration, and written collective undertakings by the group to abide by the norms, principles and standards of PGS.
Advantages of PGS
Among the advantages of PGS over third-party certification, identified by the government document, are:
Procedures are simple, documents are basic, and farmers understand the local language used.
All members live close to each other and are known to each other. As practising organic farmers themselves, they understand the processes well.
Because peer appraisers live in the same village, they have better access to surveillance; peer appraisal instead of third-party inspections also reduces costs
Mutual recognition and support between regional PGS groups ensures better networking for processing and marketing.
Unlike the grower group certification system, PGS offers every farmer individual certificates, and the farmer is free to market his own produce independent of the group.
Limitations
PGS certification is only for farmers or communities that can organise and perform as a group within a village or a cluster of continuous villages.
It is applicable only to farm activities such as crop production, processing, and livestock rearing, and off-farm processing "by PGS farmers of their direct products".
Individual farmers or group of farmers smaller than five members are not covered under PGS.
They either have to opt for third party certification or join the existing PGS local group.
PGS ensures traceability until the product is in the custody of the PGS group, which makes PGS ideal for local direct sales and direct trade between producers and consumers.
The market for organic food in this country is likely to treble in the next four years, according to a report from business chamber Assocham and TechSci Research, a non-government body.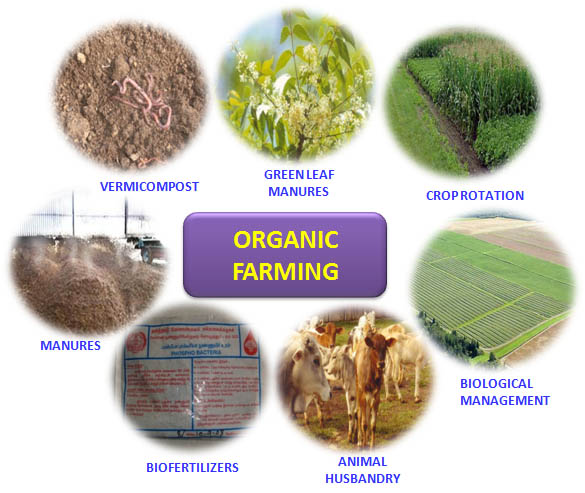 ---
What is organic farming?
Need for organic farming in India
Key characteristics of organic farming
Steps taken by the Government to promote organic farming in India
Key features of PKVY
Status of Organic farming in India
Why demand for organic products are increasing in recent years?
Challenges and constraints faced by Organic farming in India
What is organic farming?
Organic farming system in India is not new and is being followed from ancient time.
It is a method of farming system which primarily aimed at cultivating the land and raising crops in such a way, as to keep the soil alive and in good health by use of organic wastes (crop, animal and farm wastes, aquatic wastes) and other biological materials along with beneficial microbes (biofertilizers) to release nutrients to crops for increased sustainable production in an eco friendly pollution free environment.
Need for organic farming in India
With the increase in population our compulsion would be not only to stabilize agricultural production but to increase it further in sustainable manner.
The scientists have realized that the 'Green Revolution' with high input use has reached a plateau and is now sustained with diminishing return of falling dividends.
Thus, a natural balance needs to be maintained at all cost for existence of life and property. The obvious choice for that would be more relevant in the present era, when these agrochemicals which are produced from fossil fuel and are not renewable and are diminishing in availability. It may also cost heavily on our foreign exchange in future.
The key characteristics of organic farming include
Protecting the long term fertility of soils by maintaining organic matter levels, encouraging soil biological activity, and careful mechanical intervention
Providing crop nutrients indirectly using relatively insoluble nutrient sources which are made available to the plant by the action of soil micro-organisms
Nitrogen self-sufficiency through the use of legumes and biological nitrogen fixation, as well as effective recycling of organic materials including crop residues and livestock manures
Weed, disease and pest control relying primarily on crop rotations, natural predators, diversity, organic manuring, resistant varieties and limited (preferably minimal) thermal, biological and chemical intervention
The extensive management of livestock, paying full regard to their evolutionary adaptations, behavioral needs and animal welfare issues with respect to nutrition, housing, health, breeding and rearing
Careful attention to the impact of the farming system on the wider environment and the conservation of wildlife and natural habitats
Steps taken by the Government to promote organic farming in India
Government is promoting Organic farming through various schèmes
National Project on Organic Farming (NPOF)
National Horticulture Mission (NHM)
Horticulture Mission for North East and Himalyan States (HMNEH)
Rashtriya Krishi Vikas Yojana (RKVY)
Network Project on Organic Farming of Indian Council Agricultural Research (ICAR).
In addition to this, Government is implementing  a Cluster based programme   to encourage the farmer for promoting organic farming called Paramparagat Krishi Vikas Yojana (PKVY)
Key features of PKVY
Groups of farmers would be motivated to take up organic farming under Paramparagat Krishi Vikas Yojana (PKVY). Fifty or more farmers will form a cluster having 50 acre land to take up the organic farming under the scheme.
In this way during three years 10,000 clusters will be formed covering 5.0 lakh acre area under organic farming. There will be no liability on the farmers for expenditure on certification.
Every farmer will be provided Rs. 20,000 per acre in three years for seed to harvesting of crops and to transport produce to the market.
Organic farming will be promoted by using traditional resources and the organic products will be linked with the market.
It will increase domestic production and certification of organic produce by involving farmers
Status of Organic farming in India
---
The current market (pulses and foodgrain the bulk) of organic food is at $500 million (about Rs 3,350 crore). It was $360 million (Rs 2,400 crore) in 2014.
Although nascent, the Indian organic food market has begun growing rapidly in last few years. A report by Yes Bank in 2014 said that the organic food sector is growing at about 20% in India, with more than 100 retail organic outlets in Mumbai and about 60 in Bangalore.
Total area under organic certification in India in 2013-14 is estimated to be 4.72 million ha with 15 per cent are certified and the rest under forest area. India has the highest number of organic producers in the world (5,97,873), mainly due to small holdings.
During 2013-14, India exported 135 products, realisation from which was to the tune of $403, million including $183 million contributed by exports of organic textile. Major destinations for organic products from India are the US, EU, Canada, Switzerland, Australia, New Zealand, South-East Asian countries, West Asia, South Africa, etc.
Soyabean (70 per cent) lead among the products exported followed by cereals and millets other than basmati (six per cent), processed food products (five per cent), basmati rice (four per cent), sugar (three per cent), tea (two per cent), pulses and lentils (one per cent), dry fruits (one per cent), spices (one per cent).
Why is the demand for organic products increasing in recent years
---
Challenges and constraints faced by Organic farming in India
The most important issue facing organic farming is its failure to raise the productivity to keep pace with the growing population. Studies, according to a latest report in The Wall Street Journal, have shown that organic yields are far less than yields of conventional farming. As per the 2011 survey data of National Agricultural Statistics Service, a branch of the US organic farming would require 14.5 million acres more to equal conventional farming's production of 14 staple (human-focused food crops).
There is a wide gap in scientific validation and research compared to the progress in the same for general agriculture. Also, there is a need to aid farmers with advisory services (technical and managerial support to form cluster and adopt best management practices).
Due to lack of government support, the courage needed to convert inorganic land into organic land is missing also there is  absence of globally recognized consultancy for timely guidance to farmers. Thus, huge support from states and the Centre is required.
Key problems faced by organic farmers during the transition phase are non-realisation of premium.
---
References: