Data localisation: why, why not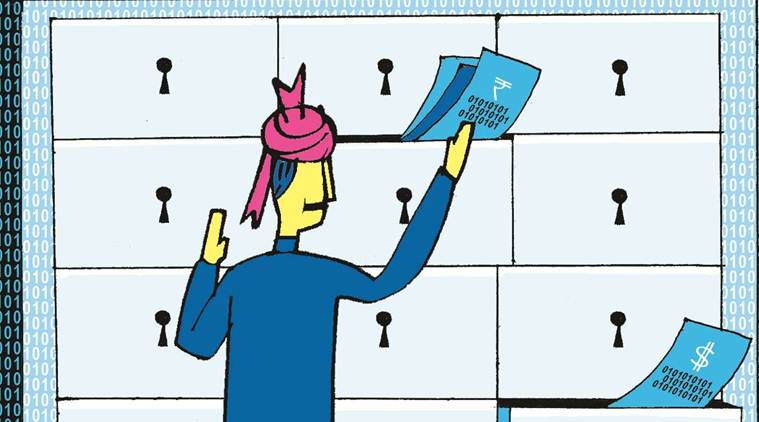 Note4students
Mains Paper 3: Internal Security | Challenges to internal security through communication networks, role of media & social networking sites in internal security challenges
From UPSC perspective, the following things are important:
Prelims level: Data Mirroring and Localisation, BN Srikrishna Committee
Mains level: Rising cyber crimes and the role data protection bill would play in reducing them.
---
News
RBI pushes for Data Localisation
The world weighs free global data flow against national security.
Companies around the world rushed to try and meet a RBI-mandated deadline to store Indian users financial data in India, reigniting conversation about data localisation.
The Govt. of India has firmed up its stance on storing data of Indian users in the country, to the discontent of international players and the delight of domestic ones.
This wave again is the latest digital battleground of ongoing power wars between government and industry.
Data Localisation
It is a concept that the personal data of a country's residents should be processed and stored in that country.
Some directives may restrict flow entirely, while others more leniently allow for conditional data sharing or data mirroring – in which only a copy has to be stored in the country.
As of now, much of cross-border data transfer is governed by individual bilateral "mutual legal assistance treaties" (MLATs).
Why is the issue again in focus?
In early April, the RBI issued a circular mandating that payment data be stored only in India by October 15.
This covered everyone every global payments & technology companies and various domestic & foreign prepaid payment instruments (PPIs).
RBI has not instituted any fines for those who have missed the deadline but is seeking schedules of pending data transfers to India.
Draft Law on Data Protection
In July 2018, a data protection draft law by a committee headed by retired Justice B N Srikrishna recommended for a copy of personal data of Indians to be in India (data mirroring).
A subset of that data, labelled critical personal data, must be stored and processed only in India.
The draft E-com policy recommended localisation for community data and data generated by users in India from various sources including e-commerce platforms, social media and search engines.
It also discussed strategies to incentivise domestic data storage in India through facilitating data infrastructure.
There could be, say a 2-year, sunset period for industry to adjust before localisation becomes mandatory a/c to the report.
Why need Data Localisation?
A common argument by officials is that localisation will help Indian law enforcement access user data.
Proponents also highlight the security against foreign attacks and surveillance.
An RBI circular ruled that to ensure better monitoring, it is important to have supervisory access to data stored with these system providers.
This especially gained prominence when incidences of lynchings across the country were linked to WhatsApp rumours whose stance on encrypted content frustrated government officials.
Concerns also arose when Facebook declared that its Cambridge Analytica controversy had affected Indian users as well.
Data is the new Oil
In the home of the largest open Internet market in the world, companies like PhonePe claim that national wealth creation relies on in-house data storage.
The e-commerce policy took on a similar stance, championing domestic innovation, and the data protection report also mentioned harnessing India's digital economy.
Arguments in Favor
Along with government support, most domestic-born technology companies (which tend to have heavy foreign investments) support data localisation.
Most of these firms store their data exclusively in India.
Some Indian companies have strongly argued that data regulation for privacy and security will have little teeth without localisation, citing models in China and Russia.
These domestic companies are rivals of many big US giants and condemn the large tax differences between international companies operating in India and those with a permanent establishment in the country.
Many argue that localisation would lead to a larger presence in India overall, such as local offices, and increase tax liability and open more jobs.
Argument against data localisation
Industry bodies, especially those with significant ties to the US, have slung heavy backlash.
Many are concerned about a Fractured Internet (simply put servers go offline and out of access) due to uncertain protectionist policies.
Much of this sentiment hampers to the values of a globalised, competitive internet marketplace, where costs and speeds determine information flows, rather than nationalistic borders.
Opponents say that this, in turn, may backfire on India's own young start-ups that are attempting global growth, or on larger firms that process foreign data in India.
Critics caution against state misuse and surveillance of personal data.
They also argue that security and government access is not achieved by localisation.
Even if the data is stored in the country, the encryption may still remain out of the reach of national agencies due to company's privacy concerns.
Crimes across the globe not covered
The draft bill mandates local storage of data relating to Indian citizens only
Localisation can provide data only for crimes that have been committed in India, where both the perpetrator and victim are situated in India
Prevalent concerns around transnational terrorism, cyber crimes and money laundering will often involve individuals and accounts that are not Indian, and therefore will not be stored in India
For investigations into such crimes, Indian law enforcement will have to continue relying on cooperative models
Global Scenario
India's major partner, US leave regulation up to the state and sector.
US also signed the Clarifying Lawful Overseas Use of Data Act (CLOUD Act) which established data sharing with certain countries.
China mandates localisation for all "important data" held by "critical information infrastructure" and any cross border personal data transfer must undergo a security assessment.
Russia also has the most restrictive regulation for data flow with strict localisation and high penalties.
The European Union's General Data Protection Regulation (GDPR) does not mandate all data to be localised, but rather restricts flow to countries with a strong data protection framework.
Way Forward
The CLOUD Act seeks to ease control over data from U.S. authorities.
The law will for the first time allow tech companies to share data directly with certain foreign governments.
This provides India the data not just for crimes committed within their borders but also for transnational crimes involving their national interests.
A fundamental error that the Srikrishna Committee seems to have made is in its belief that the location of data should determine who has access to it.
This scenario will hardly improve even after technology companies relocate Indian data to India.
The term social media is being used quite often by everyone and has become a popular topic of conversation, debates and controversies.
"The social networking phenomenon continues to gain steam worldwide, and India represents one of the fastest growing markets at the moment".
This reflects the emergence of social media in India in upcoming time…so here is presenting a brief article on social media: prospects and challenges.
---
Introduction
What is social media?
Types of social media
Implications and uses
Challenges before social media
Prospects of social media in India
Concerns about privacy
Way ahead
---
Introduction:
Social Media is the latest form of media available to the audience of varied groups. It is a form of electronic communication through which users share information, ideas, personal messages, videos and pictures and other content through it instantly.
The major reason behind its popularity is that the users are given a free service to create a virtual social world where they exchange photographs, play games, become friendly, fall in love, split, fight, argue and quarrel at many times without having met physically.
But, on the other side it is an encroachment to someone's privacy which can lead to different type of illegal activities by using the information such as name, location, and email addresses.
Social media provides us a platform to express ourselves without any restrictions which is becoming a major challenge as it may infringe the fundamental rights of privacy of a human being.
Various forms of social media
Social Networks– Services that allow you to connect with other people of similar interests and background.  Usually they consist of a profile, various ways to interact with other users, ability to set up groups, etc. The most popular are Facebook and Linkedin
Bookmarking Sites – Services that allow you to save, organize and manage links to various websites and resources around the internet.  Most allow you to "tag" your links to make them easy to search and share.  The most popular are Delicious and StumbleUpon.
Social News– Services that allow people to post various news items or links to outside articles and then allows it's users to "vote" on the items.  The voting is the core social aspect as the items that get the most votes are displayed the most prominently.  The community decides which news items get seen by more people.  The most popular are Digg and Reddit.
Media Sharing– Services that allow you to upload and share various media such as pictures and video.  Most services have additional social features such as profiles, commenting, etc.  The most popular are YouTube and Flickr.
Microblogging– Services that focus on short updates that are pushed out to anyone subscribed to receive the updates.  The most popular is Twitter.
Blog Comments and Forums – Online forums allow members to hold conversations by posting messages.  Blog comments are similar except they are attached to blogs and usually the discussion centers around the topic of the blog post.  There are many popular blogs and forums like RSS Feeds.
Implications and uses of social media:
Social media serve as a superior medium to stay connected with friends and family, to meet new people, and make new friends.
It seems to be the most effective form of communication as feedback is instant.
It is like a boon to introverts as they find a safer zone to initiate conversations.
It is an upcoming media to integrate people and follow the principle of many voices one world.
Effect on Function & Performance of government

 
Accountability and transparency in Government
Various deals, decision by representative are Instantly getting shared on Social media
It is helping people decide that what things are actually done by Government
It is also causing swift actions by government
Making representative more closer through Digital interface
Democratising effect
Effect on Governance and Institutions
It is providing voice to the people
Office delays, and Bureaucratic red tapism, absenteeism has been affected.
Recent protest on free speech has also caused judicial activism thus prudent judiciary in even of infringement of rights
It also helps political leader during election campaign for propagating manifesto
Cost of dissemination of information, expenditure of government has been reduced Vis a Vis to other forms of Information.
Challenges before Social Media:
The misuse of one's personal information, hacking of accounts, morphing of personal photographs, addiction of social networking sites, spam and viruses are most high-flying problems faced due to social media.
Some other prospective challenges are illiteracy, reach and accessibility of internet, lack of censorship on social media, need of regulatory body to govern the social media.
The most worrying aspect to the social media is the fact that it cannot be controlled and therefore it goes without saying that its consequences can also be dangerous and uncontrollable for all those who use it recklessly and in an irresponsible manner.
Frequent networking on sites like Facebook could also generate negative feelings like inadequacy, envy, jealousy or even aggressive behavior.
Concerns about privacy:
Most networking sites do not really protect an individual's privacy. A simple example is that of photos being posted on such sites without taking permission from all the people concerned.
There is no authenticity of the data posted nor can everything be taken on its face value.
Prospects of social media in India:
There has been a remarkable increase in the internet connectivity in India. There has been successful penetration of personal computers even in the small cities and towns in the country. We all witness the intense mobile penetration in all nooks in India.
Seeing the high number of youth in the country who are tech friendly, it can be said that there is a bright prospect of social media in India.
Way ahead:
Social media in India has to meet other challenges apart from illiteracy, reach and accessibility that are revenue generation.
There has been a rapid increase in social networking sites, microblogging, media sharing and bookmarking sites. India is lucrative market and social media is certainly gaining opportunities to deepen its roots resulting into a strong foothold in India.
There is need to regularize the social media. Some agency must be deputed to monitor the anti-social activities taking place on virtual world of social media. Laws relating to cyber crime should be made more stringent. There should be a separate policing department for cyber crimes.
There is a need of extensive research study for finding ways to regularize crime against social media.
Social Media, with all its benefits and the potential for more, is definitely a boon, however misuse or irresponsible usage can have negative effects on individuals and society, especially the young impressionable minds. We need to guard against the negative impact of the social media, which ought to be used in the correct manner for creative or productive purposes so that it is progressive to mankind and society at large, rather than regressive.
---
References: