India's policies for 'Urban Lakes'
Note4Students
From UPSC perspective, the following things are important :
Prelims level : Urban lakes in India
Mains level : Wetland conservation in India
Context
Historically, cities were built along waterways or lakes.
Over time, human settlements near water bodies and lakes have transformed the natural environment into the towns and cities we see today.
Urban lakes are an important part of city ecosystems as they play a major role in providing environmental, social and economic services.
Famous Urban Lakes in India
Carambolim (Goa), Chilika (Odisha), Dal (Jammu and Kashmir), Deepor Beel (Assam), Khabartal (Bihar), Kolleru (Andhra Pradesh), Loktak (Manipur), Naini (Uttrakhand), Nalsarovar (Gujarat), and Vembanad (Kerala)
Threats to these Lakes
These lake ecosystems are presently endangered due to anthropogenic disturbances caused by Urbanisation as they have been heavily degraded due to pollution from disposal of untreated local sewage or due to encroachment, resulting in shrunken lakes.
Why conserve them?
Lakes in urban areas provide us with prime opportunities for recreation, tourism and domestic purposes.
They hold historical and traditional values and at places are a source of water supply for a municipality.
Appropriate lake function can ease the impact of floods and droughts by storing large amounts of water and releasing it during shortages.
Lakes also help in replenishing groundwater level as they are essential receptors for groundwater recharge, positively influencing water quality of downstream watercourses and preserving the biodiversity and habitat of the surrounding area.
Lakes in urban areas are also used as a source of water for industries, irrigation and agriculture.
Defining Urban Lakes
There is no specific definition for 'urban lakes' in India.
According to the National Lake Conservation Plan (NLCP), a water body having a minimum depth of three metres, spread over more than 10 hectares, and having no or very little aquatic vegetation, is considered as a lake.
The definition provided by NLCP is based on broad hydrological and morphometry criteria of a lake:
The apparent definition of urban lakes seems to those located entirely within city limits (census town) and directly surrounded by urban developments, with some recreation facilities limited to the shoreline area (parks, playgrounds).
OR
The lakes which are predominantly affected by urban human populations and their drainage basin is dominated by urbanisation, rather than geology, soils or agriculture. Such lakes are situated only partially within city limits, or attached but not necessarily surrounded, entirely by city development.
Issues with the definition
One of the obstacles for effective protection of these interlinked lakes in cities is the lack of a clear definition of an 'urban lake' in the Indian context.
The definition provided under the guideline of NLCP acknowledges only broad hydrological criteria to define a water body as a lake.
This definition ignores the fact that the water depth and spread keep changing every year, depending on various environmental factors.
In fact, there are very few urban lakes that fit into this definition since most of them occupy a small area (<10 ha), are seasonal and shallow.
Various policy measures
Water (Prevention and Control of Pollution) Act in 1974
Planning interventions for water bodies started as early as 1927.
In the Water (Prevention and Control of Pollution) Act in 1974, directions were given to control the flow of sewage and industrial effluents into water bodies.
Ramsar Convention
The need for lake conservation was felt when India became a signatory to the Ramsar Convention on Wetlands, 1982.
The Convention called for the conservation and wise use of wetlands (including water bodies).
Twenty-six Ramsar sites, covering an area of 689,000 ha, were identified in India.
National Wetland Conservation Programme
The Indian government operationalised the Programme in closed collaboration with concerned state governments during 1985-86 under the MoEFCC notification.
Recognising the importance of lakes, the Ministry launched NLCP, a centrally sponsored scheme exclusively aimed at restoring the water quality and ecology of lakes in different parts of the country.
Under the programme, 115 wetlands were identified, which required urgent conservation and management initiatives.
The selection of lakes was on hydrological (Lake size over 10 acres or 3 acres if of religious and cultural importance and lake depth more than three metres), scientific and administrative criteria.
The scheme was approved by the Union government during the Ninth Plan (June 2001) as 100 per cent central grant.
From 100 per cent central funding, the costs are now shared according to a ratio of 70:30 between the Union and the concerned state government.
Repair, Renovation and Restoration of Waterbodies' Scheme
In continuation with the NLCP, the Centre had launched this Scheme in 2005,
The objectives of the scheme were comprehensive improvement and restoration of traditional waterbodies, including increasing tank storage capacity, ground water recharge, etc.
National Plan for Conservation of Aquatic Eco-systems (NPCA)
Later, in 2016, the National Lake Conservation Plan was merged with National Wetlands Conservation Programme to form NPCA.
The principal objectives of NPCA are holistic conservation and the restoration of lakes and wetlands through an integrated and multidisciplinary approach with a common regulatory framework.
All lakes that were a part of NLCP, were brought under this scheme, and are being restored till date.
Why Urban Lakes still needs more attention?
Even after 26 years of pollution abatement works, only ten per cent of waste water generated in the country is treated.
The rest collects as cess pools or is discharged into the 14 major, 55 minor and several hundred other rivers.
It is quite clear that the overall status of quality of water in rivers, lakes and its links to groundwater has not been adequately addressed.
Out of the 43 Indian guidelines passed by the central and state government, 41 per cent of those talk about conservation and restoration of waterbodies but only 10 per cent exactly describe the conservative measure.
Only 22 per cent of the guidelines are on subjects related to policies to be adopted by state government, urban local bodies etc.
This clearly identifies the missing links and marks the future prospects that India should adopt for the preparation of better and sustainable lake management plans.
Need for a comprehensive Lake Management Plan
'Lake management planning' is an approach for different stakeholders to come together with a common interest in improving and protecting their lake.
Focusing on planning process rather than quick-fix solutions makes lake rejuvenation a manageable process.
Moreover, it guides how time and resources are utilised, keeping future sustainability of the lake in account.  It includes:
Encourages partnerships between concerned citizens, special interest groups, government body and water resources management practitioners
Identifies the concerns regarding the catchment/watershed of the lake
Sets realistic goals, objectives, and (short, medium and long-term) actions, and identifies needed funds and personnel.
Conclusion
Under the Jal Shakti mission and AMRUT, the revival /rejuvenation of water bodies is in piecemeal approach, with short-term measures like beautification, enhancing recreational activities, addressing immediate solid waste dumping into waterbody etc.
Although cities have initiated to work towards water bodies' rejuvenation, the long-term approach is still missing.
Way Forward
Since a lake is a reflection of its catchment area, it is essential to first understand the significant changes or trends concerning the primary land uses within the catchment area / watershed draining into the lake.
There is no approach which defines the planning process for preparation of short, medium and long-term action plans for lake rejuvenation, considering its watershed area.
It is essential to have a document with clear understanding of the lake's watershed area, with specific goals, objectives, producing time-bound action plans.
Conservation of Lakes and wetlands through an integrated and multidisciplinary approach with a common regulatory framework should be carried out.
Get an IAS/IPS ranker as your 1: 1 personal mentor for UPSC 2024
Attend Now
Sustainable farming systems receive global recognition
Four traditional farming systems in Bangladesh and Japan have been designated today by FAO as "Globally Important Agricultural Heritage Systems" for innovation, sustainability and adaptability. Let's know it in brief.
Let's take a glance on 4 traditional farming systems
Bangladesh's floating gardens, a unique hydroponics production system constructed with natural grasses and plants, which have been developed in flood areas.
A trio of sites in Japan: the sustainable river fisheries utilizing Sato-kawa system in Gifu, the Minabe-Tanabe Ume approach to growing apricots on nutrient-poor slopes in Wakayama.
The Takachihogo-Shiibayama mountainous agriculture and forestry system in Miyazaki which allows agricultural and forestry production in a steep mountainous area.
These new designations bring the number of Globally Important Agricultural Heritage Systems (GIAHS) systems to a total of 36 sites located in 15 countries in Africa, Latin America, Near East and Asia.
But first, Let's know about Globally Important Agricultural Heritage Systems (GIAHS)?
It was launched by UN's Food and Agriculture Organisation (FAO) in 2002 during the World Summit on Sustainable Development in Johannesburg, South Africa.
The GIAHS Initiative promotes public understanding, awareness, national and international recognition of Agricultural Heritage systems.
The initiative fosters an integrated approach combining sustainable agriculture and rural development.
The GIAHS initiative has project interventions in Algeria, Azerbaijan, Bangladesh, Chile, China, Ethiopia, India, Indonesia, Iran (Islamic Republic), Japan, Kenya etc.
In these countries, adaptive management approaches will be developed and implemented, to assist national and local stakeholders in the dynamic conservation of their agricultural heritage systems.
Now, back to main topic of 'new GIAHS sites'?
The new GIAHS sites include three in Japan and one in Bangladesh –
Japan – Ayu of the Nagara River System
---
The Nagara River is one of the cleanest rivers in Japan that provides a number of ecosystem services.
Various components of the system such as river, forests and farmlands are closely linked to each other.
The sustainable inland fisheries of a specific type of fish (Ayu) benefit from clean waters of the Nagara River which are maintained through upstream forest management.
Local communities have lived within this linked ecosystems and have developed their livelihoods and cultural practices.
Japan – Minabe-Tanabe Ume System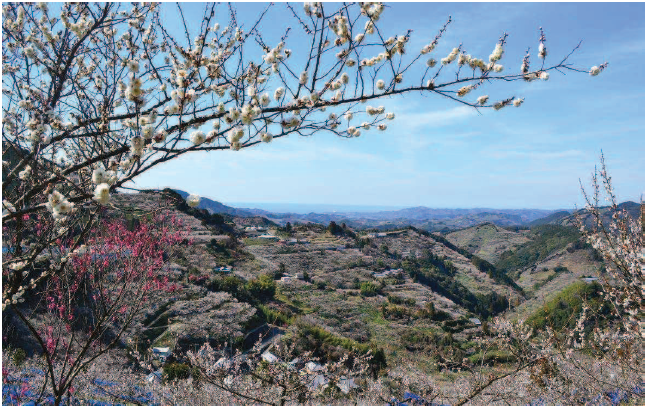 ---
Minabe-Tanabe Ume System allows for the production of high-quality Ume (Japanese apricots) and various kinds of fruits on nutrient-poor slopes.
Local communities have created a thriving Ume fruit production environment by maintaining upper coppice forests for landslide prevention and maintenance of water, and Japanese honeybee for pollinators.
By permitting the production of a diverse range of products, the system ensures stable livelihoods and makes communities more resilient to disasters.
Japan – Takachihogo-Shiibayama Mountainous Agriculture and Forestry System
---
This site is located in a steep mountainous area where flat land is extremely scarce.
In this severe environment, local people have established a sustainable system of agriculture and forestry which balances timber production with diverse farming activities.
Such as terraced rice growing, shiitake mushroom cultivation, beef cattle raising, or tea cultivation.
The forest is maintained as a "mosaic" of conifers and broadleaf trees using traditional practices.
Bangladesh – Floating garden Agricultural Practices
---
Farmers in some parts of Bangladesh where flood waters can remain for a prolonged period of time have developed a unique hydroponics system in which plants can be grown on the water on floating organic bed of water hyacinth, algae and other plant residues.
This environmentally friendly traditional cultivation technique utilizes the natural resources of wetlands to grow vegetables and other crops almost all year round.
Providing numerous social, economic, agricultural and ecological benefits to the local population.
If you would like to watch GIAHS 2013 video, it provides an introduction to GIAHS and takes you on a journey through some of the GIAHS sites around the world.
---
Source - FAO features | Pic - Floating Gardens