Sustainable farming systems receive global recognition
Four traditional farming systems in Bangladesh and Japan have been designated today by FAO as "Globally Important Agricultural Heritage Systems" for innovation, sustainability and adaptability. Let's know it in brief.
Let's take a glance on 4 traditional farming systems
Bangladesh's floating gardens, a unique hydroponics production system constructed with natural grasses and plants, which have been developed in flood areas.
A trio of sites in Japan: the sustainable river fisheries utilizing Sato-kawa system in Gifu, the Minabe-Tanabe Ume approach to growing apricots on nutrient-poor slopes in Wakayama.
The Takachihogo-Shiibayama mountainous agriculture and forestry system in Miyazaki which allows agricultural and forestry production in a steep mountainous area.
These new designations bring the number of Globally Important Agricultural Heritage Systems (GIAHS) systems to a total of 36 sites located in 15 countries in Africa, Latin America, Near East and Asia.
But first, Let's know about Globally Important Agricultural Heritage Systems (GIAHS)?
It was launched by UN's Food and Agriculture Organisation (FAO) in 2002 during the World Summit on Sustainable Development in Johannesburg, South Africa.
The GIAHS Initiative promotes public understanding, awareness, national and international recognition of Agricultural Heritage systems.
The initiative fosters an integrated approach combining sustainable agriculture and rural development.
The GIAHS initiative has project interventions in Algeria, Azerbaijan, Bangladesh, Chile, China, Ethiopia, India, Indonesia, Iran (Islamic Republic), Japan, Kenya etc.
In these countries, adaptive management approaches will be developed and implemented, to assist national and local stakeholders in the dynamic conservation of their agricultural heritage systems.
Now, back to main topic of 'new GIAHS sites'?
The new GIAHS sites include three in Japan and one in Bangladesh –
Japan – Ayu of the Nagara River System
---
The Nagara River is one of the cleanest rivers in Japan that provides a number of ecosystem services.
Various components of the system such as river, forests and farmlands are closely linked to each other.
The sustainable inland fisheries of a specific type of fish (Ayu) benefit from clean waters of the Nagara River which are maintained through upstream forest management.
Local communities have lived within this linked ecosystems and have developed their livelihoods and cultural practices.
Japan – Minabe-Tanabe Ume System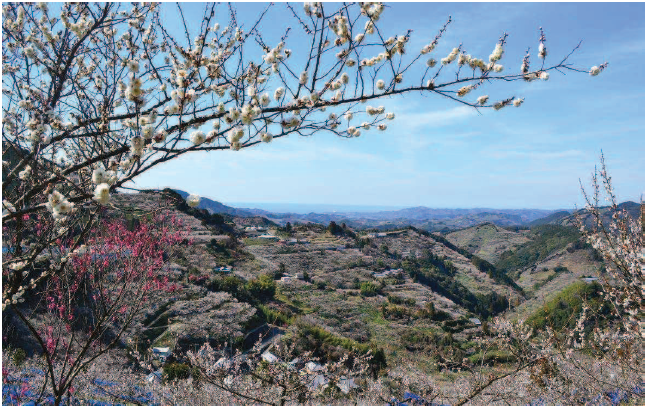 ---
Minabe-Tanabe Ume System allows for the production of high-quality Ume (Japanese apricots) and various kinds of fruits on nutrient-poor slopes.
Local communities have created a thriving Ume fruit production environment by maintaining upper coppice forests for landslide prevention and maintenance of water, and Japanese honeybee for pollinators.
By permitting the production of a diverse range of products, the system ensures stable livelihoods and makes communities more resilient to disasters.
Japan – Takachihogo-Shiibayama Mountainous Agriculture and Forestry System
---
This site is located in a steep mountainous area where flat land is extremely scarce.
In this severe environment, local people have established a sustainable system of agriculture and forestry which balances timber production with diverse farming activities.
Such as terraced rice growing, shiitake mushroom cultivation, beef cattle raising, or tea cultivation.
The forest is maintained as a "mosaic" of conifers and broadleaf trees using traditional practices.
Bangladesh – Floating garden Agricultural Practices
---
Farmers in some parts of Bangladesh where flood waters can remain for a prolonged period of time have developed a unique hydroponics system in which plants can be grown on the water on floating organic bed of water hyacinth, algae and other plant residues.
This environmentally friendly traditional cultivation technique utilizes the natural resources of wetlands to grow vegetables and other crops almost all year round.
Providing numerous social, economic, agricultural and ecological benefits to the local population.
If you would like to watch GIAHS 2013 video, it provides an introduction to GIAHS and takes you on a journey through some of the GIAHS sites around the world.
---
Source - FAO features | Pic - Floating Gardens