Macron's Statement On China and India's Own Possibilities In Europe
Note4Students
From UPSC perspective, the following things are important :
Prelims level : NA
Mains level : Europe- France-US and China Complex relations

Central idea
French President Emmanuel Macron's recent declaration that France is an ally but not a vassal of the United States and his comments that Paris does not share Washington's hostility towards China have generated significant reactions in the US and Europe. Beijing's official media has praised Macron's strategic autonomy approach towards China, and Russia hopes that France and other European countries will be less politically tied to the US.
Macron's comments on China and Taiwan and reactions
Outrage in the US and Europe: Macron's comments that France does not share the US's hostility towards China and does not see the Taiwan crisis as a threat to Europe have generated outrage in the US and Europe.
China praised: Beijing sees Macron's model of strategic autonomy as a positive example for other nations to follow regarding China.
India criticized: India has criticized the remarks, noting that the principle and power are at stake in both Ukraine and Taiwan.
What is mean by Vassalisation?
The term vassalisation refers to a state or country that is in a subordinate or dependent relationship with another, usually more powerful, state or country.
It suggests a lack of independence and autonomy in decision-making and an obligation to follow the policies and interests of the more powerful state.
Important trends highlighted by the debate on the vassalisation of Europe and Russia
Different perspectives on Taiwan and Ukraine
Macron's claim on Taiwan not being a concern to Europe reinforces India's External Affairs Minister S Jaishankar's criticism of Europe's mindset that their problems are the world's problems.
The Ukraine conflict has debilitating consequences for the world, and a shooting war between the US and China over Taiwan could be more devastating and costly to the international system.
Macron's contradictory approach to the Indo-Pacific is disappointing, and his wavering resolve on China may lead Asian countries to think less of French resolve.
Macron does not represent all of Europe
President of the European Commission, Ursula von der Leyen, has a different take on China than Macron.
Central Europeans trust the US more than France or Germany to defend their security interests.
Europe is deeply divided on how to address contemporary security challenges, undermining Macron's ambition to turn Europe into the world's third superpower.
The only common belief in Europe today is the political faith in Beijing's capacity to end Russia's war in Ukraine.
A weaker and divided Europe enhances the prospects for a bipolar world
Multipolarity has been an important objective of India's foreign policy for over three decades.
The talk of multipolarity could become academic as the US and China pull way ahead of other powers, get deeper into confrontation, and shape the choices of the rest of the world.
The belief that Europe and Russia can act as elements of a multipolar world is becoming increasingly untenable.
India's possibilities in Europe and Russia
Delhi should not turn its back on Europe despite its current predicament with China.
Macron's China push underlines India's own possibilities in Europe.
Western Europe that follows the money in China could do the same in India, providing much strategic benefit to India in its partnerships with Brussels and individual European actors.
India is stepping up its engagement with Russia on the calculation that Moscow's current dependence on Beijing is temporary.
India needs to work more closely with the US and its Asian allies
The inability or unwillingness of both Russia and Western Europe to balance China means India needs to work much more closely with the US and its Asian allies to secure a more favourable balance of power in its Indo-Pacific neighbourhood.
India's strategic value will only go up for the US amidst the European reluctance to stand up to China's hegemonic ambitions.
Few countries in Asia face more urgent and daunting challenges from China than India, and few Asian capitals have more political will to stand up to Beijing than Delhi.
The reduced standing of Europe and Russia in great power relations is accompanied by Asia's rise, with emerging strategic opportunities for Japan, India, and South Korea.
Europe-China relations have been complex and multi-faceted over the years: On the one hand, China is Europe's second-largest trading partner, and there is a lot of economic interdependence between the two. On the other hand, there are concerns about human rights violations, lack of market access for European companies in China, and China's increasing assertiveness in the Asia-Pacific region.
Some important developments include
The EU-China Comprehensive Agreement on Investment (CAI): Negotiated in December 2020, the CAI is a landmark investment deal between the EU and China aimed at improving market access for European companies in China and increasing investment flows between the two regions. However, the agreement has been met with criticism from some EU member states and civil society groups, who argue that it does not do enough to address human rights abuses in China.
Increasing concern over Chinese human rights abuses: Europe has been increasingly critical of China's human rights record, particularly in the wake of the crackdown on pro-democracy protesters in Hong Kong and the treatment of Uighur Muslims in Xinjiang. The EU has imposed sanctions on Chinese officials involved in human rights abuses, and there is growing support for a boycott of the 2022 Winter Olympics in Beijing.
Growing competition in the Indo-Pacific region: Europe is becoming more engaged in the Indo-Pacific region, which is seen as a key area of strategic competition between China and the US. Some EU member states, such as France and Germany, have developed their own Indo-Pacific strategies and are seeking to deepen security partnerships with countries in the region.
Belt and Road Initiative (BRI): China's massive infrastructure project, the BRI, has raised concerns in Europe about China's growing influence in the region. Some EU member states, such as Italy and Greece, have signed on to the initiative, while others have been more cautious.
Facts for prelims
| | |
| --- | --- |
| Category | Information |
| Location | East Asia |
| Capital | Taipei |
| Population | 23.58 million (2021) |
| Official language | Mandarin Chinese, Hokkien, Hakka, and indigenous languages |
| Currency | New Taiwan dollar |
| Form of government | Unitary semi-presidential constitutional republic |
| Topography | Mountainous with fertile plains in the west |
| Climate | Subtropical |
Conclusion
Macron's comments on China have sparked debates about Europe and Russia's relationship with China and the US. A weaker and divided Europe enhances the prospects for a bipolar world dominated by the US and China, which makes it important for India needs greater engagement with European geopolitics and to work closely with the US and its Asian allies to secure a more favorable balance of power in the Indo-Pacific region.
Mains Question
Q. What do you understand by mean vassalisation in terms of international politics? Discuss the latest trends that have emerged from the debate on the vassalisation of Europe derived from French president Macron's recent comments on China.
Get an IAS/IPS ranker as your 1: 1 personal mentor for UPSC 2024
Attend Now
Timeline of EU
19 April 1951: European Coal and Steel Community Treaty signed by Germany, France, Ireland, Luxembourg, Belgium and Netherlands.
May 1952: European Defence Community (EDC) Treaty.
August 1954: France rejects the EDC treaty.
25 March 1957: Treaties of Rome signed: creates Common Market / European Economic Community (EEC) and European Atomic Energy Community.
1 January 1958: Treaties of Rome come into effect.
1960s
1961: Britain tries to join the EEC but is rejected.
January 1963: Franco-German Treaty of Friendship; they agree to work together on many policy issues.
January 1966: Luxembourg Compromise gives majority vote on some issues, but leaves national veto on key areas.
1 July 1968: Full customs union created in the EEC, ahead of schedule.
1967: British application again rejected.
December 1969: Hague summit to "relaunch" the Community, attended by heads of state.
1970s
1970: Werner Report argues economic and monetary union possible by 1980.
April 1970: Agreement for EEC to raise own funds through levies and customs duties.
October 1972: Paris Summit agrees plans for future, including economic and monetary union and ERDF fund to support depressed regions.
January 1973: UK, Ireland and Denmark join.
March 1975: First meeting of the European Council, where heads of state gather to discuss events.
1979: First direct elections to European Parliament.
March 1979: Agreement to create the European Monetary System.
1980s
1981: Greece joins.
February 1984: Draft Treaty on European Union produced.
December 1985: Single European Act agreed; takes two years to ratify.
1986: Portugal and Spain join.
1 July 1987: Single European Act comes into effect.
1990s
February 1992: Maastricht Treaty / Treaty on European Union signed.
1993: Single Market begins.
1 November 1993: Maastricht Treaty comes into effect.
1 January 1995: Austria, Finland and Sweden join.
1995: Decision taken to introduce the single currency, the Euro.
2 October 1997: Treaty of Amsterdam makes minor changes.
1 January 1999: Euro introduced in eleven counties.
1 May 1999: Treaty of Amsterdam comes into effect.
2000s
2001: Treaty of Nice signed; extends majority voting.
2002: Old currencies withdrawn, 'Euro' becomes sole currency in majority of EU; Convention on the Future of Europe created to draw up constitution for larger EU.
1 February 2003: Treaty of Nice comes into effect.
2004: Draft constitution signed.
1 May 2004: Cyprus, Estonia, Hungary, Latvia, Lithuania, Malta, Poland, Slovak Republic, Czech Republic, Slovenia join.
2005: Draft constitution rejected by voters in France and the Netherlands.
2007: Lisbon Treaty signed, this modified the constitution until it was deemed a sufficient compromise; Bulgaria and Romania join.
June 2008: Irish voters reject Lisbon Treaty.
October 2009: Irish voters accept Lisbon Treaty.
1 December 2009: Lisbon Treaty comes into effect.
2013: Croatia joins.
2016: United Kingdom votes to leave.
Structure of EU
The European Union has seven institutions: the European Parliament, the Council of the European Union, the European Commission, the European Council, the European Central Bank, the Court of Justice of the European Union and the European Court of Auditors.
The European Council gives direction to the EU and convenes at least four times a year. It comprises the President of the European Council, the President of the European Commission and one representative per member state; either its head of state or head of government.

The European Council has been described by some as the Union's "supreme political authority". It is actively involved in the negotiation of the treaty changes and defines the EU's policy agenda and strategies.

The European Council uses its leadership role to sort out disputes between member states and the institutions and to resolve political crises and disagreements over controversial issues and policies.

The European System of Financial Supervisors is an institutional architecture of the EU's framework of financial supervision composed by three authorities: the European Banking Authority, the European Insurance and Occupational Pensions Authority and the European Securities and Markets Authority.

To complement this framework, there is also a European Systemic Risk Board under the responsibility of the ECB.

The aim of this financial control system is to ensure the economic stability of the EU.

The European Parliament allows the citizens of the EU to participate directly in European political affairs. The citizens of the 28 member states appoint their deputies in the national elections for a five-year period. These deputies are to represent the interests of their electors on a European level. The latest elections (by direct universal suffrage) took place in May 2014.

The European Commission (EC) is an institution of the 

European Union

, responsible for proposing legislation, implementing decisions, upholding the 

EU treaties

 and managing the day-to-day business of the EU. Commissioners swear an oath at the 

European Court of Justice

 in Luxembourg, pledging to respect the treaties and to be completely independent in carrying out their duties during their mandate. The Commission operates as a 

cabinet government

, with 28 

members of the Commission

 (informally known as "commissioners").

The Court of Justice of the European Union 

is the Union's only body of a legal nature. It is a sort of legislative watchdog in charge of verifing the interpretation and the application of community legislation.
Importance of EU:
The European Union is our

largest trading partner,

and our largest export destination. And it is our largest source of Foreign Direct Investment.

However, India's exports to EU in 2014-15 had shrunk (-) 4.4 per cent year on year to $49.3 billion. Imports from EU had also contracted (-) 1.5 per cent in 2014-15 to $49.2 billion.
Deadlock in Broad-based Trade and Investment Agreement (BITA)
The BTIA negotiations have remained deadlocked over growing differences regarding greater market access sought by both sides for merchandise exports.
EU's main Demands
EU has been keen on

reducing or abolishing tariffs

in several sectors, including in the automobile and wine and spirits sectors.

India's import duty on cars are between 60 and 120 per cent as against the EU's 10 per cent.

The EU is keen that India should adopt

stringent IP protection standards

even if that means going beyond the WTO specified standards.

The problem of India's model BIT

India's new model bilateral investment treaty (BIT) is another major contentious issue, especially for foreign investment.

Given the experiences of major European companies such as

Vodafone and Cairn

, who are battling the imposition of retrospective taxes by India, the

EU is deeply concerned about the protection of its investments in India.
India's main demands
India's main demands on

data security status

(crucial for India's information technology sector to do more business with the EU firms),

easier temporary movement of skilled professionals

and

seamless intracorporate movement

.

The EU should do away with

their non-tariff barriers

that seem to have been erected mainly to protect some of their local firms but not as much for better safety or quality.

India has also sought

agricultural market access

in the EU as well as disciplining of

Sanitary and Phytosanitary

(norms related with plants and animals) and

Technical Barriers to Trade

.
Other major issues between India and EU:
Human rights violation:

One of the ostensible reasons for stalled talks between the European Union (EU) and India had been the EU concern over

human right violations in India.
Italian marines

case has also played a spoiler in the EU-India relationship.

Arbitrary Ban:

In August 2015, India had deferred FTA over the EU imposing a ban on sale of around 700 pharma products.
13TH INDIA-EU SUMMIT
The 13th EU-India Summit was held in Brussels on March 2016.
Outcome of summit:
The 13th India-EU Summit concluded in Brussels without a consensus on a bilateral free trade deal even as progress was made in bilateral cooperation in other fields — from foreign policy to outer space.
Following are the major outcomes of the summit:
EU-India Agenda for Action-2020
India and the European Union (EU) have endorsed the 'EU-India Agenda for Action 2020' as a common road map for the strategic partnership in the next five years.
Foreign Policy and Security Cooperation:

Strengthen foreign policy cooperation, in areas of mutual interest such as Asia, Africa, the Middle East/West Asia, Europe, and other relevant areas.

Security: Strengthen

cooperation and work towards tangible outcomes on shared objectives of nonproliferation & disarmament, counter-piracy, counter-terrorism (including counter -radicalization) and cyber security.

The two sides agreed to cooperate in

countering violent extremism

, disrupt recruitment of terrorists and prevent the free passage of foreign fighters.

They have also agreed to explore the possibility of

India and EUROPOL

, the EU law enforcement agency, to share intelligence.
The Common Agenda on Migration and Mobility (CAMM), which was also adopted, is designed to control and organize migration a pressing concern for the EU.
 The Agenda also includes the prevention of human trafficking and promoting international protection as priority areas.
Joint Declaration on an India-EU Water Partnership (IEWP): The objective of this Joint Declaration is to strengthen technological, scientific and management capabilities of India and the EU in the field of water management on the basis of equality, reciprocity and mutual benefit.
Joint Declaration on

a Clean Energy and Climate Partnership

.

Both sides agreed to further the negotiations on

early conclusion of the BTIA.
The European Investment Bank (EIB)

signed an agreement with India to release the first tranche of 200 million euros of its total 450 million euros loan towards the construction of the Lucknow Metro's first line.
Challenges before EU:
Eurozone crisis-

The root of this problem is lied in the formation in EU itself. Crisis in one country affects the other countries as well, and now many countries in EU are facing economic crisis(PIGS countries) and it has affected other prosperous countries like France and Germany as well. 

Refugee crisis

– Situated aside Mediterranean sea, it has become a destination for many refugees who left their home from West Asia and North Africa due to troubled conditions in these regions. the influx of so many refugees has created problems related to higher economic burden in already suffering europe, law and order problem, ethnic clashes between natives and migrants etc.

Problem of extremism-

The rise of ISIL and the recent attacks in Paris and Belgium has exposed the vulnerabilities of youths in europe towards extremist ideologies as the attacks were happened with no outside supports.
European Refugee Crisis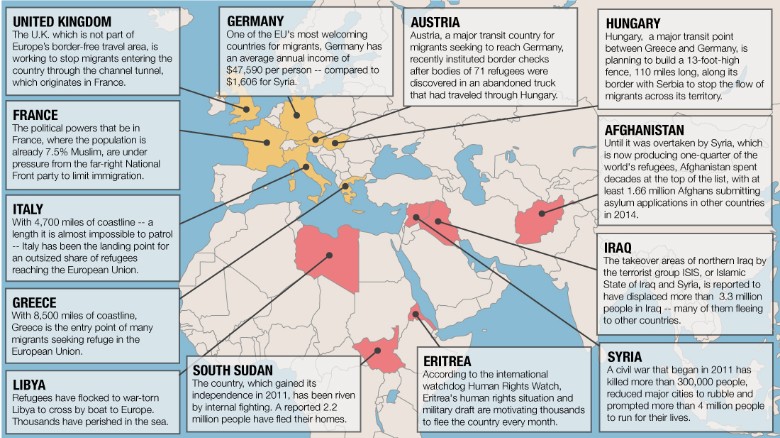 Huge number of refugees and migrants have been shifting to Europe, from many countries like Syria, particularly since 2011. They see Europian Union (EU) as their asylum. With more number of refugees coming in at a time when the natives don't want any more, the whole situation has developed into a crisis. This crisis is called European Refugee Crisis.
The refugees are not only from Syria!
More than 5 Lakh people have crossed to Europe by sea and land. Most of them are from Syria – troubled not only by civil war, but also by the most violent and inhumane atrocities by ISIS. But Syria is not the single source. They come from areas such as the Middle East (Syria, Iraq), Africa (Eritrea, Nigeria, Somalia, Sudan, Gambia), South Asia and Central Asia. According to International Organisation for Migration (IOM) statistics, a substantial number of refugees are also from Afghanistan and Pakistan too due to unending civil conflicts in these countries.
The phrase "European migrant crisis" became widely used in April 2015, when five boats carrying almost two thousand migrants to Europe sank in the Mediterranean Sea, with a combined death toll estimated at more than 1,200 people.
Migrants and Refugees – Statistics
According to UNHCR, the UN's refugee agency, 59.5 million people were forcibly displaced in 2014 which again rose considerably in 2015.

A record number of 1,07,500 migrants reached the borders of European Union in recent months.

Between 2000 and 2015, around 30, 000 have perished along these borders.
This figures stand as a witness that this crisis didn't started only after ISIS emerged. The increasing number of unaccompanied minors seeking asylum in Europe is seen as a dangerous growing trend among refugees. In 2014 alone around 24,000 unaccompanied minors applied for asylum. Many of the children who arrive are at the age group of 15 to 17 with no formal schooling adding more headaches to host countries.
The European Response to Migrant Crisis
Germany and the EU have been pushing for other EU members to work out a plan for asylum seekers. Britain leads among countries which strictly rejects it. The Right-Wing PM of Hungary has appealed to refugees not to try and cross into Hungary which has fenced its borders with razor wire. Bulgaria, Czech, Slovakia and Poland all are reluctant in taking of refugees making the situation grave.
Germany is expected to give green signal to almost 1 million applicants for asylum. After extensive criticisms by Media on Refugee crisis, EU has started to take few favourable steps.  
Initially Europe greeted immigrants with barbed wires, tear gas and police brutality. Only after huge outcry across International media and from human rights and progressive organisations within Europe, eased the curbs on refugees.
Aylan: Another incident which helped to garner pro- refugee sentiments was photo of dead child Aylan on a beach. A mishap happened from his father who accidently dropped him from an overcrowded boat while trying to escape. These photos send jitters across world and thanks to social media which made sure that this photo was seen by everyone who has an account.
Also Pope Francis statement that every Church in Europe should take a refugee family has given hope to many that it may change the mood in European Right Wing's mind.
Countries have started to take more refugees peacefully now. European people have been welcoming refugees with water, food, shoes and blankets. Though Italy, Greece and Hungary are the frontline countries of reception, most sort after destinations are Germany, Sweden, Austria and Switzerland.
Why Europe?
Europe is the most preferred destination for the people from this war conflicted regions as its economically prosperous, socially secure and has friendly immigration laws.
Mostly it's not because refugees are opportunists that they walk to EU but it's due to dangerous situation they and their families has to live. Endless wars, conflicts have ruined their countries political, economic and social equilibrium.
Also it's surprising why GCC countries never have been helpful or receptive to refugee crisis especially when it's happening in their backyard. Rich countries like Saudi Arabia and Qatar has to play more pro- active roles in this situation. So obviously Europe as nearest land seems to be their immediate hope to go as they can trek or use boats or ships to reach.
Macro level causes for Refugee Crisis
West:

 A short and quick look into history will show you that countries who are responsible for this situation are the ones who have to bear pain of this crisis i.e Europe or to put in a cliché 'West' inclusive of US. Middle East can be said as the holy grail of West since oil was accidentally found by two American gentlemen in Saudi Arabia. No doubt it was a boon to natives and even to millions of Asian and African immigrants to Middle East but also it paved the way to unending geo-political crisis across the region. Before finding oil just like Asia and Africa European colonialism had sucked all its wealth and when time came to leave the place like everywhere, Imperial powers left without solving issues created by them mainly land disputes within neighbours. Example is Israel and Palestine issue.

Dictatorship regimes and Islamic fundamentalism:

 Continuous dictatorship type regimes and Islamic fundamentalism made Middle East most volatile n disturbed place on the planet. Western powers in order to make their oil supply smooth and to be part of Gulf Boom started in early 80's always took a partial stand on these issues.

Shia-Sunni divide:

 Another villain to already worsened situation was Shia-Sunni divide among people, society and regimes which led to many conflicts.  This reason has led many natives to flee as refugees in the past from Palestine, during Iraq-Iran war, Iraq-Kuwait war etc.

Wars:

 This refuge crisis has given Europe a reality check on its wars on many regions of MENA (Middle East and North African region). Wars on these lands didn't ease the situation even though they were able to kill or defeat dictator leaders. By war, infrastructure and liveable conditions of already abysmal level got more deteriorated.  These resulted natives of these lands to search green pastures which happened to be Europe and hence started Refugee crisis.

Democracy movements and civil war:

 Present refugees crisis didn't started yesterday but it has been seen a huge surge from Libya conflict. If we go again back refugee problem as a crisis started from US, UK joint war to liberate Iraq.

ISIS:

 Emergence of ISIS just sky rocketed the whole thing. Western powers in a way failed to bring stable regimes to these lands.  People in a way got sandwiched between atrocities of ISIS or ineffective regimes backed by West on one side and on the other side hunger, poverty and tyranny. Only way to survive for them was to initiate long walk towards Europe! Thus started one of the biggest Exoduses ever seen in history.
Adding fuel to fire
Saudi Arabia has been attacking and bombing Yemen.

Asylum denied refugees may join ISIS.

Turkey's intolerance with Kurds
Syrian Conflict have been going on for 4 years but why suddenly this crisis?
War in Syria against ISIS is not getting any better. It made Syrians to leave their country to Turkey which is closest and they thought once war is over, they can return.

Even though Turkey has taken 2 million refugees, it's not a country for people to stay in the long run as Right to work for refugees are not legal yet. Also new regime of Turkey is also not quite favourable to refuges as previous government. It has made refugees reluctant to go to Turkey.

UN organisations working with millions of refuges in Jordan, Turkey and Lebanon are running short of funds to keep up the relief work and expenses of camp making people to think of going to Europe. Similar is the situation among UN camps catering to the needs of refugees in Eastern Europe.

Many people have saved required money to use legally or illegally to get into Germany.

People have familiarised with the route via Balkan to trek to EU.

EU countries have been sitting as a lame duck all this year's talking, discussing on refugee crisis without sensing urgent need of a solution or to deal with such a situation.

Still EU should understand that what they are facing now is just a tip of iceberg compared to neighbouring countries of Syria when it comes to dealing with refugees.
Conclusions with Possible Solutions
West in a way with its narrow minded Foreign Policy have destabilized West Asia and Middle East and now cannot show their back on refugee crisis.
Europe should include US which has been largely elusive on whole issue till now.

GCC countries should involve more in accepting refugees. It's a blunder what Saudi Arabia is doing right now 

by attacking and bombing Yemen currently which will only add more refugees.

If Europe is going to push back the refugees, the situation will be more vicious. Such a stupidity will increase the chances of refugees joining with ISIS as they won't have any other options to survive.

Turkey should end its anonymity with Kurds and involve them more into finding a solution and to defeat ISIS. 

Assad regime should be made more accountable.

Include Russia and organise an all-out war against ISIS.
Finding a formula based solution which will end all tyranny is not practical but it's time that Europe and US sit together and re-check their neo imperialistic and double faced foreign policies in West Asia and Middle East.
Also Western powers should stop Saudi Arabia from funding Wahhabis ideology being spread in Middle East society which is resulting in more Islamic fundamentalism helping organisations like ISIS and Boko—Haram.
To all those who oppose to support refuges,"Recognize yourself in he and she who are not like you and me."   – Carlos Fuentes.
INDIA-GERMANY
Introduction  
Bilateral relations between Germany and India are based on a sound foundation of mutual respect, understanding and support. The cooperation between both countries covers a wide range of areas from political action and growing economic exchange to landmark cultural events.
It is complementary as India and Germany both contribute their particular and unique strengths to this truly strategic partnership.  
The relationship, based on common values of democracy and rule of law has gained significantly in strength in the 1990s following India's economic liberalization and the end of cold War. The strategic partnership between India and Germany gained light with the signing of Germany and India cooperate closely on the issue of UNSC expansion within the framework of G-4.
Historical Background  
The history of Indo-German political relations goes back to the late nineteenth century, when the 'Imperial German Consulate' (Kaiserlich Deutsches Generalkonsulat) started operating from Calcutta (now Kolkata).  

As one of the first countries, India diplomatically acknowledged and accepted the Federal Republic of Germany after the end of the Second World War in 1945. The diplomatic recognition of Germany by the Indian government smoothened the way for a long lasting and continuous relationship for over 60 years up to the present day.  

Thus, in 1951, the Indian Union and Germany decided to establish economic relationships to gear up their partnership. With that in mind, the Indian Prime Minister Jawaharlal Nehru made his first visit to post-war Germany and its first Chancellor Konrad Adenauer (Christian Democratic Union – CDU) in the same year.  

Also, Germany established its Consulate General in Bombay (now Mumbai) in 1951, leading of the establishment of a full-fledged Embassy in New Delhi in 1952
Importance of Germany for India
India and Germany share strong bilateral relations extending over economic, cultural and security issues–ECONOMIC IMPORTANCE 
Germany is the largest trade-partner of India in Europe.

Germany's importance can be traced from the fact that India has announced a Fast-Track mechanism for German Companies in the DIPP.

Germany's looks forward to employ young Indian labour to overcome its demographic deficit.
–STRATEGIC IMPORTANCE 
India and Germany seek a permanent seat with veto powers at the United Nations Security Council and have joined with Japan and Brazil to co-ordinate their efforts via the G4 collective.
–SECURITY IMPORTANCE 
Technologically advanced Germany can contribute a lot to India to strengthen its security programs. Currently, both nations are holding meetings on Counter-Terrorism and Cyber-Dialogues.

Germany supports India's membership to NSG and MTCR(Missile Technology and Control Group.
–ROLE OF GERMANY IN INDIA's RENEWABLE ENERGY SECTOR 
Germany has invested heavily in the Green Energy Corridors Partnership and has extended co-operated in the India-Germany Solar Energy Partnership which can help India achieve its target of 175 GW by 2022. 

Germany has also extended its help to India's National Electric Mobility Mission which can reduce the dependence on the fossils.
German Economy  
Germany – the fifth largest economy in the world in PPP terms and Europe's largest – is a leading exporter of  machinery, vehicles, chemicals, and household equipment and benefits from a highly skilled labor force  German Economy contracted by 5.1% in 2009 but grew by 3.6% in 2010, and 3.1% in 2011.
The recovery was attributable primarily to rebounding manufacturing orders and exports – increasingly outside the Euro Zone. The worsening euro-zone financial crisis and the financial burden it places on Germany as well as falling demand for German exports has made domestic demand a more significant driver of Germany's economic expansion.  
Economic Relations  
Germany is India's most important trading partner within the European Union and the sixth most important trading partner in worldwide comparison. Since the beginning of the Indian reform policy in 1990, the bilateral trade volume has risen from 2.7 billion Euro to 16 billion Euro in 2014.  

Germany is the 8th largest foreign direct investor in India since 2000. German FDI in India during the period 1991-February 2015, was valued at US$ 8.25 billion. German FDI in India in 2014 was to the tune of US$ 1.15 Indian investments in Germany have also shown a remarkable increase in the last few years and have invested over US $ 6 billion in Germany, mainly through M&As.  

In the first 7 months of 2015, the bilateral trade volume compared to the previous year rose by 13%. German exports rose by 17.5%, while imports from India rose by 8,1%. The German trade surplus of around 1.9 billion Euro in 2014 is based on a high demand for German capital goods.

These are machinery that amount to a third of German exports to India, as well as electronic technology, metal ware, chemicals, automobiles and automotive parts. Indian exports to Germany consist mainly of textiles, chemicals, electronic technology, metal ware, leather and foods.
Angela Merkel Visit to India 2016
Bilateral relations between the Republic of India and the Germany have been traditionally strong due to commercial, cultural and technological co-operation. German Chancellor Angela Merkel travelled to India for the Third Indo- German Inter-Governmental Consultations.
A total of 18 agreements were signed, which covered a wide range of topics — from skill development to education, science and technology to aviation.
Highlights of the visit
Germany returned to India a 10th century Durga idol that had gone missing from a temple in Kashmir over two decades ago.
"Fast-track clearance mechanism":
In a bid to attract German investment, India decided to set up a "fast-track clearance mechanism". The only other such country-specific mechanism is for Japan.

The fast-track system for German companies will be taken care of by the Department of Industrial Policy and Promotion (DIPP), and will become operational by March 2016.

The two leaders also underlined the importance of

freedom of navigation in international waters

and the right of passage and other maritime rights in accordance with international law, in an apparent reference to growing Chinese assertiveness in the South China Sea.

Germany has expressed its inability to sign the

Mutual Legal Assistance Treaty (MLAT)

with India, citing its provision for "death penalty" for heinous crimes and terror activities.

India and Germany agreed to resume talks towards

a free trade agreement

between Asia's third-largest economy and the European Union.

Germany is India's largest trading partner in the E.U. and one of the top ten global trading partners.

The overall exchange of goods and services between the two countries was valued at around around 15.96 billion euros last year, a drop of €1.14 billion from the level of €16.10 billion registered in 2013.

German Chancellor highlighted problems that German businesses have faced in operating in India, and 

hoped that the new agreement for a special "fast-track" mechanism would help them secure licences and clearances expeditiously.
Cooperation in clean energy:
The two countries agreed on the

India Germany Climate and Renewable Energy Alliance

— a comprehensive partnership to harness technology, innovation and finance in order to make affordable, clean and renewable energy accessible to all.

Germany has committed to providing an assistance of over 1 billion Euros for India's Green Energy Corridor and a new assistance package of over 1 billion Euros for solar projects in India.
Germany is India's "natural ally"
India's natural partners would be countries that, on the one hand, do not compete with it either in the Market place or in power politics, and, on the other, have something to offer India that it lacks.

By assisting India in the quest for development and geo-economic growth, Germany has the opportunity to bolster their own rise in geopolitical terms.

Germany has surplus capital, modern technology and a demographic deficit.

India has a deficit of capital, lacks modern technology and has exportable human capital.
UN Security Council reform
Germany and India are vigorously pursuing UN security reform along with Japan and Brazil.
INDIA AND FRANCE
Relations between India and France have traditionally been close and friendly. With the establishment of strategic partnership in 1998, there has been a significant progress in all areas of bilateral cooperation. President François Mr. Hollande was Chief Guest at the Republic Day parade.

The relationship is based on shared values and real convergence on a whole range of regional and global issues.

France was the first country with which India entered into an agreement on Civil Nuclear Cooperation.

France has consistently supported India's increasing role in international fora, including India's permanent membership of the UNSC.
Trade relation
India-France trade hovers around $8 billion, which is half of India's trade with UK or Germany. A big reason for this is the impasse in India's economic relations with the European Union.

More than a thousand French companies have a total investment of about $20 billion in India.
Strategic partnership
In the post-Cold War period, France was the first country with which India established a

'strategic partnership'.

The only major Western power that described the U.S. as a "hyperpuissance" (hyperpower) and openly espoused the virtues of multi-polarity found a natural

ideological convergence with India's ambitions of seeking strategic autonomy.

After the nuclear tests in May 1998, when India declared itself a nuclear state, France was the first major power to open talks with the country.

The strategic dialogue has been institutionalized at the level of National Security Advisors, and covers nuclear, defence, space and counter-terrorism, cyber security issues.

These have been given a boost by the agreement on intelligence-sharing and cooperation on investigations and judicial processes.
Rafale deal
India would buy 36 of the fighter planes in flyaway condition, citing critical operational requirements of the Indian Air Force.

The two countries have signed a MoU on purchase of Rafale fighter jets.
Nuclear agreement
The Jaitapur project, where French company Areva is to set up six nuclear reactors with a total power generation capacity of about 10,000 MW, has been stuck for long because of differences over the cost of the power generated.

Both countries have decided to clear the logjam by splitting the problem into different silos — allowing for separate mechanisms for the pricing issues and for the technical and legal aspects.
Solar energy
French President inaugurated the interim Secretariat of the International Solar Alliance at Gurgaon.

The French Development Agency will allocate for the development of solar energy €300 million over the next five years.

The International Solar Alliance, envisaged to bring together 122 countries that lie wholly or partly between the Tropic of Cancer and the Tropic of Capricorn, is an initiative announced by Mr. Modi at the COP 21 Summit in Paris in November 2015. The member countries are to be those that enjoy 300 or more days in a year of bright sunlight.
INDIA AND ITALY
Italian marine case
An international arbitration tribunal has ruled that Italian marine can return to Italy until it decides a dispute raised by Italy about India's jurisdiction to try him and his colleague for the killing of two Indian fishermen in February 2012.
Subsequent to tribunal ruling, The Supreme Court ruled that Girone (Italian marine) can return to Italy while an international tribunal decides on a jurisdictional issue between India and Italy. The Supreme Court laid down conditions for releasing Mr. Girone.
He continues to remain under the

jurisdiction of the Supreme Court

and report to the local police station in Italy once every month. Also, the Italian authorities will keep the Indian embassy informed.

Envoy's responsibility

: The Italian Ambassador will take the responsibility of ensuring his return within a month in case the tribunal rules in favour of trial in India.
Background of the Case
Two Italian marines-Massimiliano Latorre and Mr. Girone are facing the charge of murdering two Indian
fishermen in 2012 off the Kerala coast.
Italy position
The Italian position is that the two marines positioned on board a merchant tanker, the

Enrica Lexie

, had opened fire to thwart what they

perceived as a pirate attack 20.5 nautical miles off

Kochi.

It is further argued that the death of the two Indian fishermen occurred in the course of the

discharge of their operational duties

, and hence

functional immunity could

be invoked as related to the military

personnel of any nation.

Italy argues that the case should not be heard in India because the incident occurred in

international waters.
India's position
India has steadfastly rejected Italian argument and has invoked its sovereign right to prosecute the accused under the provisions of Indian law.
International Tribunal for the Law of the Sea (ITLOS)
In June 2015 Italy approached the International Tribunal for the Law of the Sea (ITLOS) in Hamburg.
The tribunal is adjudicating only on the limited question of whether India or Italy has the jurisdiction to try the two marines.

In August 2015 ITLOS ordered that: "Italy and India shall both suspend all court proceedings and refrain from initiating new ones which might aggravate or extend the dispute submitted to the Annex VII arbitral tribunal or might jeopardise or prejudice the carrying out of any decision which the arbitral tribunal may render."

Subsequent to the ITLOS ruling, both parties agreed that the dispute would be resolved under the UNCLOS tribunal.
May 2, 2016: A U.N. arbitration court rules that India should release Italian marine Salvatore Girone.
International Tribunal for the Law of the Sea (ITLOS)

It is an intergovernmental organization created by the mandate of the Third United Nations Conference on the Law of the Sea. It was established by the United Nations Convention on the Law of the Sea, signed at

Montego Bay, Jamaica

, on December 10, 1982.

The tribunal is based in

Hamburg, Germany

.

The Tribunal has the power to settle disputes between party states.
INDIA-UK
Prime Minister Narendra Modi became the first Indian prime minister to visit the UK in almost a decade.
The two leaders reaffirmed their commitment to working together to build such an enhanced and transformative partnership for the betterment of their two countries and the world.

India and the U.K. announced an enhanced defence and strategic partnership as well as a civil nuclear agreement

Both countries for the first time, jointly pushing for the UN comprehensive convention on international terrorism (CCIT), and strengthening strategic cooperation and intelligence-sharing through annual consultations.

£9.2 Billion of commercial deals

between the UK and India announced during the visit and listed in the annex.

Both countries announced three

UK-India city partnerships

with Indore, Pune and Amravati to support India's ambitious urban development goals through technical assistance, expertise sharing and business engagement.

Both countries have launched a new

Thames/Ganga partnership

for healthy river systems. This partnership will consist of a collaborative programme of research and innovation to enable the sustainable management of water resources in the Ganga basin and a policy expert exchange in 2016 supported by the UK Water Partnership.

Announcement of setting up of joint

India-UK Vaccine Development collaboration

between the Department of Biotechnology and Research Councils, UK.
Trade and investment
U.K. is the largest G20 investor in India, while India invests more in the U.K. than the rest of the European Union combined. India has also emerged as the third largest source of FDI for the U.K. Indian companies employ 110,000 people in the UK.

Foreign direct investment inflows from Britain to India between April 2000 and March 2016 were worth $23.1 billion. The UK has accounted for 8.56% of total foreign direct investment in India during the last 15 years.

Bilateral trade has stalled at the level of $ 15-16 billion.
Visa issue
India has conveyed its concerns to the UK authorities about the new British immigration law that will impact professionals earning below 35,000 pounds annually.

Thousands of Indians and other nationals from outside the European Union (EU) living and working in Britain on

a tier-2 visa may

have to leave or be deported if they earn less than

€35,000 a year once the terms of the visa expire.

Indian professionals have formed the

largest category of individuals

issued such visas by the UK over the years.

Indian professionals are also facing visa related challenges in other countries, including the U.S. India has dragged the U.S. to the WTO over its decision to impose high fees on temporary working visas.
Issue of Pakistan
India believes that the UK should take a tougher line with Pakistan on terrorism. The UK argues that it needs to maintain a positive relationship with Pakistan, not least because of the size of the Pakistani diaspora.
UK PM visit to India 2016
In November 2016 Prime Minister of United Kingdom Theresa May was on three day visit to India, and it was her maiden visit to India after becoming Prime Minister of UK. India and United Kingdom enjoys the cordial relations since long time. Both countries are considered as two pillars of the Commonwealth, sharing democratic values and a world view on many political issues including terrorism. 
Key Agreements signed during the visit
UK's PM Theresa May offered frequent registered traveller scheme for Indians travelling to Britain for business.  

The UK is also planning to restrict immigration through "work and study routes" which will have an impact on Indians being hired by British firms.

Both countries reaffirmed the importance of the strategic partnership between both and it delivers huge benefits for both countries. 
About the traveller Scheme  
Under the scheme, Indian nationals frequently visiting to the U.K. and contributing to growth in both countries will have a 'significantly easier' entry process including fewer forms to be filled, access to the EU-EEA passport controls, swifter passage through airports.
It will give a boost to trade and investment in both the∙ countries and strengthen ties between two nations.
About the Immigration Scheme
As per the proposal  
Immigration system will be re-looked if it provides the right incentives for businesses to invest in British workers.  

From December 2016, landlords renting out property to people with no right to be in the UK will be committing a criminal offence and could go to prison.  

Immigration checks will be a mandatory requirement for those wanting to get a licence to drive a taxi.  

From 2017, banks will have to do regular checks to ensure they are not providing essential banking services to illegal migrants.
Prospective impacts of the Immigration Scheme
The tightened immigration will "ensure gaps in the UK's labour market.  

The crackdown will affect students from India planning to study in the UK; their numbers are already at an all-time low.  

The move may make it difficult for British firms to hire from outside the EU, including countries like India.
BREXIT
Brexit is a term used to define United Kingdom coming out of EU. Recently in a referendum conducted in United Kingdom, UK voted by a narrow margin in favour of Brexit. Negotiations are undergoing currently between United Kingdom and European Parliament to negotiate the terms of the exit deal.
About EU
European Union or EU is an experiment to transform the relations between nations based on functionalist ideology. It envisages to transform the relations between nations by enmeshing them in economic, social, cultural, political partnership. EU is currently a block of 28 countries and 19 countries have formed Eurozone.
Formation of European Union is an outcome of Single European Act, 1991. 
Mashtricht Treaty converted the EU into a monetary union.
Lisbon Treaty strengthened political, foreign affairs and security integration of policies of countries of European Union
Constitutional Provision of Brexit:
Lisbon Treaty (Article 50) provides for exit of member countries from European Union. For any country to come out of European Union, it has to negotiate a deal with EU. The deal will provide for a settlement between EU and UK
Opinion of Political Groups
UK Independence Party, under the leadership of Nigel Farrage led the "Leave" campaign of UK

Labour Party, under the leadership of Jeremy Corbyn led the "Stay"' campaign of UK

David Cameron, ex PM of UK agreed to hold a referendum on Unikted Kingdom's future in EU. Conservatives were in favour of staying in EU
Why the clamour for Brexit
Economic reasons

 – The primary contention was that economically, Britain loses more than what it gains.

The first issue being that of membership fees paid – about 340 pounds per year per household

Secondly, it was said that EU's policies were too protectionist and did not favour competitiveness to the extent that would be beneficial for the British economy

Post the Sovereign Debt Crisis, EU introduced Fiscal Compact and tighter control on national budgets. Britain was not comfortable with these ideas

Germany's proposal to impose taxes on financial transactions (Tobin Tax) also did not find favour with London, which is an important financial hub.
Immigration issues

Half of British legal migrants come from EU. There is this feeling that they have a negative impact on UK born workers. Adding credence to local fears was the fact that since 1997, 3/4

th

 of jobs created are taken up by EU immigrants

EU's obligation on its members to accommodate more refugees also did not find favour with UK. Especially at a time when the refugee influx in Europe is at an all time high in light of multiple crisis in Middle East and Africa

There is also this perception that immigrants pose a threat to national security
Sovereignty Issue

EU is a transformative idea in many senses. One of the things that it leads to is the weakening of national sovereignty. EU has been pushing for creation of an Ever Closer Union which would accord greater decision making powers to European Parliament, while, limiting the authority of British Parliament.
Impact of Brexit:
On UK Economic
EU is a large market. 45% of British exports are directed towards EU. EU is the largest market for UK's exports and one of the major sources of UK's imports. Except Germany and Sweden, UK has a positive Balance of Trade with all other countries of EU. Post Brexit, access to EU markets would suffer for UK

Britain has emerged as a major financial hub. Post Brexit, the financial/services sector in UK would take a hit. We have already seen the London Exchange soaring down post Brexit

Immigrants to EU are better educated and skilled and offset the demographic disadvantage. That advantage will be lost for UK.
Geopolitical
It raises questions over the future of Scotland and Northern Ireland. Their desire to stay in Uk was preconditioned on UK remaining a part of EU. The Scots have already started demanding for a referendum on Scotland's futute in UK. Even in Northen Ireland violence erupted post the Brexit vote

In an interconnected world, being a part of multilateral organizations is key to influence policy matters. No country can do it alone in a rapidly changing international environment. Similarly UK would lose some of its leverage now that it has voted for Brexit. Pursuit of sovereignty in purist terms in an interconnected world is a utopian idea
On EU
The idea of EU stands challenged. EU whose origin lied in the centuries of war that ravaged Europe was a transformative idea in international relations, enmeshing countries in cooperation. With the exit of UK, there is a possibility of other countries such as Greece etc to follow suit. Thus the idea of EU stands challenged.

EU is currently under multiple crisis emanating from financial slowdown, Russian challenge, security concerns. EU and Britain separately would not be able to handle a resurgent Russia. Similarly to deal with the security threats in Europe requires countries to act in concert and not independently
On India
Cons
The immediate impact of Brexit is an increase in risk aversion when it comes to investing, especially in light of the possibility of other countries following suit. This will affect the FPI outflows from foreign portfolio investors.

Rupee may depreciate because of the double effect of foreign fund outflow and dollar rise

IANS report says that Britain ranks 12

th

 in terms of India's bilateral trade with individual countries. It is also among 7 in top 25 countries with which India enjoys a trade surplus. India invests more in UK than the rest of Europe combined, emerging as the 3

rd

 largest FDI investor. Access to European markets, therefore, is a key driver for Indian companies setting shop in UK. Britain coming out of EU is likely to affect the business prospects of these companies.

Nasscom in a recent report held that IT and ITeS industry of India will have a negative impact of close to $108bn. The impact can be seen in medium term (2-3 years). Indian IT companies with European headquarters in the UK would need to spend on infrastructure and staff for setting up a new office in the EU. (There are approximately 800 Indian companies in Britain)

Immigration (student and professional):

 Work-related visa restrictions have already resulted in a fall in the number of Indian students in the UK. Following Brexit, the number of Indian students applying to UK universities and colleges might reduce further. Sceptics also fear that visitation rights of relatives who have families in UK might also be affected. Also, those applying for visas in Britain may face a hard time. With Brexit, the government's stance on immigration will likely curb overall immigration into the country.
Pros
While on the positive side, Brexit has driven away fears of a US Fed rate hike and could lead to lower commodity prices

UK loses a huge preferential market in the EU and would seek to build new alliances and trade pacts. 

India being one of the the fastest growing economies

 is rightly poised to gain from this development. The migration of EU skilled labour would decrease and english speaking Indian talent pool is definitely going to benefit out of it.

Indian students should be able to secure more financing for their college degree, as preferential scholarships to EU countries will reduce. This would mean India could be seen exporting more talent than present levels.

Devaluation of rupee might enhance India's export competitiveness.

The positive side will be the trade deals with india. Indo-Eu bilateral trade agreement has not made much headway in years so we may be able to strike a better agreement with UK. 

Also, let us not forget than India is a former colony of Britain and a member of 

Commonwealth of Nations

. With UK separated from EU, it would want to create new economic alliances and may tilt towards its former colonies.