[pib] Ropeways and Alternate Mobility Solutions to be under MoRTH
Note4Students
From UPSC perspective, the following things are important :
Prelims level : Not Much
Mains level : Alternate Mobility Solutions (AMS)
The Ministry of Road Transport and Highways will, from now on, also look after the development of Ropeways and Alternate Mobility Solutions (AMS).
Q.With growing mobility and diverse terrain across the country, it is imperative that all solutions be enabled and implemented. In this light, discuss various changes adopted by the Transport Ministry in this regard.
Ropeways
A ropeway is a form of naval lifting device used to transport light stores and equipment across rivers or ravines.
It comprises a jackstay, slung between two sheers one at either end, from which is suspended a block and tackle, that is free to travel along the rope and hauled back and forth by inhauls.
An amendment to the Government of India (Allocation of Business) Rules, 1961 has been notified, to enable this step.
Impacts of the move
The move is expected to give a boost to the sector, by setting up a regulatory regime and facilitating research and new technology to come into this sector.
This means that the Ministry will have responsibility for the development of ropeway and alternative mobility solutions technology, as well as construction, research, and policy in this area.
Formulation of the institutional, financial, and regulatory framework for the technology will also fall under the ambit of this move.
Expected benefits
Last-mile connectivity for remote locations
Reducing congestion on mainstream roads
Chance to develop world-class ropeway infrastructure
Setting up of an organised  and dedicated rope-way and alternative mobility solutions industry
New technology, like CPT – Cable Propelled Transit coming to the sector
Setting safety norms for unregulated ropeways
Allowing freight and goods at remote stations
Regulating tariffs structure for the technology
Personal Vehicle on a Public Road
Note4Students
From UPSC perspective, the following things are important :
Prelims level : Not Much
Mains level : Road safety issues
The Delhi government has told the Delhi High Court that a personal vehicle on a public road cannot be said to be a private zone — rather, it is a public space.
Do you know?

India sees the largest number of road fatalities in the world. More than 1.5 lakh people lost their lives in road crashes in the country in 2018, according to government data.
Why such an argument?
The argument was given to defend its decision of making it compulsory for people to wear masks when they are travelling.
Supreme Court's definition of 'public space'
The Supreme Court in one of its ruling has said defined a "public place" to mean any place to which the public has access, whether as a matter of right or not — and includes all places visited by the general public, and also includes any open space.
The keywords are "any place to which public have access", which phrase is further qualified by the phrase "whether as a matter of right or not", the court noted.
When a private vehicle is passing through a public road it cannot be accepted that the public has no access.
It is true that the public may not have access to a private vehicle as a matter of right but definitely, public has the opportunity to approach the private vehicle while it is on the public road, said the court.
Note4Students
From UPSC perspective, the following things are important :
Prelims level : Bharatmala Project
Mains level : Highways connectivity in India
A total of 322 projects in a length of 12,413 km have been awarded under Bharatmala Pariyojana. Further, 2921 Km has been constructed under the Project till the date.
Try this PYQ:

Q.Consider the following pairs:

National Highway: Cities connected

NH 4: Chennai and Hyderabad
NH 6: Mumbai and Kolkata
NH 15: Ahmedabad and Jodhpur

Which of the above pairs is/are correctly matched?

(a) 1 and 2 only

(b) 3 only

(c) 1, 2 and 3

(d) None
Bharatmala Pariyojana
It is a centrally-sponsored and funded the Road and Highways project.
It is an umbrella program for the highways sector that focuses on optimizing the efficiency of freight and passenger movement across the country by bridging critical infrastructure.
The total investment for 83,677 km committed new highways is estimated at ₹5.35 lakh crore making it the single largest outlay for a government road construction scheme.
It works for the development of Economic Corridors, Inter Corridors and Feeder Routes, National Corridor Efficiency Improvement, Border and International connectivity roads, Coastal and Port connectivity roads and Green-field expressways.
The ambitious umbrella programme has subsumed all existing Highway Projects including the flagship National Highways Development Project (NHDP), launched in 1998.
'Streets for People' Challenge
Note4Students
From UPSC perspective, the following things are important :
Prelims level : Streets for People
Mains level : Not Much
The Union Housing and Urban Affairs has launched the initiative 'Streets for People' for making cities more pedestrian-friendly.
Streets for People
The Challenge builds on the advisory issued by MoHUA for the holistic planning for pedestrian-friendly market spaces, earlier this year.
It will support cities across the country to develop a unified vision of streets for people in consultation with stakeholders and citizens.
Adopting a participatory approach, cities will be guided to launch their own design competitions to gather innovative ideas from professionals for quick, innovative, and low-cost tactical solutions.
​It aims to inspire cities to create walking-friendly and vibrant streets through quick, innovative, and low-cost measures.
All cities participating in the challenge shall be encouraged to use the 'test-learn-scale' approach to initiate both, flagship and neighbourhood walking interventions.
The interventions can include inter alia creating pedestrian-friendly streets in high footfall areas, re-imagining under-flyover spaces, re-vitalizing dead neighbourhood spaces, and creating walking links through parks and institutional areas.
Various stakeholders
Fit India Mission, under Ministry of Youth Affairs and Sports, along with the India program of the Institute for Transport Development and Policy (ITDP) has partnered with the Smart Cities Mission to support the challenge.
Private: Integrated Road Accident Database (IRAD)
Note4Students
From UPSC perspective, the following things are important :
Prelims level : Integrated Road Accident Database (IRAD)
Mains level : Need to curb Road fatalities in India
The government has launched a central accident database management system that will help in analysing causes of road crashes and in devising safety interventions to reduce such accidents in the country.
Integrated Road Accident Database (IRAD)
The IT tool, known as the IRAD has been developed by the IIT-Madras and will be implemented by the National Informatics Centre.
The project costs ₹258 crore and is being supported by the World Bank.
The system will be first piloted in the six States with highest fatalities from road crashes — Karnataka, Madhya Pradesh, Maharashtra, Rajasthan, Tamil Nadu and Uttar Pradesh.
The IRAD will be improved on the basis of the learnings from the trial, following which it will be rolled out across the country.
How it works
The IRAD mobile application will enable police personnel to enter details about a road accident, along with photos and videos, following which a unique ID will be created for the incident.
Subsequently, an engineer from the Public Works Department or the local body will receive an alert on his mobile device.
He or she will then visit the accident site, examine it, and feed the required details, such as the road design.
Data thus collected will be analysed by a team at IIT-M, which will then suggest if corrective measures in road design need to be taken.
Road users will also be able to upload data on road accidents on a separate mobile application, which is expected to go live.
Why need such a database?
India sees the largest number of road fatalities in the world.
More than 1.5 lakh people lost their lives in road crashes in the country in 2018, according to government data.
Of the total people killed in road crashes in 2018, 48% were between 18 years and 35 years old, and more than 60% of such fatalities were due to overspeeding.
[op-ed snap] Let's talk safety
Note4Students
From UPSC perspective, the following things are important :
Prelims level : Nothing much
Mains level : MV Act and road safety
CONTEXT
The new Motor Vehicles Act has provoked controversy.
Objectives
The overarching aim of the new law is to bring down the number of road accidents in the country.
The Motor Vehicles Act stipulates the Central Government to make rules for the electronic monitoring and enforcement of road safety including speed cameras, closed-circuit television cameras, speed guns, body wearable cameras, and such other technology.
It also asks state governments to ensure electronic monitoring on national and state highways.
Controversial provisions
The penalties stipulated under the Act have attracted criticism.
The Motor Vehicles Act stipulates a 10-fold increase in fines for road safety traffic violations, driving under the influence of alcohol, not using seat belts and driving without seat belts.
Gujarat has slashed the fines for 15 violations under the Act, reducing the quantum of penalties by 50 to 70%. Two other state governments in Uttarakhand and Karnataka have also expressed reservations about the new law.
Fines are okay
States have the rights to bring down fines.
Stringent penalties are necessary because people's lives must be saved.
1,50,000 people die in road accidents in the country — 10% of all such fatalities worldwide.
Way ahead
Its litmus test will lie in effective implementation by enforcement agencies.
Punitive measures will not achieve much without an adequate number of traffic police personnel and road-safety devices like traffic lights.
Unless law enforcement officials give up old habits like bribery, the purpose of the new law will be defeated.
The Odisha government, which has relaxed the implementation of the law for three months, has asked traffic regulators "to counsel and handhold the public".
Rajasthan has partially implemented the Act and has decided to take steps to "self-motivate people".
CONCLUSION
The self-motivation versus deterrence debate is not new. It's heartening that the new Motor Vehicles Act has rekindled this discussion.
[op-ed snap] Putting accident victims at the centre of vehicles law
Note4Students
From UPSC perspective, the following things are important :
Prelims level : Not Much
Mains level : Issues addressed by new Motor vehicle amendment act
Context
An act for penalties
It is well known that India is one of the most accident-prone countries in the world.
India accounts for nearly 1,50,000 deaths — 10% of all motor vehicles-related fatalities worldwide.
The discourse concerning the Motor Vehicles (Amendment) Act 2019 has only followed this trend, as disproportionate press coverage is given to the enhanced penalties to be levied on offenders.
However, the debate often revolves around how to minimize road accidents by incorporating deterrents into laws and ignores the interests of the victims.
This lack of victim-centricity in the discourse, though deplorable, is unsurprising.
For victims of road accidents
The amended Act gives the victims some respite as it provides for an enhanced insurance compensation of ₹5 lakh in case of death of a person in a traffic accident and ₹2.5 lakh where there is "grievous hurt".
The compensation to be awarded following hit-and-run accidents has also been raised to ₹2 lakh when a victim dies and ₹50,000 when he/she suffers a grievous injury.
The fact that the NCRB does not collate data pertaining to the socio-economic and demographic profile of victims of traffic accidents is a testament to the relative apathy shown by the state machinery.
Cashless treatment
Additionally, the Act now requires insurance companies and the government to notify schemes relating to cashless treatment during the 'Golden Hour'.
It is the crucial period of first 60 minutes from the occurrence of an accident when the risk of fatality can be minimized to the greatest extent.
Further, it mandates compulsory insurance of all road users, including pedestrians, who will be covered through a 'Motor Vehicle Accident Fund'.
Lastly, it also provides for interim relief to be provided to the claimants.
Delays in settlement
Another problem highlighted by the apex court for which the new Act does not provided any remedy is that of procedural delays on the part of tribunals in claims settlement.
The provision for interim compensation is bound to bring some respite to the victims but another unaddressed concern makes this stipulation susceptible to criticism.
An absence of in-built safeguards in the compensation mechanism allows for the money to be frittered away by unscrupulous relatives, touts and agents, especially in cases where the victim or his nearest kin are poor and illiterate.
It is to address this concern that the Supreme Court in Jai Prakash suggested payment in the form of monthly disbursements of smaller amounts over a longer period of time to victims or their kin.
This has been overlooked by the new Act.
Road infrastructure: One stop solution

Many of the problems with the Motor Vehicles Act remain unaddressed or are inadequately addressed by the amended version.
For instance, though vehicle users who don't give passage to emergency ambulance vehicle are liable to be punished with fines.
Such punitive measures are likely to remain ineffective in the absence of an effective implementation mechanism.
Further, other factors that lead to a poor response time, including lack of road infrastructure, also need to be taken into account.
Way Forward
Understandably, many of the points raised above cannot be specified statutorily.
These provisions, well-intentioned, are no doubt steps in the right direction.
However, much more needs to be done if the accident victims are to be provided complete justice.
Hence, the government needs to notify an institutional framework which encourages advocacy for victims and facilitates access to the various services.
Hence, the government needs to notify an institutional framework which encourages advocacy for victims and facilitates access to the various services.
Microdots technology for Vehicles
Note4Students
From UPSC perspective, the following things are important :
Prelims level : Microdots
Mains level : Vehicular Safety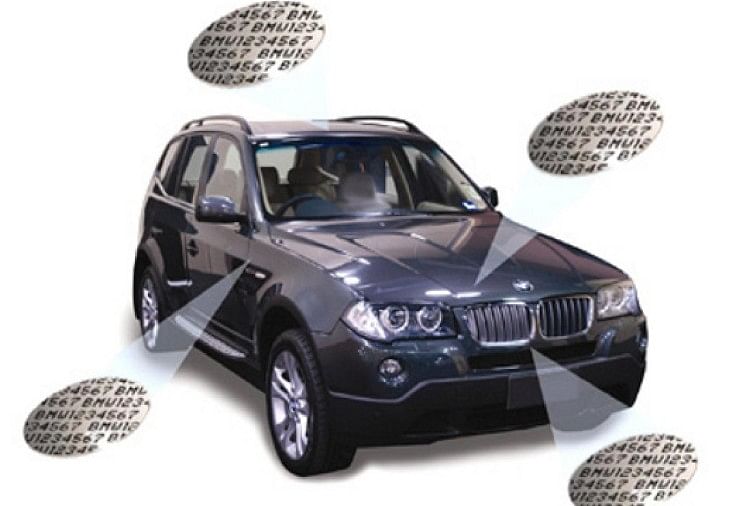 ---
The government has come out with draft rules to make microdots mandatory in vehicles.
This move will also ensure that consumers have a way of identifying original parts from fake ones and that contributes to overall safety as well.
Microdots Technology
The Ministry of Road Transport and Highways issued a draft notification on amending the Central Motor Vehicles Rules, 1989, and allowing motor vehicles and their parts, components, assemblies, sub-assemblies to be affixed with permanent and nearly invisible microdots.
These microdots can be read physically with a microscope and identified with ultraviolet light.
Microdots are a globally proven technology to ensure originality in spare parts of machines and components, including in the automobile sector.
The government has envisaged that with microdots becoming a permanent feature in vehicles, identifying them would become easier in case they are stolen.
How it works?
The microdots and adhesive are to become a permanent fixture/affixation which cannot be removed without damaging the asset itself.
The microdots are to comply with AIS 155 requirements, if affixed.
The technology involves spraying thousands of microscopic dots onto vehicles or other assets to form a unique identification.
Each microdot carries this identification which is registered to the owner, but is not visible to the naked eye.
Motor Vehicles (Amendment) Bill, 2019
Note4Students
From UPSC perspective, the following things are important :
Prelims level : Motor Vehicles (Amendment) Bill, 2019
Mains level : Key propositions of the bill and their necessity
Minister for Road Transport and Highways has been in the news as he pushes the Motor Vehicles (Amendment) Bill, 2019 in Parliament.
The amendments proposed by the government to the existing Motor Vehicles Act of 1988 essentially focus on improving road safety.
Key elements of the proposed amendment
Minimum Compensation
The Bill proposes to increase the minimum compensation for hit and run cases.
In particular, in case of death, such compensation would vary from Rs 25,000 to Rs 2 Lakh.
In the case of grievous injury, it would vary from Rs 12,500 to Rs 50,000.
Beyond road safety, the Bill also increases penalties for several offences such as driving under the influence of alcohol and drugs.
Cashless treatment of victims
The Bill also enables the Central government to develop a scheme for cashless treatment of road accident victims during the "golden hour" (first 60 minutes following the injury during which doctors have the best chance of saving a life).
Accident Fund
The government's insurance scheme is likely to be funded through a Motor Vehicle Accident Fund that the central government is expected to constitute to provide compulsory insurance cover to all road users in India.
This fund will be available for the treatment of the injured.
Defining Good Samaritan
The Bill also defines a good samaritan as a person who renders emergency medical or non-medical assistance to a victim at the scene of an accident.
However, to be seen as one, such assistance must have been given in good faith, voluntarily, and without the expectation of any reward.
If these conditions are met, such a person will not be liable for any civil or criminal action for any injury to or death of an accident victim, caused due to their negligence in assisting the victim.
National Road Safety Board
The Bill also proposes a National Road Safety Board which will advise the central and state governments on all aspects of road safety and traffic management.
The Bill also enables the central government to order a recall of motor vehicles if it is found that they are defective and can cause harm to other road users or the environment.
In case of such a recall, the manufacturers would either have to replace the faulty vehicle or pay full compensation to the customer.
Regulating digital intermediaries
The Bill also attempts to plug a policy gap that has been introduced by the emergence of shared economy concepts and technology.
As such, it defines taxi aggregators as digital intermediaries or market places which can be used by passengers to connect with a driver for transportation purposes.
These aggregators will be issued licenses by state, but, they must also comply with the Information Technology Act, 2000.
Delhi government launches Zero Fatality Corridor

Note4students
Mains Paper 2: Governance | Important aspects of governance, transparency and accountability, e-governance- applications, models, successes, limitations, and potential
From UPSC perspective, the following things are important:
Prelims level: Zero Fatality Corridor
Mains level: Steps for curbing fatalities in road accidents in India
---
News
The Delhi state govt has launched the 'Zero Fatality Corridor' (ZFC) to assess the cause for crashes on the stretch in the Capital.
Zero Fatality Corridor (ZFC)
ZFC is to be run in partnership with SaveLIFE Foundation, a leading road safety non-profit organization.
The initiative is aimed at bringing down injuries and deaths due to road crashes.
It is in line with Delhi government's plan of action to reduce fatalities due to road crashes by 30 per cent by 2020.
Through the 'Zero Fatality Corridor' pilot project the aim is to reduce the fatalities to near zero levels on this particular stretch.
After evaluating the impact of the initiative, the model will be replicated in other parts of the city.
Why such move?
As many as 1690 people were killed, and 6086 people were injured in 6515 road crashes in 2018, according to Delhi traffic police.
The ZFC model of the non-profit is known for reducing road crash deaths by 30% on the Mumbai-Pune Expressway.
It reduces deaths through a 360-degree intervention, road engineering, police enforcement, rapid emergency care and road-user engagement.
[pib] Indian Bridge Management System (IBMS)
Note4students
Mains Paper 3: Economy | Infrastructure: Energy, Ports, Roads, Airports, Railways etc.
From UPSC perspective, the following things are important:
Prelims level: IBMS
Mains level: Road Infrastructure maintenance in India
---
News
The Ministry of Road Transport & Highways has inventorized 1,72,517 bridges/structures under Indian Bridge Management System (IBMS).
Indian Bridge Management System (IBMS)
The IBM System has been established to develop the data in digital form, to identify, survey and inventorize the number of bridges and other structures on National Highways.
It crucially aims to identify the distressed bridges which need immediate attention and to sensitize the concerned implementation agency for taking corrective measures such as repair, rehabilitation reconstruction/ new construction etc.
Working of the IBMS
During inventory creation each bridge is assigned a unique identification number or National Identity Number based on the state, RTO zone and whether it is situated on an National Highway, State Highway or is a district road.
Then the precise location of the bridge in terms of latitude-longitude is collected through GPS and based on this, the bridge is assigned a Bridge Location Number.
Thereafter, engineering characteristics like the design, materials, type of bridge, its age, loading, traffic lane, length, width of carriage way etc are collected and are used to assign a Bridge Classification Number to the structure.
These are then used to do a structural rating of the structure on a scale of 0 to 9, and each bridge is assigned a Structural Rating Number.
The rating is done for each component of the structure like integral and non integral deck, superstructure, substructure, bank and channel, structural evaluation, deck geometry, vertical clearance, waterway efficiency etc.
In addition to the structural rating, the bridges are also being assigned Socio-Economic Bridge Rating Number which will decide the importance of the structure in relation to its contribution to daily socio-economic activity of the area in its vicinity.