Henley Passport Index 2019
Note4Students
From UPSC perspective, the following things are important :
Prelims level : About the index
Mains level : Mobility of Indian Passport holders worldwide

---
The latest Henley Passport Index ranks India at 86, down five places from 81 in 2018. The index ranks passports based on their power and mobility.
Last year, an Indian passport holder had visa-free access to 60 countries; this year, it has access to 58.
Henley Passport Index 2019
Prepared by Henley and Partners, a London-based global citizenship and residence advisory firm, the Henley Passport Index claims to be the "original ranking of all the world's passports".
The index gathers data from the International Air Transport Association (IATA) that manages inter-airline cooperation globally.
The Index is updated in real time according to countries' visa policy changes. It covers 227 destinations and 199 passports.
The index receives data from the IATA on a fixed day every year that forms the basis of the index.
This data is supplemented by accounting for real-time changes in visa policies using publicly available sources to prepare a visa list, which is a list of destinations that a passport can access visa-free, through a visa on arrival, e-visa or with a traditional visa.
How are passport ranks and scores interpreted?
Each passport is attributed with a score and a rank.
For instance for 2019, India's score is 58 and it ranks 86 in the list. Japan and Singapore, on the other hand, are ranked 1 and have a score of 189.
The score is the sum of the number of countries accessible by that passport holder without requiring pre-departure government approval for visa-types including a visitor's permit, visa on arrival or an electronic travel authority (ETA).
For every territory/country that a passport holder of a particular country/territory is able to access through these visa-types (without pre-departure government approval), a value of 1 is attributed to it.
A value of 0 is attributed to a score when a passport holder has to seek pre-departure government approval for visa-types including e-visa (visas applied for online and received) and visa on arrival.
Therefore, the total score becomes the sum total for all the values of 1.
For instance, a passport holder from Singapore and Japan can travel to 189 countries/territories without requiring pre-departure government approval.
What does this mean for Indian passport holders?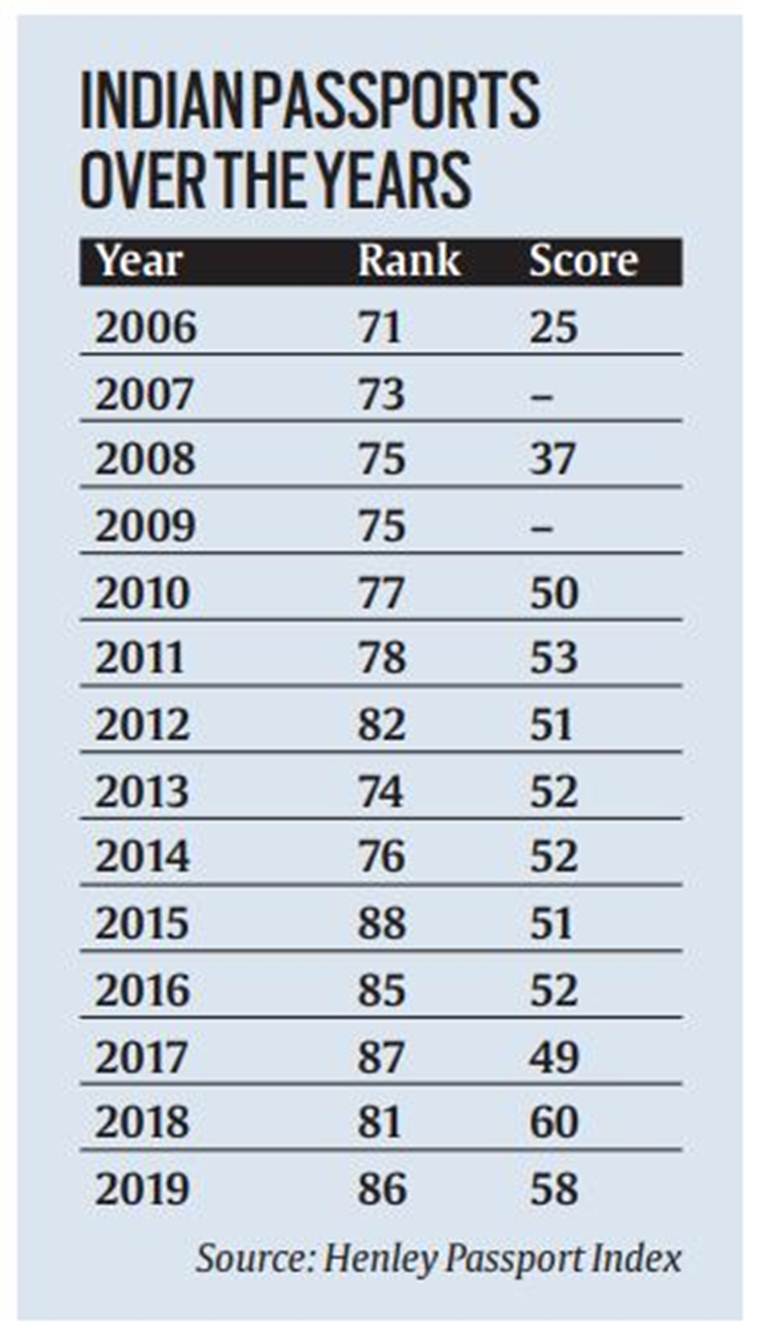 India has a score of 58. That is the number of destinations an Indian passport holder can travel to today, without pre-departure government approval.
That is the same as a citizen of any country, on an average, could travel to 13 years ago.
In 2006, a citizen, on an average, could travel to 58 destinations without needing a visa from the host nation; by 2018, this number had nearly doubled to 107.
Afghanistan holds the weakest passport, with a score and ranking of 25 and 109, respectively. Syria and Pakistan follow with rankings of 107 and 106 and scores of 29 and 30, respectively.
Passport rankings point towards the strength of diplomatic relations between countries.
In the past decade travel freedom has expanded vastly as a result of the rising number of bilateral visa-waiver programmes signed between different countries and unilateral decisions implemented by governments of some countries.
What assumptions does the index make?
The index assumes that the passport is valid, belongs to an adult who is a citizen of the issuing country and that it is not diplomatic, emergency or temporary in nature.
It also assumes that the person travelling is doing so alone, rather than in tourist groups and meets all the basic requirements for entry such as hotel reservations.
Furthermore, the traveller is assumed to be arriving and departing from the same airport and is seeking a short stay (between three days-several months) for business and tourist purposes only.
It's no secret that our Tourism Industry remains heavily underemployed, highly unregulated and its true potential to both Economy and workforce is still unharnessed. 

With 32 UNESCO recognized natural and cultural heritage sites, India ranks second in Asia and fifth in the world. Still, India's share in ITAs (International tourist arrivals) is a paltry 0.6%. 

Why are International / Foreign Tourists important?
For one, they bring in much valued Foreign Currency which contributes to our Foreign Exchange Reserves and keeps our Balance of Payment robust. <Note that Tourist expenditure in India counts as "Exports" under BoP accounting>
India's receipts from tourism during 2012 ranked 16th in the world, and 7th among Asian and Pacific countries (World Tourism Organization Report)
It helps stabilize our currency in International Market
Builds Brand India (Incredible !ndia campaign has proven to boost foreign tourism more than domestic tourism)
Although it is notable that domestic tourists contribute to more than 75% of the revenue from Tourism Sector, but its denominated in INR

Note:  Under 7th Schedule division of Powers, Pilgrimages outside India comes under Union's List while those Inside India is covered by State List.
India's Comparative performance in International tourist arrivals (ITAs)
ITA simply means the percentage of outbound tourists travelling to another country in proportion to all outbound tourists of the world combined.
France has the highest share of ITAs, despite being much smaller than a continent size country like India. (India's share in ITA is 0.6% compared to 7.8 per cent in France)

Foreign tourist arrivals by source country: Largest foreign tourists are from USA, 2nd largest from Bangladesh and third largest from UK.
Tamil Nadu witnesses most foreign tourist visits.

 Although ITAs in India registered a growth of 10.6%, countries like Vietnam and Indonesia continue to have higher shares of FTAs than India

Internationally ranking pitiably 41st in terms of Foreign Footfalls- India gets only 77 lakh foreign tourists every year.
Travel & Tourism Competitiveness Report 2015 (World Economic Forum) ranks India 52nd out of 141 countries overall in areas other than Foreign Footfall.

India has quite good air transport (ranked 35th)
Reasonable ground transport infrastructure (ranked 50th).

Target: In next 3-5 years, we want to receive >1 crore tourists (and 1% of the ITAs should be in India)
Who qualifies as a foreign tourist?
Staying at least twenty four hours in the country
Purpose of whose journey can be classified as either

Leisure (recreation, holiday, health, study, religion and sport)
Business, family, mission, meeting
Following are excluded from category of Foreign Tourists:

Persons arriving to take up an occupation or engage in activities remunerated from within the country are not treated as foreign tourists
Nationals of Nepal and Bhutan entering India through land routes, are also not included in the data series on foreign tourism
Burning issue of Foreign Tourists and Sexual Assaults
Its noteworthy that 40% of the foreign tourists who came to India in 2013 were women
Delhi has repeatedly topped the survey for being the most unsafe and hostile city for Foreign Tourists.
How can this be prevented?

Foreign tourists in India are advised to take the same precautions like domestic tourists take
Code of conduct for tourist destinations and the stake holders there has also been fixed.
Accused should be apprehended by the police authorities within a few days and action be initiated to bring the culprits to justice
E.g. In the Madhya Pradesh incident in March, 2013, the accused were tried in a Fast Track Court and sentenced to life imprisonment within four months.
What are other benefits of Tourism Sector to India?
Economy: 
Contributes to 9% of global GDP, In India's case it contributed 6.8% of the GDP
Employment and demographics:
It is a labour intensive industry (Employs 8.7% of India's workforce) and provides livelihood to non-farm sector
Although Tourism in India being largely an unorganized sector activity, potential for employment is still untapped
Women comprise 70% of the workforce and 50% of the workforce is below 25 years
Other benefits apart from Employment:
Helps preserve heritage and culture (Fundamental Duty and DPSP)
Niches such as Rural tourism, and Ecotourism can help reverse migration to urban areas
Tourism sector can be a powerful antidote to poverty, it eliminates the disadvantage of market inacessibility suffered by poor in respect of their goods and services by bringing consumers to their doorstep
Tourism reforms by integration with ongoing schemes
It is said that Tourism as a sector doesn't need huge budgetary expenditure for its rise as a "sunrise industry". Here, we look at some of the ways we can make it so by integrating with ongoing schemes of Government of India.
1. Infrastructure Reforms and Tourism
Sagarmala project beginning with Char Dham Yatra linking Puri Jagannatha Temple to Dwaraka by sea via various places off religious interest enroute
MNREGA labour for creating permanent assets like tourism infrastructure and facilities
2. Taxation Reforms, Startup India and Tourism
Solve the Multiple Taxation Issues (give tax concessions to Tourism Sector)
Tour Operators don't need to pay service tax, if serving foreign tourist for foreign trips. (e.g. Yatra.com etc)
Special Tourism Zones shall be notified and developed to encourage investment in identified areas along with PPP
Incentivize Startups which promote Tourism in Niche areas such as Adventure Tourism, Ecotourism, Rural Tourism
Devise a National Tourist Maps promoting Unique / Mystery Spots, and Less Known Destinations
3. Tourist Training Schools, Skill India and Tourism
Skill and Etiquettes training to tour operators
Certification programmes like Hunar se Rozgar tak (HSRT) and earn while you learn programs

Vocational training for tourist guides hospitality business
Aims to train 8th class passouts (upto age of 28 years) in Food Production and Beverages services
Conducted through Institute of Hotel Management and Food Craft Institutes
Diploma in Tourism Management through ITIs
4. Swachh Bharat and Tourism:
Litter/Recycling Bins at accessible places
Special focus on cleanliness and women safety of tourist sites
Partnering with Shulabh International (NGO) for scaling up pay-and-use toilets rather than depending on free public utilities (as it has been observed that former type remain more user friendly due to regular maintenance than government ones)
5. Green Urban Policies and Tourism
Attempts should be made to design climatically responsive and location sensitive tourism architecture
Use energy efficient materials for pavements leading to a tourist landmark (minimal use of hardscape materials)
Solar lighting and use of renewable energy must be encouraged
6. Conservation and Tourism
Adopt the principle of "First Conservation Later Tourism" for Cultural Heritage
Discourage fountains and water based elements in areas facing water paucity
Discourage large scale illumination in areas with electricity shortage (Without compromising on security, of course)
7. Sugamya Bharat (Accessible India) and Tourism
Promote Universally accessible infrastructure for ease of access by differently abled and elderly
Use signages that conform to World Tourism Organization, and UNESCO charters for World Heritage Sites
Annex: Eased norms for Tourit Visa
E-visa

Will increase foreign tourists by 25%.
Foreigner applies online (as opposed to Consulate/Embassy) he'll get Visa in five days

Visa on arrival

Foreigner applies online three days before his arrival in India
Gets visa on airport, 30 days validity
As of 2015, this facility has been enlarged to cover 180 countries